Four federal election candidates for Steveston-Richmond East attempted to captivate the attention of hundreds of McMath secondary students at a question and answer session Wednesday morning in the school's gymnasium.
But instead of the prospective politicians taking charge of the event, the students were reticent to hand out any free passes, as they narrowed down on some difficult issues with several pointed questions.
Grade 12 law student Sadia Naseem asked Scott Stewart of the New Democratic Party and Kenny Chiu of the Conservative Party for their position on Muslim women wearing a face cover during citizenship ceremonies — an issue that the Conservatives intend to take to the Supreme Court of Canada after the Federal Court of Appeal ruled the government's niqab ban at such ceremonies is illegal.
Both, to no one's surprise, both took to their parties' positions.
"It's pretty simple. It's your religion, your tradition, I think you should be allowed to do it," said Stewart.
Conversely, Chiu sad face covers "are not respectful for women" and wearing a niqab is a sign of disrespect to Canadians at the ceremony.
He noted face recognition is important for daily, societal operations and it's particularly important for citizenship ceremonies.
He also said he respects the private choice to wear such garb outside of any official ceremony.
Naseem, a Muslim herself, said women should "absolutely" be able to wear covers.
Chiu took another human rights question, this time on Canada's reported failures to meet United Nations standards on detaining asylum seekers.
"On one hand we balance the need to provide safe haven for the true refugees while on the other hand we actually plug the holes that are exploiting the systems," said Chiu.
Another law student, Aidan Wilson, asked Liberal Party candidate Joe Peschisolido whether he personally would have voted for the new security legislation, Bill C-51.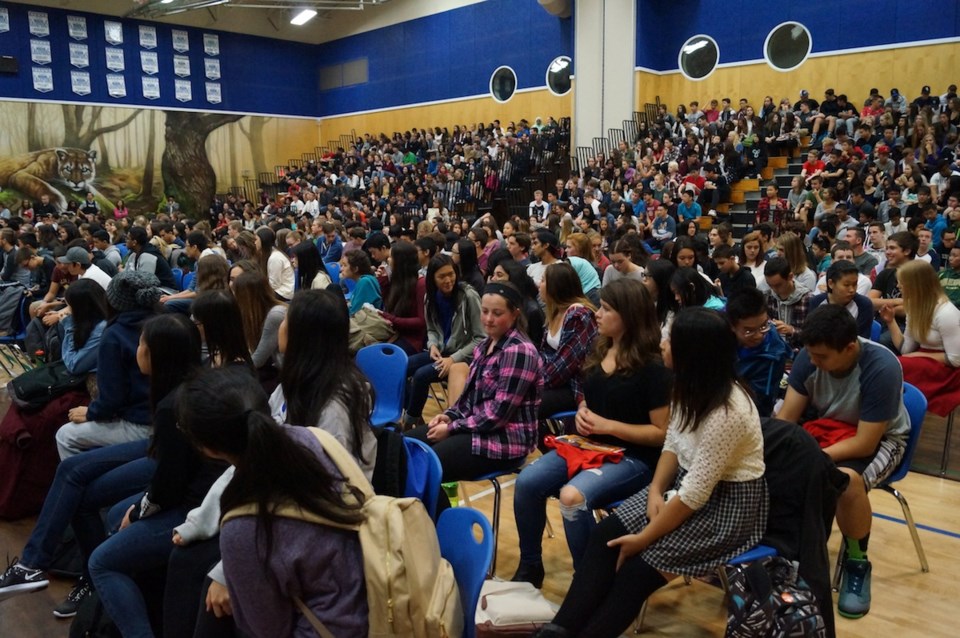 "I know it has been a very controversial bill and four former Prime Ministers, including three Liberals, have denounced the bill. It's generally regarded as unconstitutional and, so, I was interested in what the Liberal candidate would say on that," said Wilson.
Peschisolido, in turn, repeated what the bill was and what the Liberals would amend (having already voted for the bill).
"Sadly he didn't answer my question," said Wilson, who disagrees with the bill.
Peschisolido was more frank about the controversial citizenship legislation of Bill C-24, which takes an unprecedented step to strip citizenship for treasonous acts.
"It's a bad bill, I'll vote against it," he said.
Another student asked for Stewart's position on marijuana law reforms.
Stewart told the audience the NDP would decriminalize the drug.
Grade 10 student Natalie Caras took time during a break to ask Peschisolido, a lawyer, the same question.
"I wanted to learn more about the subject and the different positions," she said.
The Liberals have stated they would legalize and regulate the drug.
The issue of the Keystone XL pipeline proposal was raised twice. Chiu took the opportunity to note the Conservative government is aligned with the pro-pipeline views of the Mitch McConnell led United States Senate, and not the Barack Obama led White House.
While NDP leader Thomas Mulcair has been noncommittal one way or another on pipelines such as Keystone XL (and Kinder Morgan her in the Lower Mainland), Stewart, a retired police officer, introduced himself as someone who would act in the best interests of the Fraser River estuary.
Peschisolido, meanwhile, announced he was vegan and told the audience he had made political mistakes in the past, such as running for the Canadian Alliance in 2000.
It was Chiu, as president of the Alliance's riding association, who helped him get there.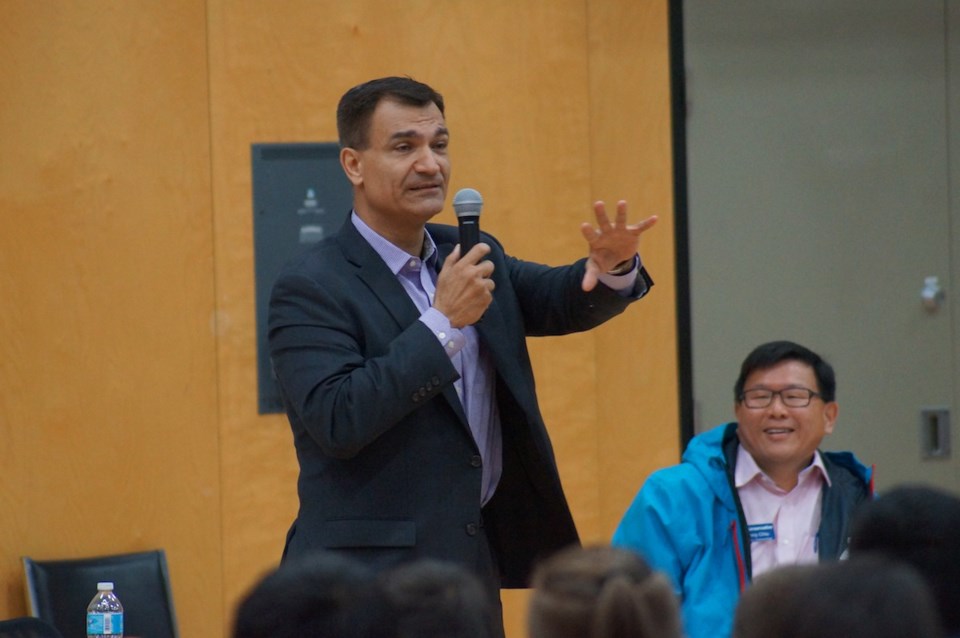 "I was the one who got this gentleman elected," said Chiu, a software developer and former school trustee, who began the event by introducing himself as a father of two children attending McRoberts, inviting some good-spirited jeers.
He also started by stating Richmond is a big exporter of berries, alluding to the Conservative government's broad support for free trade agreements.
When asked about free trade, he noted the Conservatives have brought in 43 new free trade agreements under Prime Minister Stephen Harper. He noted the recent agreement with South Korea but omitted the controversial one with China.
"This is how we grow our economy, how we make our pie bigger," said Chiu.
Most of the questions posed to Chiu were related to the economy.
He noted the Conservative government has supported apprenticeship training for youth.
Grade 10 student Semeion Wong asked Stewart about rising tuition fees, stating the issue is important for many of her friends' families.
The NDP has no stated plan to address the issue, although it has been critical of rising student debt.
Green Party candidate and realtor Laura-Leah Shaw, whose party wants to eliminate university tuition, was questioned on raising corporate taxes.
"It's not a tremendous burden" to raise taxes on the wealthiest Canadians, as well as corporations, said Shaw.
TJ Hamberger asked Shaw and Stewart about their opinions on selling bulk water.
As both drank from bottled Nestle water, Stewart said climate change needs to be addressed and Shaw said profits from resource extraction should stay in the country.