Some B.C. fishers may be forced out of the industry if they aren't able to earn enough income this year, according to Steveston-based fisherman Justin Taylor.
"We're kind of in the same boat as farmers. If we're not helped to get through this year, it might jeopardize our ability to operate in future years, which kind of jeopardizes the overall food supply chain in British Columbia and Canada," said Taylor.
"The effects of this could definitely continue (past next year)."
As domestic and foreign demand fell dramatically in the wake of COVID-19, processing plants – which fishers directly supply – haven't been able to sell to the restaurants and hotels that normally make up the bulk of the seafood market.  
As a result, prices are uncertain, and lower.
"This is going to be a survival year for me and my crew, for sure," he said. "When you're facing 40 to 50 per cent price reductions, you really don't know after expenses if there's going to be much money actually pocketed…There's a real risk of not making any money."
Some fishers may opt to not fish and apply for programs such as the Canada Emergency Response Benefit, said Taylor. However, he said, it can be difficult to return to the industry if you take a year off.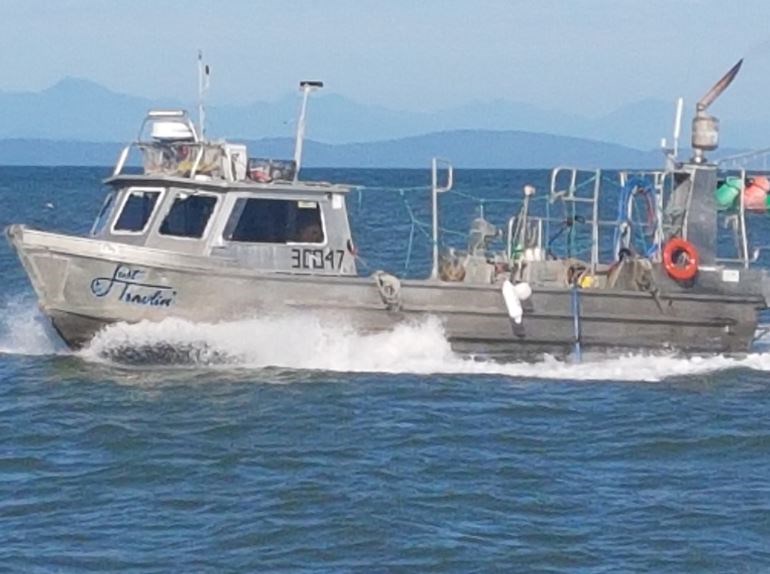 And it all depends on how the pandemic plays out, said Taylor. While restaurants will be able to reopen in the coming weeks, there's no guarantee there will be enough increased demand for the product.    
To complicate matters, the Department of Fisheries and Oceans Canada has also pushed back the opening for the spot prawn season from May 7 to June 4 due to the pandemic, said Taylor, creating conflicts for both him and many others in the industry.
Now, there's only a two-week window between the start of prawn season and the opening of the Dungeness crab season in mid-June – which Taylor also fishes.
Taylor and his crew haul about 30 per cent of the gross value of their crab catch in the first 20 days of the crab fishery. Likely, he said, his harvest this year will suffer as he juggles hauling from two fisheries simultaneously.
Those in the industry who fish salmon around mid-to-late June, or who go offshore to fish tuna, will also have a conflict due to the delayed prawn season, said Taylor. Some may have to choose one fishery over the other.
To date, the federal government has not announced any economic assistance for the fishing industry, apart from a $62.5 million fund to assist Canada's seafood processing sector and businesses – but Taylor said this likely isn't enough, and doesn't apply to self-employed fishers.
"By the time you split (that funding) up between the east and west coast, I don't think it would help the processors enough that that benefit would be passed down to the fishermen."
Dane Chauvel, CEO of Richmond-based Organic Ocean Seafood, which distributes high-end seafood to top restaurants across North America and in Asia, said that fishermen across Canada would benefit from the federal government's help during this time.
"We're not seeking payment to not fish, we're seeking financial support so that we can fish," he said. 
Processing plants a risk
Processing plants are another concern, said Taylor. Once seasons open, a lot of the product will hit the market at once, meaning the plants will need more employees on hand to get through the extra volume.
If a plant has to close because of an outbreak, the fishers who sell to it will likely be told not to fish, said Taylor. Typically, fishers only supply one processing facility.
That's one reason why the spot prawn season was delayed, he said, as processors were concerned they wouldn't be able to get enough employees on site.
Chauvel, meanwhile, said the lack of personal protective equipment for workers in the seafood sector is an ongoing issue.
"Given what we've seen happen in the beef and pork and locally, the poultry, industries, we're saying to government, we're no different from other food processors, and if you don't want to see a disruption in the supply chain, you've got to find ways to assist us," said Chauvel, who is also chair of the B.C. Salmon Marketing Council and board member of Pacific Prawn Fisherman's Association.
"You've got to keep fishermen safe and healthy just like you have to keep food supply chain workers safe and healthy, or else you're going to compound a food shortage on top of the health crisis."
Chauvel said he would also like to see testing made available for captains and crew members prior to embarkation.