A heated discussion took place at a public hearing Monday regarding Onni Group's proposal to rezone the Steveston boardwalk from maritime uses to commercial retail space.
"We all realize that a marina is not on the table now," said Mayor Malcolm Brodie.
"It's not perfect, but we need to look at what's on the table that can be done for the community," he added.
City councillors voted to defer the proposal, particularly the amount Onni should pay toward community amenities, until the next public hearing on Nov. 20.
Onni's representative, Chris Evans, originally proposed $2.375 million in exchange for the new zoning, which would increase the property's value. He then offered an extra $1 million during his second presentation at the meeting, when asked by Brodie if the company was willing to pay more.
Coun. Alexa Loo said she is comfortable with the new number and would like to see the proposal move forward.
However, Coun. Harold Steves insisted that Onni's community contribution needs to match the city's original assessment of economic gain for Onni, which is $9 million.
"From what I understand, Onni deducted the cost of converting the existing buildings to future commercial use from its proposed community contribution," said Steves.
"But when they built it, they knew they were not going to use it for maritime use, why do they expect the city to pay for it now?"
Evans responded that "this is a very unique situation and that the company will work with city councillors to reach an agreement."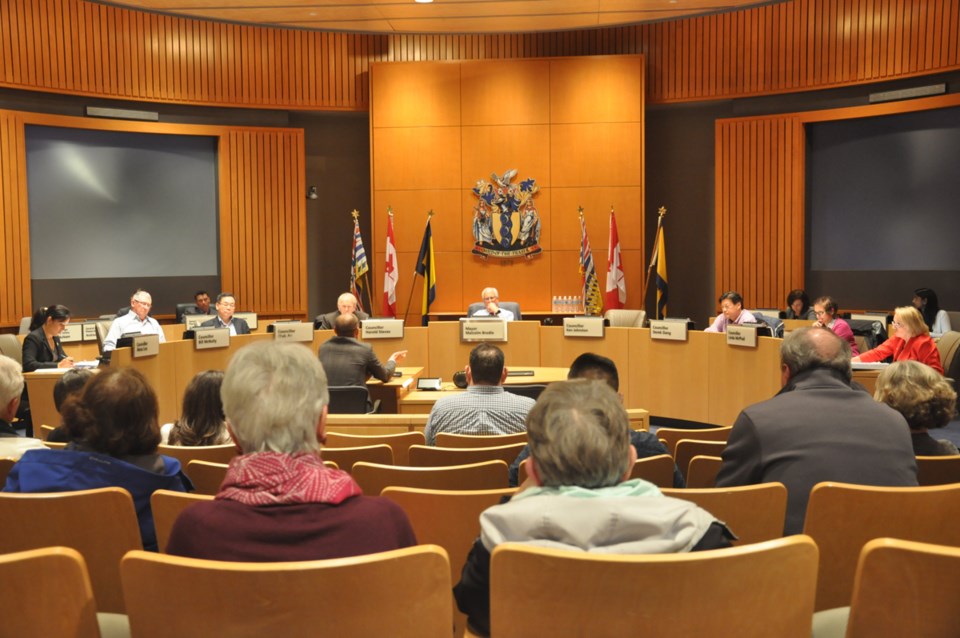 Resident John Roston presented a detailed argument in which he referenced an Onni report from 2014 that lists lease rates it would charge if the site was rezoned.
Based on that, he claimed Onni will see an increase in value of almost $12 million once the land is rezoned.
"Onni will make a huge profit…If they won't provide community benefits, at least give funding," said Roston.
Brodie said the city needs more information before agreeing on a number.
"Onni was generous to increase the offer by $1 million tonight, but the question is whether that was an appropriate amount," said Brodie.
"We need to consider more financial factors, and by deferring it to November, we will have that information."
About 100 people attended the hearing, which ran until 11 p.m., and more than 20 individuals expressed their opinion.
Discussions were mostly based on the issue of land use — Onni proposed additional uses, including restaurants, retail, grocery stores and two hotels with 32 units in total.
Some residents expressed their concerns that the new commercial complex would damage the community atmosphere.
"It's an area with many kids and seniors," said a resident living on Bayview Street.
"The relentless rezoning plans are like nightmares for us who live here. It will bring noise, trash, and attract drinkers and drug dealers here, and we are the ones that will pay for this."
Some residents also worry the new merchants will threaten currently established businesses, which are the "heart and soul of the community."
However, the majority of the speakers supported the rezoning — some are tired of seeing the empty buildings, while others hope the new businesses and the hotels will give Steveston an economic boost.
"We are so, so very tired of seeing the empty buildings. We need to move on and have it resolved sooner," said resident Alan Robin.
"It's a good opportunity to support tourism, bring more activities and commercial vibrancy to Steveston and to help local businesses continue to grow," said another resident, Jay Nando.
General manager of the Steveston Dragon Boat Festival, Ann Phelps, said the proposed hotels will potentially host attendees for festivals and generate profit for the community.
Jim van der Tas, president of Steveston Merchants Association, suggested a "1/3, 1/3, 1/3" idea, meaning 1/3 retail, 1/3 office and 1/3 MMU, but the proposal was opposed by both city councillors and Onni.
"I understand that people are very upset to see buildings sitting there empty and it's harming our community. But Onni needs to pay its fair share… (we should) leave it vacant until getting a decent contribution,"said Roston.
Brodie said he is satisfied with the proposed land use.
Coun. Derek Dang noted, "We didn't do this because we want less for the community; we want more."
He added, "Even if everybody is not necessarily happy, we are heading in the right direction."
Steves said he expectes a deal will be done on Nov. 20.