An 11-year-old girl started a media storm last Friday, reporting to Toronto police that she was assaulted by an Asian man with scissors, trying to cut her hijab off, which soon got international media coverage.
The girl then attended a media release organized by Toronto District School Board, saying she was very scared that "suddenly someone assaulted me by cutting my hijab two times." However, after days of investigation, Toronto police have concluded that the event "did not happen."
Toronto Police Service treated this allegation very seriously, and investigators worked over the weekend gathering evidence.
Mark Pugash, Toronto police director of communications said on Monday that when the investigators had evidence,  "they sat down, looked at what they had, analyzed it, tested it, and the only conclusion that they could come to was that the events as described on Friday did not happen."
But how did the 11-year-old's false story become national, front-page news?
It all started on Friday morning, various media outlets reported this allegation immediately before police investigation. By the afternoon, Prime Minister Justin Trudeau tweeted, saying "incidents like this cannot be tolerated."
My heart goes out to Khawlah Noman following this morning's cowardly attack on her in Toronto. Canada is an open and welcoming country, and incidents like this cannot be tolerated.

— Justin Trudeau (@JustinTrudeau) January 12, 2018
Soon after, Toronto District School Board let the tearful 11-year-old face cameras and reporters, who then tweeted and reported her story which soon became well-shared on social media.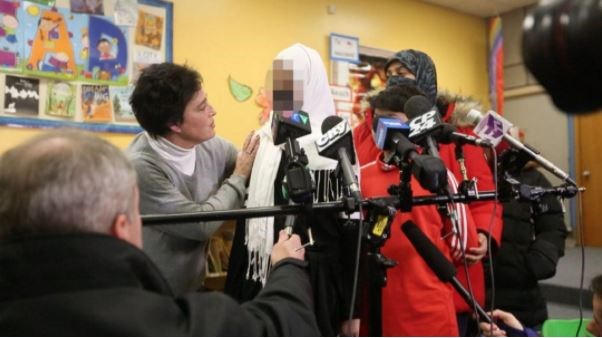 Pugash,Toronto police director of communications said he would not speculate the reason why the girl made the allegations, and he would not "anticipate anything further coming from this."
Video of the media release:
Video of Justin Trudeau condemns this "attack":