'All lives matter' may sound nice, but shows ignorance to the Black Lives Matter (BLM) movement, says Steveston resident Ayako Gallagher.
Gallagher and her husband spotted the slogan written by someone – perhaps a child – in eight-feet-wide, two-metre-high letters in chalk across the road at the Porteau Cove campground, where they were camping in June along with their young son.
The slogan, said Gallagher, is "inappropriate and offensive to BIPOC (Black, Indigenous and people of colour)," given the current social and political climate – with mass anti-racism protests across the US and around the globe, including in Canada.
"It does sound nice, I think, to someone ignorant to the Black Lives Matter movement right now, and I understand how kids could be listening to their parents saying, 'no, children, all lives matter,'" said Gallagher.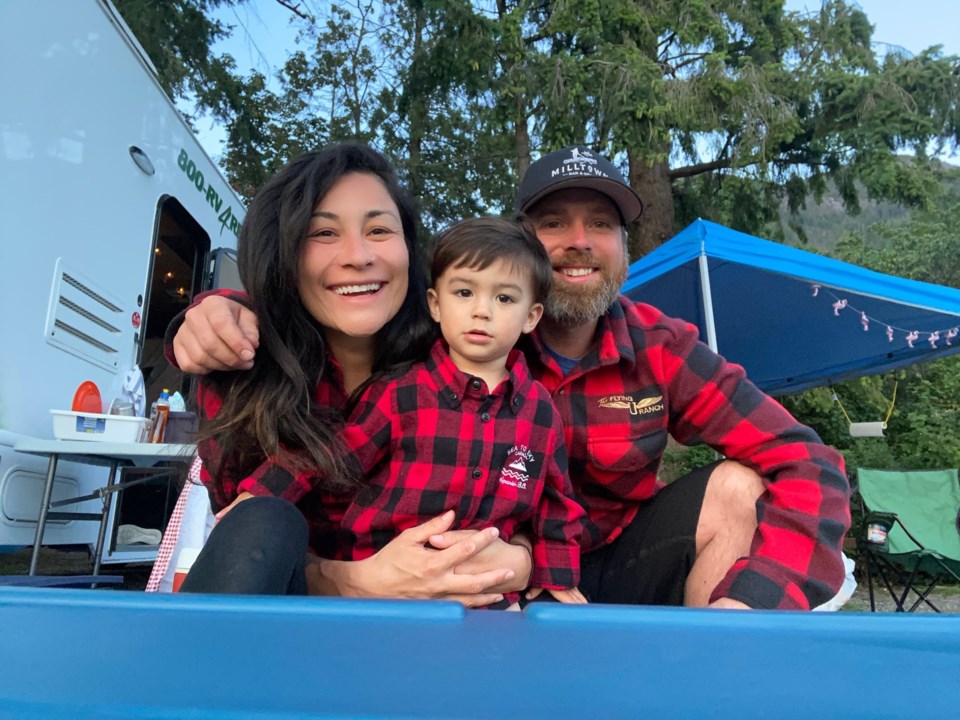 "But this statement falls along the spectrum of racism and is inappropriate to be saying right now, and for anyone to be writing or saying in public places, especially in a B.C. park."
It's a statement that "serves to silence the voices and struggle of Black people," she said. "Until Black lives are valued, promoted and protected the same way white lives are, this statement is misleading. Not all lives are valued equally."
'Black lives matter,' isn't to suggest no one else's lives matter, said then-US President Barack Obama in 2015. Rather, it aims to highlight a "specific problem that is happening in the African-American community, that is not happening in other communities."
The BLM movement has seen a resurgence following the death of George Floyd – an unarmed Black man – in May, at the hands of Minneapolis police officers. Protests denouncing racism against Black, Indigenous and people of colour have since swept the globe.
Gallagher and her husband, Paddy, debated erasing the slogan themselves but decided it would be best to raise the issue with a member of the park's staff.
But the conversation with the park worker took Gallagher aback, as the worker responded to her concerns with, "So are you telling me all lives don't matter?" and rolled her eyes as she said "I'll get someone to erase the 'all,' I guess."
Gallagher said she tried to explain to the worker why the phrase was offensive.
"It was a very surprising, shocking and disappointing experience," she said. "It was her response that sparked my concern and the reason why I went to the Ministry…I was so astounded that this woman would take such a stand and a bias against being asked to take down the 'all lives matter' sign."
While Gallagher has been camping at B.C.'s parks her whole life, she said she can't recall ever seeing staff that reflect the province's diversity.
"I've never seen a non-white staff member before…So perhaps this could be something, to look at the hiring processes or inclusion," said Gallagher, who was born in Canada to parents who immigrated from the U.K. and Japan, and identifies as a visible minority.
Ministry apologizes
Gallagher emailed a complaint about the incident to BC Parks, and received a response June 30 from a representative of the Ministry of Environment and Climate Change – which oversees BC Parks.
"I am sincerely sorry that your camping trip was marred by this interaction with staff, and I wanted to reach out to let you know that the exchange with staff does not represent the views of BC Parks or this government," reads the email.
"Black lives matter," continues the apology. "BC Parks is committed to ensuring all visitors feel safe and welcome in our parks.
"Racism has no place in our province…a slogan like 'all lives matter' that is meant to dismiss the important conversations right now about systemic racism can obviously make Black, Indigenous and people of colour feel unsafe."
Concrete action needed
Gallagher said she accepts the apology, but would like to see concrete steps taken by the Ministry, for example, anti-racism training and protocols for BC Parks staff.
"I think it was sincere and I accept the apology, but there's nothing that shows that nice rhetoric actually trickles down the park gate operators on the ground that are interacting with B.C. residents."
She said she would also like to know what consequences might be for campers or staff – such as the park worker she spoke with – who incite racism and discrimination.
In an email to the Richmond News, a spokesperson for the Ministry of Environment and Climate change said that the Ministry is "sorry that this experience fell well short" of its commitment to making sure "all people feel valued and welcomed" in B.C.'s parks.
The Ministry is also following up on the incident.
"The contracted Park Operator is following up with the employees directly involved and BC Parks will take all necessary steps including educational opportunities to make sure cultural inclusivity and diversity are respected in all interactions," said the spokesperson.
Gallagher also received a follow-up email from the Ministry representative who had previously contacted her. In that email, the representative said that the parks worker "is very sorry, and (the incident) has sparked a conversation in their staff ranks about how to be respectful and more sensitive in dealing with discrimination."
The email states that education is "being provided (to the park staff) to ensure this doesn't happen again" and the Ministry office also had "a preliminary discussion on what anti-racism training will look like."