The City of Richmond is unlikely to shift its position on banning the possession and sale of shark fin products, despite its neighbours in Delta being on the verge of a bylaw.
Earlier this month, the City of Delta passed the third reading of its bylaw which will ban the possession and sale of shark fin products. Its move increases the number of cities in Metro Vancouver supporting such a ban to five.
Despite the ongoing debate in Richmond, which has a large number of Chinese restaurants - where shark fins are sometimes served – city officials and politicians don't see such a ban as a realistic option.
"(There was a) 2013 (staff) report. At that time, there were a number of reasons for not pursuing a ban," Ted Townsend, the city's spokesperson, told the Richmond News last week.
He specifies a 2012 court case when Toronto council, which passed a shark fin ban at the time, was challenged in Ontario's Superior Court, where a judge struck down the move.
"We are not aware of any change that would cause us to alter this opinion," said Townsend.
Coun. Chak Au echoed him, saying that shark fin products are a national issue and it is "very difficult" for municipal governments to ban them, as they are currently legal in Canada.
"I'll give you an example. If it is legal to import and export, what could happen is that, somebody brings it in through the airport, but if it's not allowed in Richmond, the person cannot leave the airport. It can create that discrepancy," said Au.
"That's why...at that time, (we were) advised against it by our legal department. It's very complicated - it's not just that the city can choose to ban it or not."
Meanwhile, Delta council sees the chances of being sued over the ban very low, given there is no restaurant serving shark fins in their city, according to Delta councillor Dylan Kruger.
"In Delta, probably unlike in Richmond, there aren't businesses currently serving shark fin soup, so we are confident that we are not going to receive push backs from our business community," Kruger told the News.
He called the shark fin industry "unsustainable and inhumane," emphasizing that 73 million sharks are killed every year globally, which is 200,000 a day.
"We see the bylaw as an opportunity to continue our advocacy to the federal government to see that the (national) ban moves forward."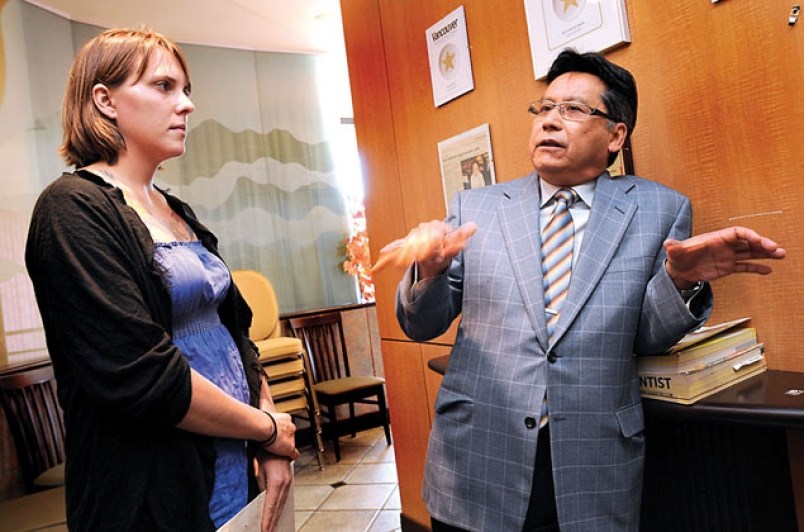 But the story is different in Richmond. One Richmond restaurant owner has already threatened to take the city to court if a shark fin ban is put out.
"Even if (the ban) happens in Delta, it doesn't affect anybody," said David Chung, owner of Richmond's Jade Seafood Restaurant and president of the Asian Cafe and Restaurant Association.
"There is hardly any restaurants (selling shark fins) in Delta. What's the point of doing that?"
Chung added that such a ban would never happen in Richmond, due to the high volume of people of Chinese ethnicity living in the city.
When asked how he would react if Richmond did try to bring in a ban, Chung said he would absolutely challenge it.
He argued that the world has "excessive" sharks, and that endangered species are already forbidden in a catch, so there is no problem with the shark fin industry.
Au, on the other hand, said he supports a ban, but is counting on the federal government to step up and roll out Bill S-238 to end the importation and exportation of shark fins.
The Bill was passed in the Senate last year, and is now being reviewed by the House of Commons.
"Since shark-finning has been illegal in Canada since 1994, it is only logical that the trading of shark fins should not be left wide open in Canada," said Au.
"People have changed. I don't see too many people having (shark fins), and I don't think many Chinese people would have a problem of not eating them."