Last week, Joan Ehman was steeling herself for a very difficult conversation with her five-year-old granddaughter, Noel.
Ehman – who's raising Noel, who has special needs – was going to explain to her granddaughter when she came home from school that her best friend, a three-month-old pup called Buddy, was going to have to be euthanized.
After spending tens of thousands of dollars already on a multitude of serious health problems with Buddy, Ehman was referred to Canada West Veterinary Specialists' animal hospital in Vancouver for evaluation.
Additional x-rays were performed which confirmed Buddy suffered from a crippling condition called osteochondritis dissecans (OCD) in both of his shoulders and both of his tarsi (ankles).
Ehman paid thousands of dollars for Buddy's workup, but it became apparent that Buddy needed two surgeries – first in his shoulders, then in his ankles – to alleviate the problem and eliminate the pain.
It was then that she realized she didn't have the $9,000 plus to pay for the medical treatments and, subsequently, arranged for the euthanasia.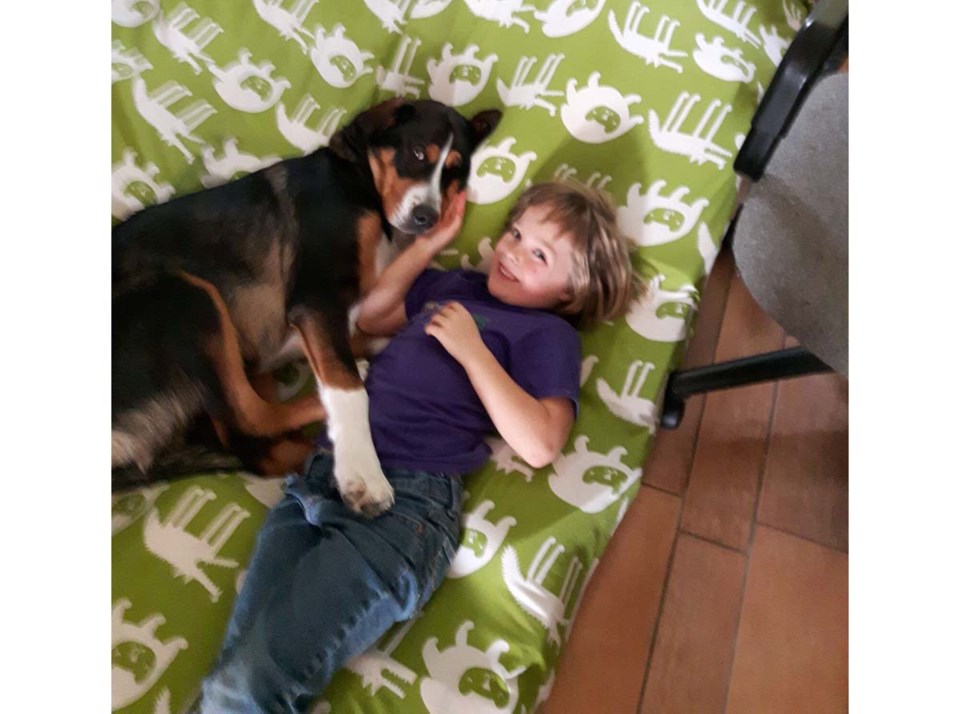 On the eve of this appointment, however, she was contacted by surgeons at Canada West to say not to euthanize Buddy, a Bernese-Greater Swiss Mountain Dog-Pyrenees cross.
Canada West told her the surgeries would be paid for by the Jesse Bandit Donor Assistance Fund, which was initiated by a client who wanted to recognize the compassionate medical care his two dogs – Jesse and Bandit – received at the animal hospital.
The fund provides assistance to financially-challenged pet owners who would otherwise have to have their beloved pets put down.
Ehman will pay a small amount, as will a family friend and another donor.
"She was quite excited, she just loves Buddy," Ehman said of Woodward elementary student Noel, when she went to visit Buddy on Friday at Canada West.
"We're picking him today (Monday), but he's going to stay with a friend for a little while, as Noel can get a little rambunctious and we don't want anything to set him back while he's recovering."
Ehman said the gesture from Canada West was "overwhelming."
"I've never heard of such an organization before and it was all very last minute. I'd already made the decision to euthanize.
"I was a very difficult decision and I had phoned around for more quotes, but they were actually worse.
"I was preparing to tell Noel when she came home from school last week. Just before that, however, I got the call from Can West."