The O-Café at the Richmond Oval has been allowed to reopen after a health inspection Tuesday found signs of rodents.
Vancouver Coastal Health, which inspects all restaurants and food facilities in the health region, posted a Sept. 25 inspection report online that noted the premises had signs of rodent activity. Matt Kieltyka, a spokesperson for VCH, confirmed the health authority ordered the café closed that day. 
Kieltyka said that restaurants and cafés need to ensure all infractions have been corrected before they're allowed to reopen.
"For signs of rodent activity, we want to see that any possible droppings have been removed, the affected area has been cleaned and sanitized, that possible points of entry have been sealed and that a pest control company has been contacted."
While the facility was closed, a reader contacted the Richmond News with concerns the café was not displaying its health infraction notice. A News reporter visited the O-Café on Thursday, but did not see the closure order that's required to be posted in cases of health violations.
Blue fences blocked the entrance to the café, which also had its sliding mesh gate halfway closed. A sign affixed to the fences said the O-Café was currently undergoing maintenance.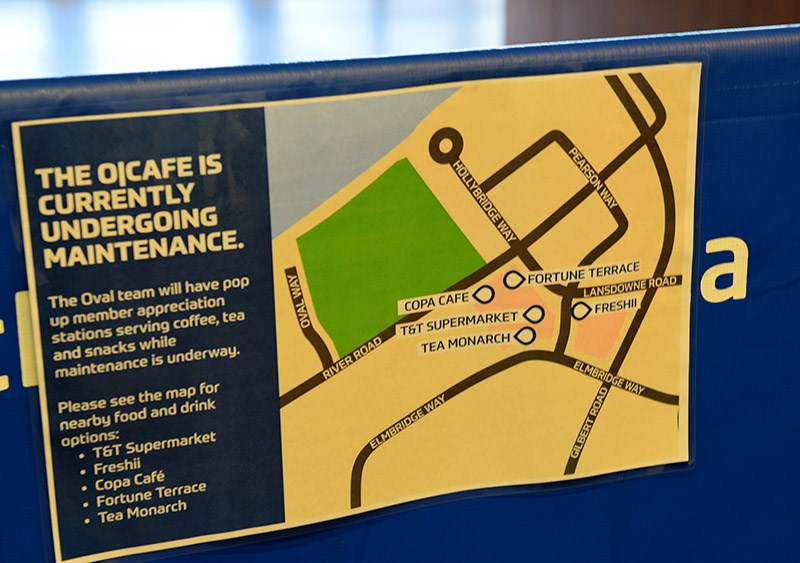 This sign suggested the Richmond Oval's O-Cafe was undergoing maintenance while it was closed because of a health infraction. Photo: Richmond News/Megan Devlin
An O-Café staff person who did not want their name published told the Richmond News Friday that they weren't sure where the notice had been posted, but that the sliding door to the restaurant may have been "covering it slightly."
They added the health inspector returned Thursday evening, and took the sign away because the facility had passed a subsequent inspection.
The City of Richmond, which owns the Richmond Oval, did not immediately respond to a request for comment.
An earlier inspection Monday also noted that food was not always stored, displayed or transported at a temperature of 4C or below, that no employee on site held a FOODSAFE or equivalent qualification and that food was not always stored off the ground.
This is the second time health inspections have found signs of pests in the facility. A November 2016 inspection also noted signs of vermin.