It's being dubbed a "mega crew" and they'll be breaking it down fresh with some mega moves at the Notorious Dance Competiton March 3 at McRoberts secondary.
This urban hip-hop dance competition features more than 25 student teams from across the Lower Mainland, including the McRoberts crew, made up of 20, Grade 8-12 students, many of whom are straight out of Moncton.
Now in its fifth year, organizers expect next Friday's event to be the biggest and tickets are nearly sold-out.
Notorious is an example of how students, teachers and community members at large have fostered one element of the arts, and as such is a key event for Education Week at the Richmond School District. 
Choreographer Rhea Casido said the audience is in for a thrill as the McRoberts team includes dancers from all grades.
"Some are new to dance, but they want to dance so it's not hard to get them moving," said Casido.
They will be whacking, hustling, popping, breaking and more, as they perform to both new and classic hip-hop beats.
"The audience is going to expect to see a high-energy event where you'll see teams that have worked so hard over the past year to create these amazing routines and showcase them in front of a huge crowd. They'll see the passion," said Casido, a 24-year-old aspiring actress, who partnered with co-choreographer Mica Cobarubia, 21, to stage the performance.
This will be Jayne Vos' first Notorious performance.
"I love dance and want to pursue it as a career. It's the only school team I'll join because I'm horrible at sports," said Grade 8 student Vos.
Horrible at sports? Not so fast. Hip-hop is much like a sport, if not a sport in its own right. It requires diligent practice, incredible physical talent, and, in the case of Notorious, lots of teamwork.
Casido is in the midst of introducing a new freestyle-focused program.
"We're hoping to add more of that once the year is out and we're hoping to keep training those new skills and facilitate freestyle skills, which I think is missing in Richmond's dance community."
In turn, keeping things fresh keeps the audience coming back for more.
"There's always a different vibe. Last year, we had an amazing freestyle competition."
Changing things up is also important to keeping up with how the music changes, as Notorious ebbs and flows with pop culture.
"People like to throw in a lot of pop culture references, throw in a few jokes, include different songs, including throwbacks," said Casido.
Popular amongst the kids is pop singer Ariana Grande, one of Christa Chiu's favourites.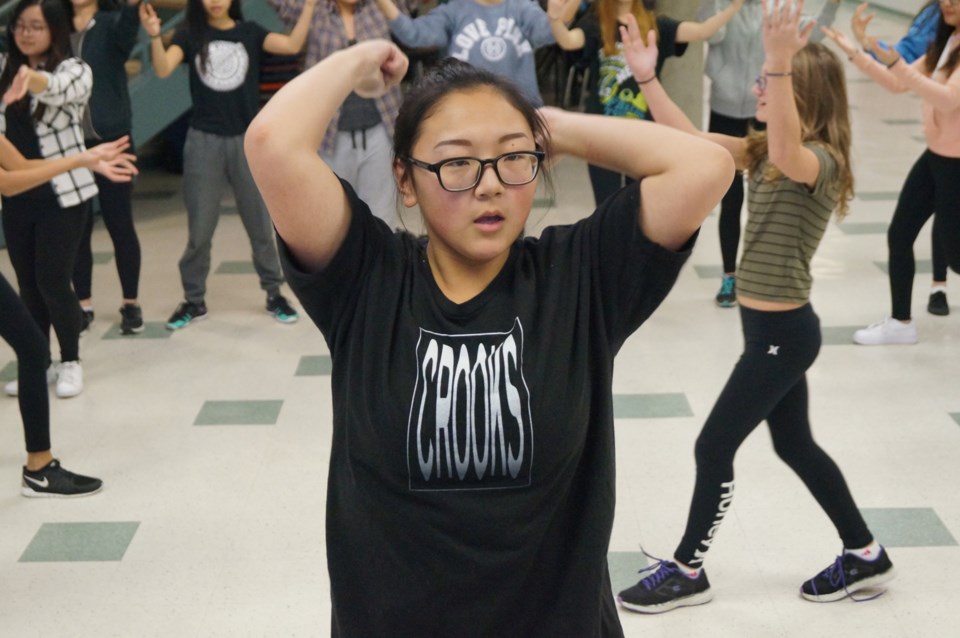 Grade 9 Chiu said Notorious gives her an opportunity she can't find anywhere else in the school district.
"I was interested in dance and it was, like, something new that I could try. In elementary school, there wasn't a dance opportunity," said Chiu, who performed ballet in early childhood.