After months of consultation and four, marathon public meetings in as many weeks, the City of Richmond has finally set the limit on house sizes on agricultural land at 10,764 square-feet.
However, unlike Monday night's six-hour, packed public hearing — which ended at 1 a.m. the next day — Wednesday's continuation of the same culminated with veteran councillor and farmer Harold Steves walking out of the meeting in protest.
Steves' premature exit — the first time he's felt it necessary to do such a thing in 30 years  ­— produced the 7-1 vote in favour of the new house size limitations, with Coun. Carol Day the only dissenting voice left.
Both Steves and Day had wanted the limit — which applies if the agricultural land the home is being built on is at least half an acre — lowered to around half that size, with the option to rezone for bigger if the applicant could justify it for farming or cultural reasons.
Speaking to the Richmond News via email on Thursday morning, Steves, who was at a Metro Vancouver utilities meeting, said that, before walking out Wednesday night, he produced for the audience a string of examples where luxurious homes were being built on farmland in Richmond.
"I gave an example of a recreational property with a 12,000-square-foot house, 24-seat theatre, possible swimming pool, tennis court, cabana, and driving range, taking up the entire property. That will likely be the norm," he said.
"I told council that the increase in the recreational housing threat to farmland is due to the lack of foreign buyers' tax, low farm taxes, reduced education taxes and ease of exemption from property transfer tax by occupying the premises in some way for a year.
"This permits about 1,000 parcels of farmland that have not had new houses built yet, to eventually become recreational properties, with tenant farmers on the remaining land...if there happens to be any."
About 20 of the 50 plus speakers who attended the first public hearing turned out again on Wednesday to voice their approval and disapproval of the city's move, which was predicated by a flood of applications for ostentatious homes on farmland, some more 30,000-square-feet.
Any applications for buildings on less than half an acre would be subject to a 500-square-metre limit (5,382 square feet), which was city staff's original recommendation for all lot sizes and is in line with the B.C. Ministry of Agriculture's guidelines.
The maximum setback from the road are also being increased, from 60 metres to 75.
Also among the changes are criteria for rezoning above the new limits, which include cultural and intergenerational reasons for a bigger house size, although a need to accommodate more farm workers — coupled with an acceptable farm plan — would need to be demonstrated.
As with previous meetings, opinions expressed to council were heated and were, with very few exceptions, sharply divided; one half begging city council to adhere to ministry guidelines on house sizes to "protect" farmland erosion, while the other cautioned against curtailing farmers' flexibility and limiting their ability to house extended families.
Speaking after Wednesday night's decision, Mayor Malcolm Brodie, while acknowledging that opinion on the controversial subject was divided, said the new limit is "a maximum, not a mandatory number.
"There are reasons why some people in the farming community want bigger houses."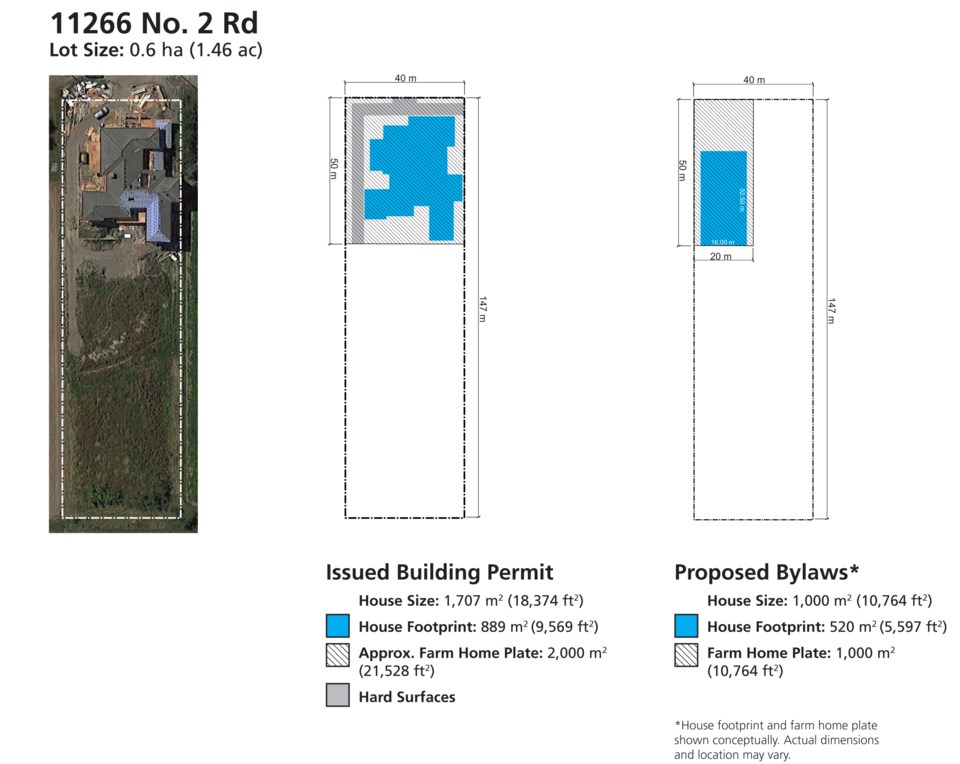 The figure reached, he said, is quite a "dramatic" reduction from what is happening now, prior to the new bylaws coming in.
"There are many houses in the 18,000-square-feet range and higher and there are people who would like the house sizes to go even larger," he told the News.
"We had to come up with a reasonable maximum that will allow people (farmers) to achieve their goals," adding it will be reviewd in six months.
Brodie admitted there is a "third category" out there who "want majestic estates."
The new rules will take such parties out of the equation, "to a certain extent," he added.
The bylaw setting out criteria for people to apply for a home bigger than the new limits is an attempt, said Brodie, to "give some structure to the situation."
Day insisted, "We should be starting at 5,000-square-feet and then the 'real' farmers can justify the need for the 10,000.
"We've threatened farmland in Richmond and B.C. with this new standard. We're now the leaders in the wrong way."