Coun. Kelly Greene wants safer cycling options, especially to encourage more women and kids to hop on a bike.
Some of her suggestions, which will come to the next general purposes meeting in January, include Dutch intersections, two-way bike lanes and protected bike lanes.
City council pushed for more bike lanes as part of the 2020 budget process, approving funds for a new lane in Steveston, design work on five different bike plan projects and money to teach all grade 6 and 7 public school students about cycling.
According to Greene's motion, infrastructure such as Dutch bike lanes — which uses protected bike lanes to reduce the chance of crossing and turning conflicts between cyclists, pedestrians and vehicles, according to the Bicycle Dutch website — could help women and children feel safer when cycling in Richmond.
"Protected bike lanes have shown to increase participation by women and children when compared to painted bike lanes," reads the motion, which notes that women have different risk perception from men and are less likely to engage, either by themselves or with their children, in activities they perceive to be riskier.
Another option put forward in the motion is two-way bike lanes.
Greene is also asking the city to consider Vision Zero principles for new bike lanes.
The term Vision Zero was introduced in the late-1990s in Sweden, according to Vision Zero Canada, when that country's government pledged to eliminate death and serious injury from its roads.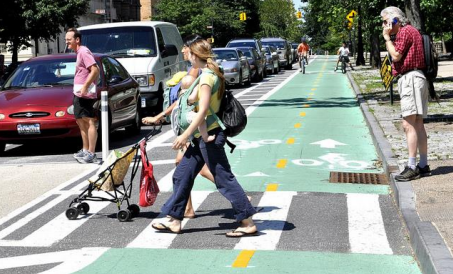 Vision Zero places a shared responsibility for safety on both those who use the roads and the people who build the road systems, rather than just on road users.
The motion also notes that active transportation modes, such as cycling, must have a higher rate of adoption in order to meet the city's carbon emission reduction target.
City council declared a climate emergency in March.
The next general purposes meeting is Jan. 7.