Smaller airlines may have more flexibility when it comes to resuming service levels and adapting to the ever-changing nature of the COVID-19 pandemic.
While Richmond-based Harbour Air came "virtually to a grinding halt" due to the virus, according to its CEO Greg McDougall, the good news is the airline is flexible in terms of its ability to dial capacity up or down, compared to larger airlines.
And starting on Monday, June 1, the airline will be ramping up some of its operations, with more scheduled flights taking to the air.
"We're able to roll with the punches a little bit better. We don't have tremendous debt loads or stuff like that either," he said.
The airline could see some new traffic, which it might not otherwise have seen, said McDougall, as people stay closer to home and travel within B.C. this summer. But, he admits, that won't replace the tourism-related travel that Harbour Air would typically expect.
"Normally (tourism) is about 30 per cent of what we do from a revenue point of view," said McDougall. "It's very important. It's really our biggest growth market too, because, I think, the sea planes have become sort of iconic with British Columbia and part of the Vancouver experience.
"It's obviously hit us very hard not having that (tourism) this summer, and that's going to have a big effect on everything, but we dial down and re-jig the company to run with the revenue that it's going to get."
Operating an essential service
Airlines have been hard-hit by the pandemic, grounding flights in the wake of travel restrictions put in place around the globe to limit the spread of COVID-19. A survey by the International Air Transport Association found that 40 per cent of recent travellers anticipated waiting at least six months after the virus is contained before flying again.
Air Canada announced it would be laying off around 20,000 employees earlier this month, and reported a loss of $1.05 billion in the first quarter ending March 31, compared to a profit of $345 million in the same quarter in 2019.
Meanwhile, Harbour Air cancelled its scheduled flights in late March, grounding its 43 Planes, which normally carry passengers around B.C. and to Seattle.
But now, as an essential service, some of those planes are able to take to the air again, and daily scheduled flights have resumed between Vancouver, Victoria, Nanaimo, Sechelt and Salt Spring Island.
"A lot of people consider us an essential part of the transportation network in the province," said McDougall. "So to not have us operating, for a lot of people that's a huge logistical problem."
Business picked up quickly, and is building every day, said McDougall, and – even with reduced passenger capacity to ensure physical distancing – returned to about an average 60 per cent load factor with some flights even selling out.
While there are currently six or seven flights running, McDougall said that number should be up to nine by the end of the month.
Harbour Air's website states that flights between Richmond and Victoria and Nanaimo will resume June 1, along with flights between Vancouver and Maple Bay. Other flights are set to resume later next month.
"I think as people get their sea legs, so to speak, and get their confidence back as to what they can and cannot do safely, I think that things will certainly get better," said McDougall.
"Will we get back to where we were pre-COVID? Maybe eventually, but not for quite some time… So, it's a bad news, good news scenario.
"We're survivors – we're going to survive – and we'll be here to rebound along with the rest of the economy of B.C., and we'll be ramping back up as the economy ramps back up."
E-plane work going strong
McDougall helmed the debut test flight of Harbour Air's electric plane in December 2019 – a project the company has been working on with Seattle-based MagniX, which produces the plane's motor.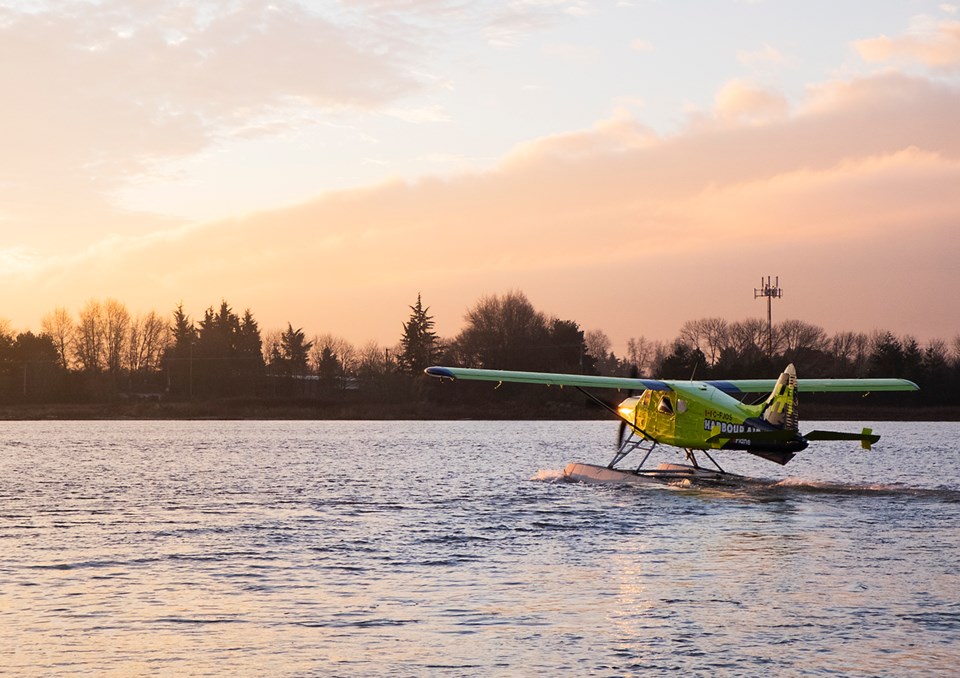 Harbour Air first announced its plan to produce the zero-emission e-plane in March 2019. And despite the pandemic, work on the project is proceeding as normal.
"The funding for (the e-plane) mostly comes from MagniX, and so they want to keep moving ahead with certification of their motor and all the rest of it," said McDougall. 
"So our aerospace division has been running pretty much full speed, doing various projects, but (the e-plane) is certainly one of them."
The company has also been able to reassign more people to the project, due to the grounded flights, said McDougall, and is running an entire test flight program and proofing the e-plane's technology.
He estimates it will still be about two years before the e-plane is certified for commercial use, but the timeline could be sped up slightly due to the pandemic.
"If anything, it will probably be (done) sooner than it would have been without COVID, because of the fact that there's more focus on it as we're less distracted, as it were, in terms of people and resources available to actually focus on it," said McDougall.