Homebuilders and developers are flouting city bylaws to construct megahomes.
That's the message Richmond City Council received from the Westwind Ratepayers' Association at a packed public hearing at city hall Monday for a proposed bylaw amendment to flat-roofed homes.
"What we see is a pattern of excessive massing on the upper floors of homes," said real estate Lynda Terborg.
About 40 homes in Richmond are being demolished for development each month. At issue are large, new homes — accused of being out of character from planned neighbourhoods — that overshadow older ones, thus blocking sunlight, causing drainage issues and ruining privacy.
The proposed bylaw is intended to curb three-storey homes with flat roofs and prohibit third-storey balconies. But Terborg said such homes only account for about 10 per cent of new housing stock.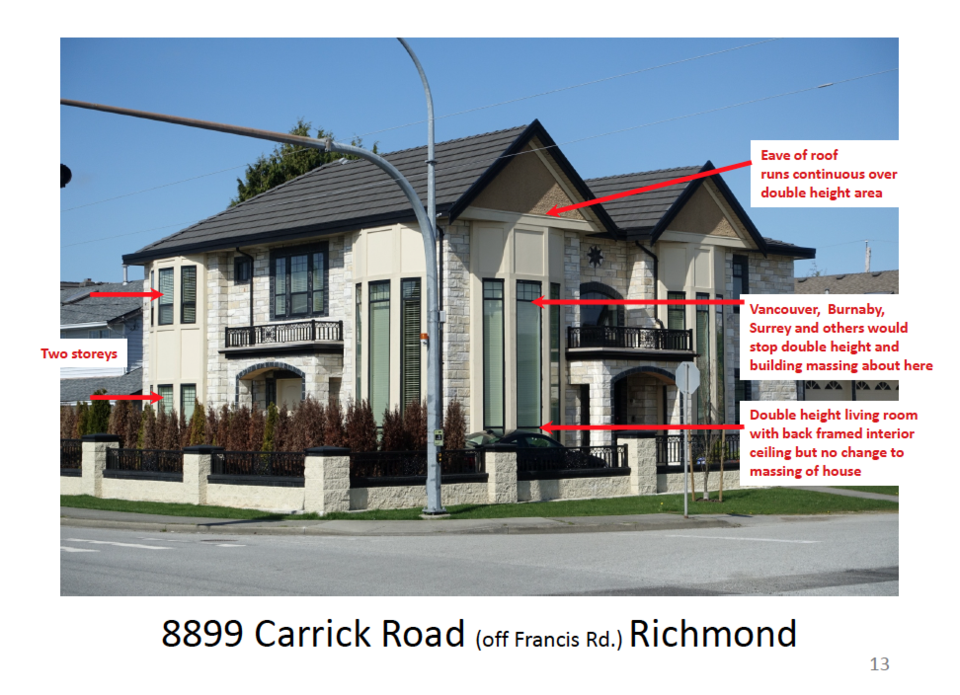 With the help of a study conducted by her son John Terborg and friend Kathryn McCreary, both engineers, Terborg contested the majority of new homes are illegally including 20-foot ceiling rooms without counting the space twice-over in the livable floor area, as prescribed in bylaws (homes have size restrictions relative to lot size). This results in the contentious bulky, box-style homes.
"It's quite obvious there is a huge amount of empty space and that increases the height of the house, which is what we are concerned about. I think we've got a problem," said Coun. Harold Steves.
Council created a new referral, tabled by Coun. Linda McPhail, to investigate housing "massing," particularly as it applies to double height ceilings.
Terborg and others are calling on a moratorium on permits until better enforcement comes into place.
"You cannot have a city approving housing that is in violation of its bylaws," she told the News.
"We don't have time to refer back anymore, something needs to change now," she added.
Terborg and others also want Richmond to drop its double ceiling maximum height from 16 feet to about 12 feet, to come in line with other municipalities. She is also asking the city to measure the height of a home from the top of a house and not from the mid-point of a sloped roof, as is presently done.
Such a measurement method can add about five feet in height to Richmond homes, compared to homes in other municipalities.
Measuring the mid point of a sloped roof started in 2008 following a bylaw amendment aimed to placate residents' concerns over megahomes.
Terborg said she can't find a logical explanation as to how such a change did the exact opposite of what was intended. She contends the city has turned a blind eye to bylaw infractions for years now.
Coun. Carol Day said a clearer definition on the maximum heights of homes is "critical" in limiting home sizes.
Mayor Malcolm Brodie said moratoriums would impede on homeowner rights. He noted the city will look to better enforcement with the new referral. He said the existing proposed bylaw will move ahead and the new concerns could be addressed in a subsequent bylaw amendment.
There was no opposition to the proposed (flat-roof) amendment at the hearing. Councillors Chak Au and Bill McNulty were absent.
Land-use contract amendments will take more time
Brodie noted the bylaw amendment does not apply to land-use contracts.
About 4,000 residential properties do not fall under city zoning bylaws, meaning homes can be built up to 39 feet high (instead of 34 feet high) with much greater density.
City spokesperson Ted Townsend said it will take time for staff to amend the contracts to bring properties under city zoning.
"It's not as simple as the city passing a bylaw ...We can't simply unilaterally do so and the process is expected to be complex and lengthy, not withstanding the need to consult," he said.
Townsend noted the city's legal team must assess the legalities of getting rid of the contracts, which were created by the province decades ago.
Last May the province put forth legislation that allows municipalities to extinguish the contracts.
Specifically, in Richmond, there are 49 land-use contracts in Richmond governing 4,009 single family lots. Another 21 contracts govern other uses such as parks, public facilities and multi-family residential homes (855 townhouses and 785 apartments).
"That's a lot of people directly impacted, not to mention their neighbours, many of whom have differing viewpoints on how the issue should be handled given potential impacts on land values, neighbourhood character etc. The process needs to ensure all viewpoints are heard," said Townsend.
He provided no timeline for when city staff will present to council a plan to extinguish the contracts.