This Monday will be a very poignant day for firefighters in Richmond.
Not only will they be honouring a fallen comrade with a full-honours procession and funeral, they will be saluting the significance of Capt. Donald "Bryan" Kongus being the first firefighter on record in Richmond to have died of work-related PTSD (post-traumatic stress disorder).
Kongus, a 44-year-old husband and father-of-four, died in August, after being off work for more than a year.
The IAFF Local 1286 — the Richmond firefighters' union — the Richmond fire department and Kongus' family wanted to delay any memorial until WorkSafeBC had given its final assessment on the cause of his death.
And, recently, after Kongus' passing was eventually determined to have been caused by PTSD as a result of his work as a firefighter, he can now be given the reverence of the aforementioned full-honours.
The parade in Capt. Kongus' memory will begin at 10:20 a.m. at 10851 Shellbridge Way, near Cambie and Shell roads, before heading east along Bamfield Gate and Drive to the Fraserview Menonite Church at 11295 Mellis Drive, where the private service will take place at 11 a.m.
"PTSD, when left undetected, can have a very big effect," said Cory Parker, president of IAFF Local 1286, who described himself as a friend of Kongus.
"Bryan's wasn't detected until about a year before his death. Early diagnosis is everything.
"He had been struggling with it for about two years; it is really sad. It went undiagnosed for years until nearer the time of his death.
"Mental health issues for firefighters are growing larger every day, so to get confirmation that Bryan's death was related to PTSD, stemming from the workplace, is significant."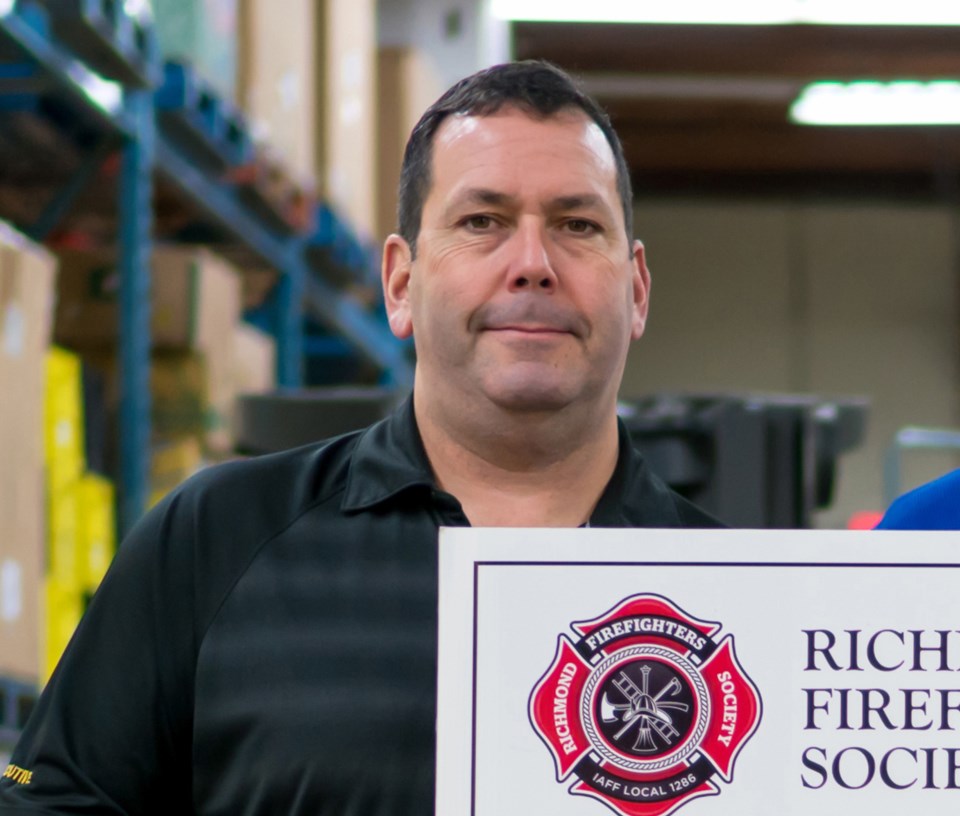 After joining the Richmond fire department in 1994, Kongus worked in several local firehalls and was considered a valuable member of Richmond Fire-Rescue operation.
"He was fun, enthusiastic and outgoing. He loved life and was very fit," Parker recalled of Kongus, who was cremated soon after his death in August.
"He loved horses and had a horse of his own and he loved riding his Harley Davidson."
Tim Wilkinson, Richmond Fire-Rescue's deputy chief of operations, pointed to the large number of stresses on firefighters all over the world today.
"There are events and items that are unnatural to see; we have a vision of what the body looks like," Wilkinson told the Richmond News when asked about the effects of PTSD on his firefighters.
"When something traumatic takes place, it affronts our sense of normality. Then you could be going through some things in your own life at the same time.
"It tends to have a significant effect on a firefighter and creates a higher stress than normal. This is what firefighters go through every day. It impacts you as a person and you start questioning yourself.
"It doesn't appear that it's bothering anyone else but, of course, it is. It's very complex and it does have more impact on some than others and can create a hole in your confidence."
Wilkinson said Kongus' situation was "very complex, with lots of different components going on.
"It doesn't happen to us a lot. Nationally, (PTSD) is getting worse, but we are maybe understanding it a little bit better than we used to."
Asked about the WorkSafeBC determination, Wilkinson said he was "happy that Bryan's family will now have the benefit of this designation and they will now be taken care of properly."
Wilkinson added that Kongus was "very talented" and "brought lots of energy to the job and was always in the middle of things.
"He did his job very well and was excellent at his trade. But he was a loving father and his family were very special in his life."
Preparing firefighters for job's stresses
In terms of current mental health support in place for Richmond's firefighters, Wilkinson said his department was the first in B.C. to have a Critical Incident Stress Management system activated.
The system, said Wilkinson, is utilized on a "very regular" basis by his members in the aftermath of traumatic events attended by the firefighters.
However, a new, two-day course — called "Resilient Minds" and created by the Vancouver Fire Department and WorkSafeBC — is about to be rolled out at Richmond's firehalls.
"It's quite intensive and trains people to look for the signs in the workplace and at home," explained Wilkinson.
"It offers help on learning to cope with the stresses and being supportive of others."
Wilkinson said new recruits already get similar training during their orientation, but at a "more basic level."
Members of the public are invited to line the parade route in honour of Kongus. However, the church service will be reserved for family, emergency personnel and invited guests.
Presuming PTSD
Moves have been made this year to have the B.C. government amend the Workers' Compensation Act to include a presumption of occupational stress injuries (OSI) for first responders.
Similar presumptive legislation is already in place in different provinces, such as Ontario, Manitoba and Saskatchewan. Currently, first responders in B.C. face a struggle around PTSD and OSI before WorkSafeBC accepts claims and begins treatment.
A presumption clause would mean that claims would be accepted because it would be presumed to be caused by work, unless the contrary can be shown.
The provincial Minister of Labour, Harry Bains, and Deputy Minister, Trevor Hughes, confirmed last month the intention of the government to present such legislation in the spring of 2018.
Statistics have shown that one out of 10 Canadians and one out of three first responders will be affected by a mental health injury, and that 60 per cent have, at one time or another, had suicidal thoughts.
PTSD causes intrusive symptoms such as re-experiencing a traumatic event. Many people have vivid nightmares, night terrors, flashbacks, anxiety, or thoughts of the event that seem to come from nowhere.
As of last month, B.C. has lost one corrections officer, four firefighters, seven paramedics/dispatchers and five police/peace officers to PTSD-related causes.