She hadn't realized she was clenching her jaw all day – due to COVID-19-related stress – until she recently cracked a tooth.
But Lauri Kerr, a Canada Post letter carrier for over 15 years, said she's far from alone in feeling stress and anxiety on the job these days. 
"Most of us try to slap a smile on our face and get it done, but it is (stressful)," she said.
Many letter carriers are "fearful," said Kerr – who delivers mail around Steveston – and worried of the unknown.
Some of that worry stems from customers who don't follow physical distancing practices when carriers are delivering their mail, she said, for example, when they are delivering packages to houses or distributing mail in apartment buildings.
While most people are respectful once the letter carriers ask them to stand back and remind them of physical distancing, Kerr said she is "quite surprised" that still happens.
There's also more people out walking in the neighbourhood or in their yards, said Kerr, along with a rise in dog bites, with more pets outside and not on leash in people's yards.
Concerns about a lack of physical distancing can also follow letter carriers home.
"We do have quite a few employees that live in multi-generational homes, and for myself, my child is very good at reminding me to stop and wash everything before I even get inside the door," said Kerr.
"So it is a concern, because I feel like there's so much we don't know."
The letters and packages Kerr and her colleagues deliver are sorted at an international processing plant near Vancouver International Airport.
Anju Parmar, 3rd vice president of the Canadian Union of Postal Workers' Vancouver local, said overall there are good cleaning practices in place at the facility.
"We have volunteers, our union members, who are regularly sanitizing rest spots, elevators and high touch areas. And (Canada Post) hired extra cleaning services, so they are doing their part."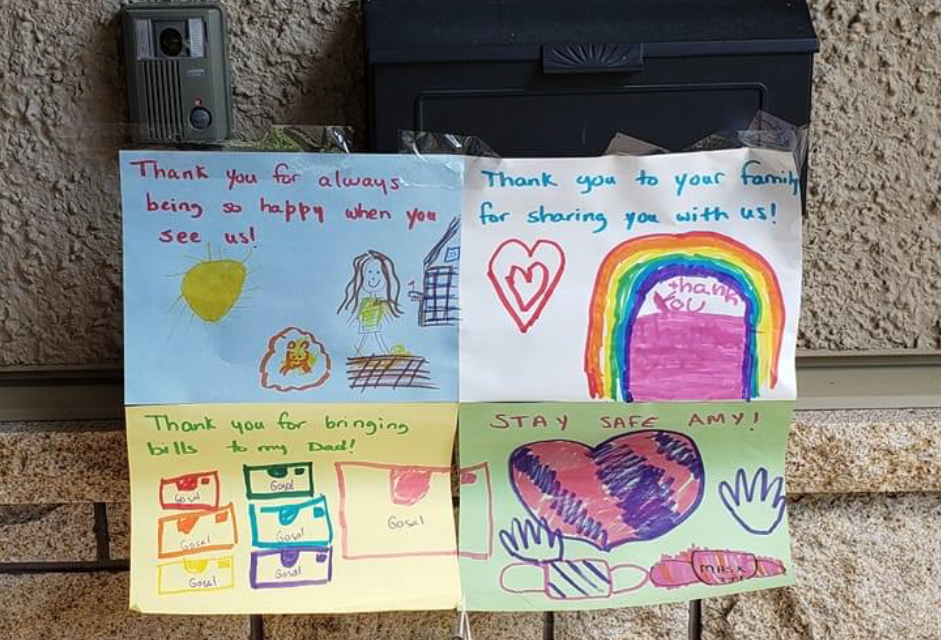 Both the processing facility and the depot that Kerr works out of have implemented physical distancing, which can also slow down operations – along with the Christmas-level volume of mail Canada Post is currently seeing.
However, Parmar – who's also a member of the union's health and safety committee – said she would like to see masks made available for workers.  
Despite the new anxiety of her job, Kerr said she's motivated by the drawings and notes of thanks that families leave by their mailboxes for carriers.
"I've got to tell you – it keeps you moving. It just puts such a smile on your face and means so much to so many of us during this time," she said.
"The first time I saw a note, and somebody left me a couple of masks, I got to say I cried. I felt like they really cared about me; it's a wonderful feeling."
Kerr said she and her colleagues in Richmond also share photos of those notes in their Facebook group as a way to "pass the smile on."