Last Wednesday afternoon, I approached the door of what, from the outside, appeared to be a typical Richmond home in the Blundell neighbourhood. 
I set down my suitcase and knocked. Behind me, a young couple, perhaps of Caribbean ethnicity, approached and told me they were checking in, as well.
"Oh, great! Lancing House, right? Where are you guys from?" I asked.
"We're from Richmond," replied the young lady, perhaps 19 years of age.
That's a bit odd, I thought, them being locals and what not. But then I considered the myriad of reasons one checks into a hotel.
I turned around as a man then opened the door. He showed all three of us to an open room next to the foyer where he had a desk with a few binders and a wireless debit machine on it.
He told me his name was David, when I asked, and I sat down to "check-in."
"Your credit card, no complete," said David, a middle-aged man.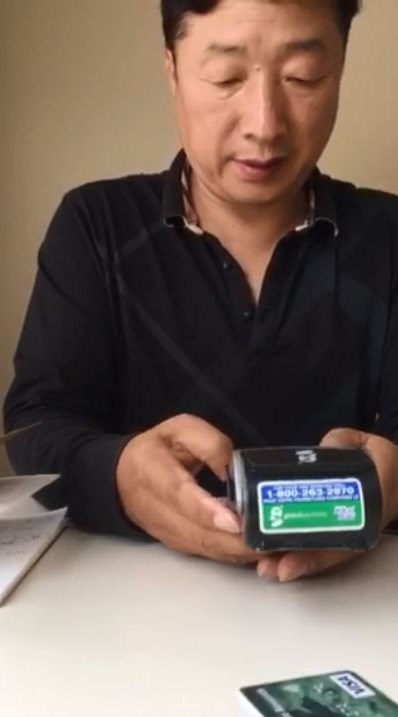 I thought that, too, to be odd, considering my mobile banking app had showed the charge on the prior day, when I booked 'Lancing House' on Booking.com.
I handed David my card and he proceeded to process the payment of $49 for one night, a $10 cleaning fee, plus tax. As it turned out, I was double charged.
David then asked for my identification. I asked why. "City hall. City hall double check everything," said David.
That's odd, not to mention not true, I thought (city hall would say no such thing). Regardless, I showed him my ID and we were off to room 201. 
I was formally checked in at Lancing House, a home operating — without any permits or licences — as an illegal hotel, with a rather odd hostel-like feel to it — the entire world, it seemed, would appear beneath this roof.
Illegal hotel complaints increasing in residential zones
With 82 cases, to August of this year, the City of Richmond has seen more than three times more complaints related to suspected illegal hotels and guest houses in residential zones, than it did in all of 2015. In 2014, the city investigated just five such complaints, according to spokesperson Ted Townsend.
Short-term accommodation rentals are a booming business online at sites such as Booking.com and Airbnb.com. 
The city does allow for boarding and lodging as a secondary use for compensation, however, the property must be a permanent residence for someone, and bylaws limit temporary, short-term  rentals to just two guests.
Notably, Lancing House was removed late last week from Booking.com after it was found to be in non-compliance with local laws, following a City of Richmond inspection.
"We have very robust measures and dedicated teams in place to guarantee that only legitimate properties are allowed to list on our site," contended Joe Moscone, senior manager of public relations for Booking.com, via email. 
There are 17 licensed bed and breakfasts, according to the city. These operate on a commercial scale but have been regulated with licences and permits, for health and safety purposes, since 2010. Bed and breakfast operators must also live in the house and they're limited to six guests, using up to three bedrooms, at a time.
Lancing House, as it was advertised, is just one of the many illegal commercial-scale operations in Richmond. 
'Garden views' at Lancing House
The house, in fact, has a long history of businesses operating from within it. On other occasions, it has been suspected by neighbours as being used as a "birthing hotel" for Chinese nationals who allegedly use Richmond Hospital to gain Canadian citizenship, via jus soli, for their newborn babies.  
Community activist Kerry Starchuk raised the matter and when the city visited the home in May to investigate "non-compliance" of bylaws, she thought her "nightmare" was over. But that hasn't been the case.
"It's been really hard as a resident to see all this. Today, I came around the corner and there's a car licensed in Nova Scotia, with two girls smoking. How am I supposed to have a sense of safety and continuity in my neighbourhood when transient people are coming and going," said Starchuk last week, via telephone.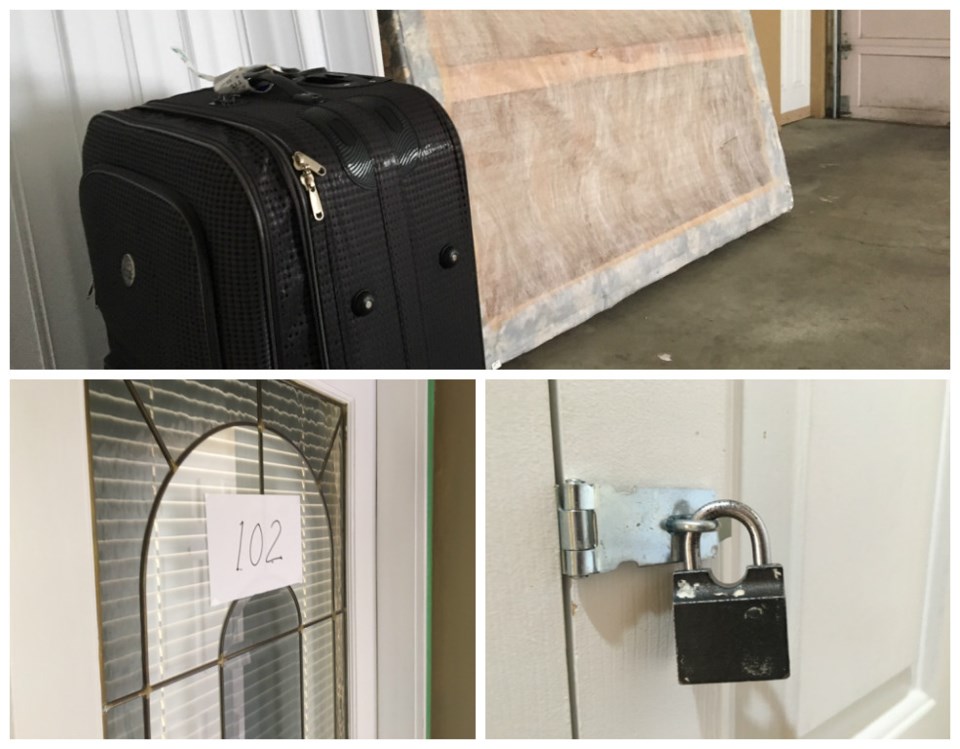 Those two girls were German tourists, Carmen and Jasmin, 22, whom I met inside Lancing House, just after check-in.
When David showed me my room, I found it was clean, with towels set on the bed. My "garden view" was that of Starchuk's garden.
I was to have the master bedroom, with a door to the one communal bathroom upstairs affixed with a little sliding lock.
Downstairs, there were five bedrooms for rent, many of them likely converted (the house had no living room). Upstairs I counted six rooms for rent, all with easily-removable paper signs taped to them indicating a room number. 
Washrooms and the laundry room also had paper signs. Locks were affixed to closets that David evidently didn't want people going into. The car garage was full of mattresses and suitcases.
Late in the afternoon I sat in the upstairs loft and accessed the WiFi network, using log-in information taped to a wall. Downstairs in the "check-in" room was a lady, I assumed to be David's wife or business partner, watching Chinese soap operas. 
I was hoping to watch TV, as advertised, but no such luck. Over the next few hours, she would help check people in and out, clean the beds and tidy the kitchen between shows. Eventually, at around 8:30 p.m., she left in a Jaguar coupe, leaving the TV room unoccupied.
World at its doorstep
Once checked in, I counted 18 other people staying in the house — people from all walks of life, it seemed.
As I cooked a grilled cheese sandwich in the kitchen and spoke to the Germans about their cross-Canada travels, I met Mohamed, a Saudi Arabian man who said he, his wife and two young children were staying at the home in order to study English in Vancouver for two months.
Mohamed proceeded to speak to me candidly about the political instability in the Middle East and how he loved Canada.
I asked him why he was staying at Lancing House. He said he couldn't find anything more affordable.
We spoke about Vancouver's housing crisis.
"Rich people want to live here. So, this is good weather, good nature, multi-cultural and good security.
All the rich people come here. All people who have instability in their country, come here," he said.
"It's good for the Canadian government. They take the tax, they benefit from the rich people."
One hopes, I thought.
I then proceeded to become the referee when Mohamed tried to purchase a cigarette from Jasmin for $1. Mohamed insisted, Jasmin refused the dollar; I sided with the latter.
I also offered Mohamed my favourite snack, Zesty Doritos, and he retired for the evening, seemingly grateful.
Swiss tourist Silvano, travelling with his girlfriend, then entered the kitchen.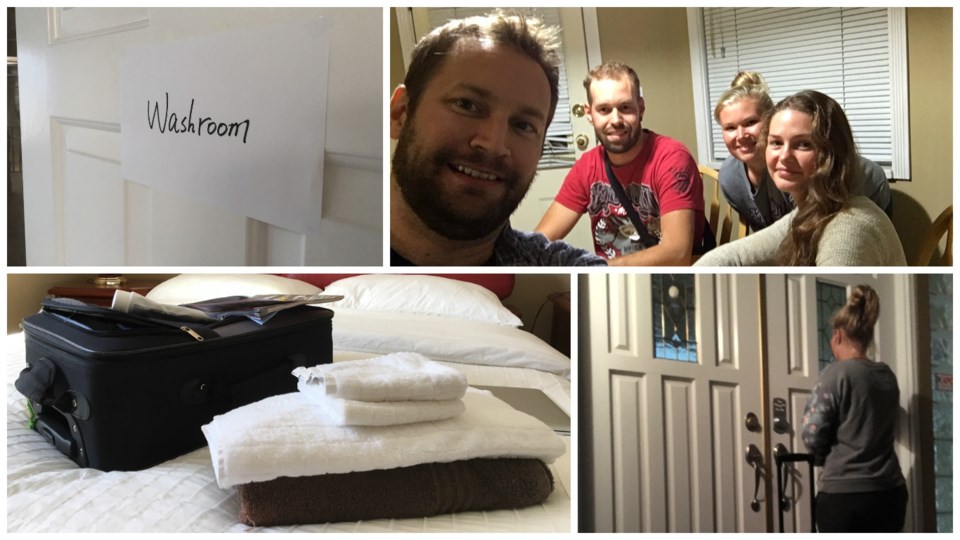 It was over a beer, with my dinner, that we discussed our travels and eventually I conceded I was a reporter for the Richmond News and told them it was my understanding municipal bylaw inspectors were coming the next day for an advanced-notice inspection.
Worried, they told me about the "odd" check-in procedure, or lack thereof, the night before.
"No one was here when we got here," said Jasmin.
"It was very strange. The door was left unlocked," said Silvano.
After beginning to understand Lancing House appeared to be unlicensed, Carmen began asking David questions.
"I asked him today if it was his own house he has for rent, and he said, no, and he has five houses for rent. I hope I understand him correct, but he said one is in Victoria," said Carmen.
"He said we can also go to another house (in Richmond) if we want," she added.
Notably, by comparing contact phone numbers, I identified at least one other house, on Blundell Road, that is connected to Lancing House.
There are dozens of Richmond homes listed on Booking.com and hundreds on AirBnB.com. Many may very well be legal listings.
It was time for another cigarette for the Germans, so I stepped outside with them to chat. Behind us, a door opened from another room and two young Chinese women stuck their heads out and, without saying anything, quickly shut the door.
Then, the Caribbean couple came into the kitchen asking where David was. The woman told us she and her friend were leaving and they hadn't paid. And so, they left after five hours.
Soon after they left, two young Asian men arrived by taxi, walked in the front door, and proceeded to an upstairs room.
Just prior to this, I also saw another Chinese couple, whom I said hello to in the lobby, but unfortunately they didn't speak English.
The last people I met was an Australian couple, who had struck a conversation with Mohamed in the loft. I joined in and they learned that I was from Richmond.
"How come they have all these open drains? They're like moats around people's houses," asked Paulette, who had checked in for 12 hours, awaiting a red-eye flight home, from nearby YVR, with her husband.
I chuckled and explained she was in a classic Richmond neighbourhood with ditches (many being filled in via redevelopment), as the city was built on a floodplain.
"You're in Ditchmond," I explained.
Paulette's review of Lancing House was mixed.
"Rather than being a 'guest house,' Lancing House turned out to be operating in a residential house — we were not welcomed upon arrival in English, there was no airport shuttle, there was no restaurant, we didn't find the barbecue and sun terrace, and the free parking was along a residential street.
"However, it was clean and, at a reasonable price, we found this accommodation met our immediate needs," said Paulette, via email the next day.
In the middle of that evening, I packed my suitcase and "checked out" of Lancing House.
Lancing House busted, but inspectors swamped
Last Friday inspectors visited Lancing House and shut it down, effectively evicting the guests.
Silvano told me David told him to pack his belongings and leave for two hours for cleaning. The guests were never allowed to return as inspectors turned them away.
The home's owner is listed as Baohua Zhou, who also goes by Chris Zhou.
I spoke to Zhou after the inspectors had met with him at the home. He denied any wrongdoing.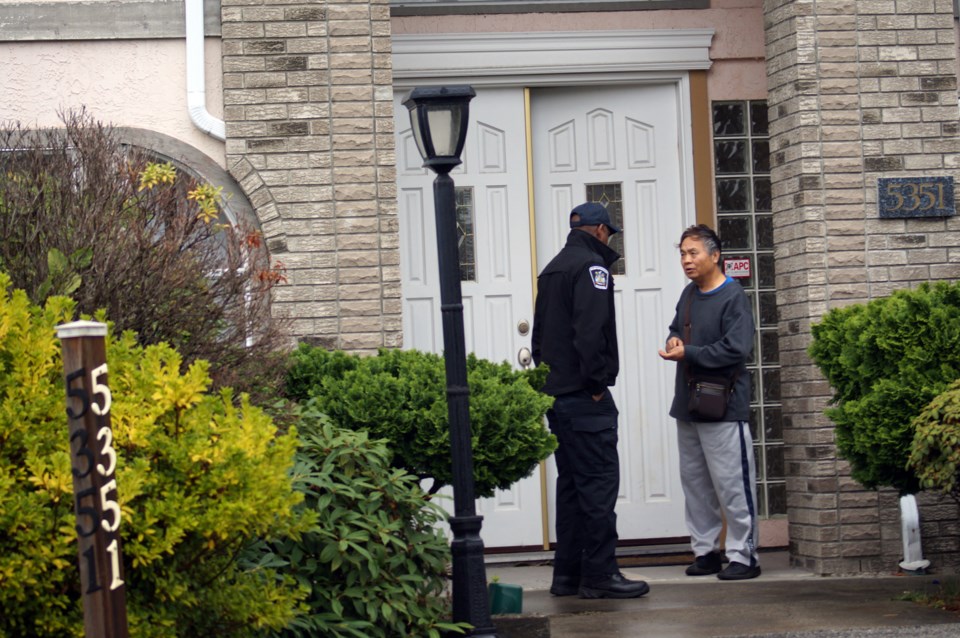 "I just let my friend live here," said Zhou.
"The city tells me, I don't know, someone complain. Complain what? I don't know," said Zhou after I asked him why inspectors were at his house.
Zhou seemed surprised when I told him 19 people were booked at his house two nights prior.
"How do you know?" he asked
"I was booked here," I replied.
"You pay David money? Oh, I don't know . . . I just let them stay here. I never come here," said Zhou.
So, I asked where he lives.
"I have two houses," he replied.
"You ask me so many questions. I'm not that comfortable.
"I didn't do anything wrong," asserted Zhou. 
It remains unclear what exact violations the city inspectors have uncovered as Townsend refused to speak to the case, particularly whether or not fines have been issued.
I gathered from Starchuk and the other guests that, during the week, there were also guests believed to be from California, Oregon and Russia.
"This is not what a neighbourhood is meant to be. I can understand a basement suite rented out, but I don't get this mentality where a house is a hotel," said Starchuk, who is of the opinion Richmond's bylaw enforcement and inspections department is understaffed to deal with the increased volume of investigations.
"Our enforcement is largely based on complaints," said Townsend.
"If there needs to be an adjustment, that will be something that's put forth to council to consider," he said.
Townsend said the existing bylaws address various neighbourhood concerns, such as fire code regulations, noise, traffic and crime prevention.
Free market cannot reign supreme: Coun. Chak Au
Coun. Chak Au has raised the matter with city staff and called on them to review their bylaws and inform city council about the growing concerns.
Au said there are many reasons the city is seeing an uptick in online listings for unregulated bed and breakfasts and short-term rentals. He said Richmond's hotel vacancy rate is low; notably, according to Tourism Richmond, Richmond has had — for the past two years — the highest occupancy rate for hotels. Ergo, Au said rooms are more expensive, making cheaper stays via Booking.com or Airbnb.com appealing.
Furthermore, people are in need of additional income to pay for their housing, said Au.
"All this is acceptable if and only if they comply with the rules and regulations.
"They have to comply with fire regulations and all sorts of requirements we put on them," said Au.
Should the regulations or zoning in residential areas change to better accommodate short term rentals? I asked.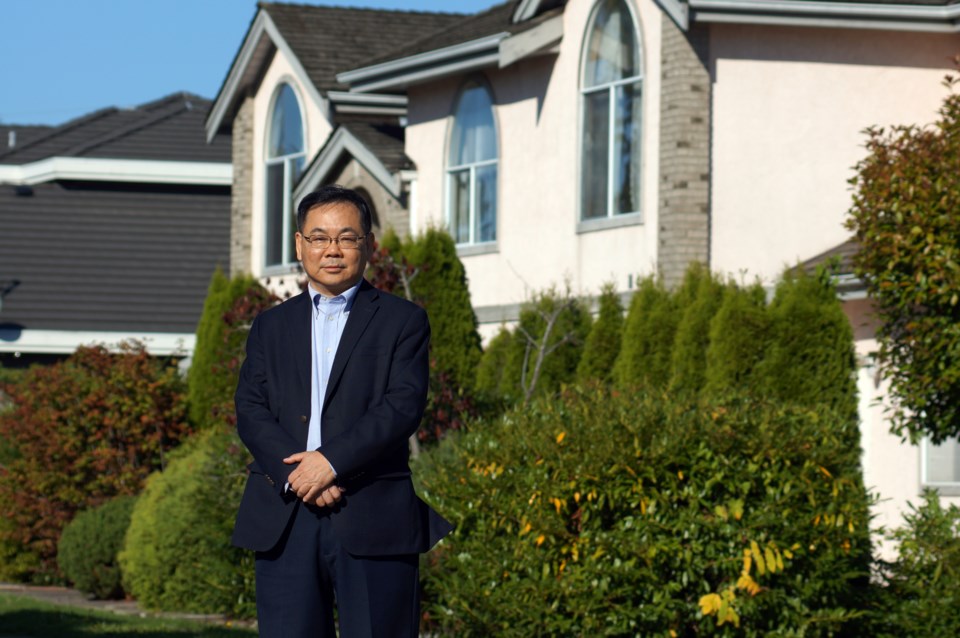 "I'm not against having more bed and breakfasts in our community. As I said, there is a demand. However, it should be a level playing field. And the community's safety is the top priority," said Au.
Seeking a level playing field are existing, official bed and breakfast operators who have had to be licensed by the city.
"I swear I can't move a stick without a permit, but people can open an Airbnb?" asked Stone Hedge B&B owner Brian Cooper, who added that city council has been slow on the trigger in addressing their concerns. Now, illegal online listings are in the hundreds in Richmond. 
"Every neighbour has a right to say, 'Hey, I didn't buy my house to have 10 people coming and going out of yours.'" said Cooper.
"I'm in a residential neighbourhood. People don't want these places to become a parking lot," he said.
Cooper has also raised concerns about food safety, as well as insurance coverage for both owner and renter.
The fact others aren't buying the insurance he's mandated to buy means their prices are cheaper.
"And let's just wait until something bad happens to a guest," said Cooper.
Licensing could help affordability
Cooper wants short-term rentals licensed under the city's bed and breakfast program.
This week, the City of Vancouver proposed to license short-term rental operations, such as at Airbnb.com, and allowing only those where the homeowner is living in the home to continue operating.
Richmond has similar bylaws in place, but it doesn't have a licensing procedure.
Vancouver is said to be addressing the matter in part because of its low vacancy rate. The new regulations are aimed at discouraging housing stock from being used only by tourists and non-residents.
"Certainly, Airbnb could impact on affordability and vacancy rates," said Townsend.
Cooper believes the growth of short-term rentals is affecting housing affordability in a city with a vacancy rate of 0.3 per cent, per Metro Vancouver estimates.
A stone's throw from his bed and breakfast is the now-closed Kilgour elementary school. Around the corner from Lancing House is McKay elementary school, which is presently on a short-list for closure by the Board of Education. And while there are many other factors that have led to empty homes, or homes without children, in Richmond neighbourhoods, having ones dedicated to tourists and non-residents isn't helping matters.
"My daughter is renting an apartment for $1,500. It should be more like $1,000. You can't tell me (short-term rentals) aren't gutting the rental base," said Cooper.