Sockeye salmon runs are so bad on the Fraser River that fisheries officers have ramped up enforcement against recreational anglers off the shores of Steveston.
Amidst a full commercial sockeye fishery closure, the Department of Fisheries and Oceans (DFO) on Friday docked the 44-metre Martin Charles vessel in Steveston as a public display of force.
"We're facing an extraordinary situation on the Fraser River this year," said the DFO's Lower Fraser Area Chief Officer Herb Redekopp.
"The level of salmon that are returning to the Fraser River this year is probably at the lowest level we've seen historically. We're especially concerned about the sockeye salmon." 
The Fraser River Panel — an inter-government body — estimates there will be only 1.4 million sockeye this year, down from the 4.4 million pre-season, median estimate. 
"It's a significant situation," said Redekopp, noting there was only a 10 per cent chance of seeing such a poor run for this four-year cycle.
Officers have caught a number of First Nations fishers in the Fraser Canyon using illegal gillnets, as well as recreational anglers in the river's mouth using illegal barbed hooks and not marking catches on their licence.
"There's a high rate of non-compliance," said Redekopp.
In tidal waters, DFO has set up increased aerial surveillance and more zodiac speedboat patrols are being launched. Night patrols up river are also catching poachers, said Redekopp.
Officers only deal with non-compliance issues, such as illegal fishing, ensuring quotas are met and compliance measures for B.C. open ocean fish farms. 
Officers such as Redekopp don't deal with greater existential threats to wild salmon, such as climate change.
Redekopp said DFO is unaware of any of the reported 160,000 farmed Atlantic salmon from Washington State — that escaped last month — being found in the Fraser, to date. 
The DFO does have an Atlantic Salmon Watch reporting program for recreational anglers.
"We've heard of the event and looking for that," said Redekopp.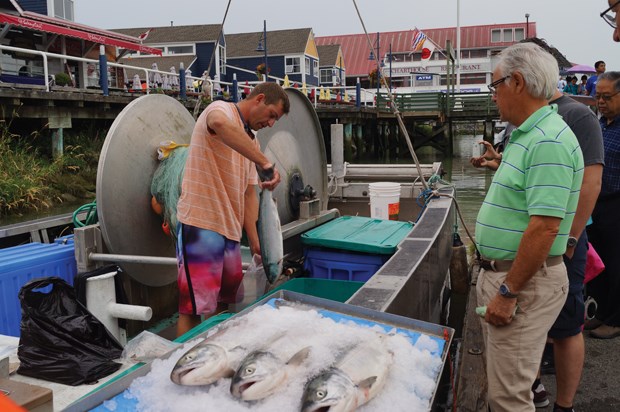 Peschisolido defends fish farms
Meanwhile, Steveston-Richmond East Liberal MP Joe Peschisolido told the Richmond News his government is acting on protecting wild salmon stocks with its Ocean Protections Plan.
But Peschisolido said the billion dollar fish farming industry should be protected, which is partly why he voted against a proposed bill by NDP MP Fin Donnelly last December to move farms into closed or land-based pens (a bill supported by many Conservative, Liberal and NDP MPs in B.C.).
Peschisolido said the technology doesn't presently exist to move the likes of Atlantic salmon to land, however the government is spending money to research this. He also said the science behind the harm caused by fish farming isn't certain.
Steveston fishers claim farms are consuming wild salmon food and spreading disease. 
Peschisolido said the Liberals are looking to reverse environmental law changes under the previous Conservative government, including increasing the thresholds for environmental reviews on industrial projects.
But environmental groups and researchers are continually concerned Canada's 2005 Wild Salmon Policy is being weakened (on top of weakened enviornmental reviews), on top of the government's continued support for open ocean fish farming, which the Cohen Commission (2012 inquiry into declining salmon stocks) notes is a conflict of interest if DFO is to promote its primary mandate — wild salmon health.
Biologist Michael Price, at Simon Fraser University, recently published a study that showed salmon monitoring efforts of B.C. streams are at an all-time low.
"A big part of that policy is to assess the health of managed populations," said Price.
But, "there's inadequate visits to spawning streams to determine their health," he added.
"This is their blueprint for salmon management. It's been 12 years and at present there's no implementation plan," said Price.