Grade 3 and 4 students of Patti Young's Mitchell elementary class sat three orderly rows deep, with eager anticipation for Granny Jan's arrival on a Thursday morning in February.
"The kids just adore her. Her stories are awesome. The kids get so excited when she comes," explained teacher Young. 
"And they are always making little things for her and writing their own stories. It's that compassion and empathy for older people; maybe they don't have grandparents in their home, so they just adore her." 
A murmur of excitement turned quiet as the students' ears pricked upward as Granny began to tell a short story about aliens visiting her farm.
Granny, AKA Janet Flamand, is an 82-year-old Richmond resident and retired farmer who visits the class once a month to read aloud her latest tale, that usually involves a twist from her home at Rabbit River Farms, an organic egg farm on River Road.
Flamand, said Young, offers the students a rare reprieve from their young, tech-centred lives, as well as a means to expand imaginary thought, so critical to writing and the arts.
"The whole focus right now for a lot of the young people is that they're so into their technology," said Young.
"This is open and broad for them to be thinking about reading stories from the library, writing their own stories. 
"Because kids are so involved in technology, that written part is no longer there — the communication of their ideas. So this is so important."  
Flamand has been writing and telling short stories at Mitchell for six years. 
In the hallways, students and teachers frequently stop to say hello, so it takes her a while to get out the door. She's also a bit slow due to a recent leg injury, although her new walker, dubbed "Granny's new car," is helpful.
On this day, the kids are mesmerized by her "aliens," or old egg washing brushes that, with a well-nurtured imagination, resemble cosmic worms.
"I tell the children, when I first started, you have to have a good imagination. You have to look at something and see different from what it really is," Flamand told the Richmond News.

The attentiveness shown by the Mitchell Grade 3/4 students during a Granny Jan visit is remarkable, according to teacher Patti Young.
Aside from family, including her young friends, books and knitting are her everything.
"I've got everything I need in life. I have a nice house and all the wool for knitting and someone to take me to Value Village to get more," she said.
It's her love of books that she particularly hopes to convey to the students.
"There's an ad out on the TV that says listening is the new reading and they're all out there jogging and so you're not reading books anymore, you're listening to the books," explained Flamand. 
"But I like a book. I like holding a book and opening it and seeing the first sentence."
Flamand knits toques (which take four hours to knit) for each student at the start of the year. Combined over the years, she's knitted hundreds.
Another added bonus is the children get to see Flamand's beautiful, cursive writing.
"It looks like you're putting more of an effort into it; more of yourself into the story. I find it sad children are not learning cursive writing anymore," said Flamand.
The impetus to share these experiences stems from the tragic loss of her 26-year-old son back on June 29, 1983. 
Flamand had grown up in Portage la Prairie, along the Assiniboine River.
"We grew up in Island Park. It wasn't actually an island you see. There were seven families, no electricity, no water. We had two horses and chickens but it wasn't a farm," she explained.
She moved to Winnipeg with her husband and raised three children while working at Eaton's.
"I had cataracts. I could never do a job where I had to see. So I worked menial jobs, but I worked for years as a waitress at Eaton's, when my children were growing up," said Flamand.
"One good thing about Eaton's is you could work 9-5 or 10-4, whatever was convenient for mothers with their children.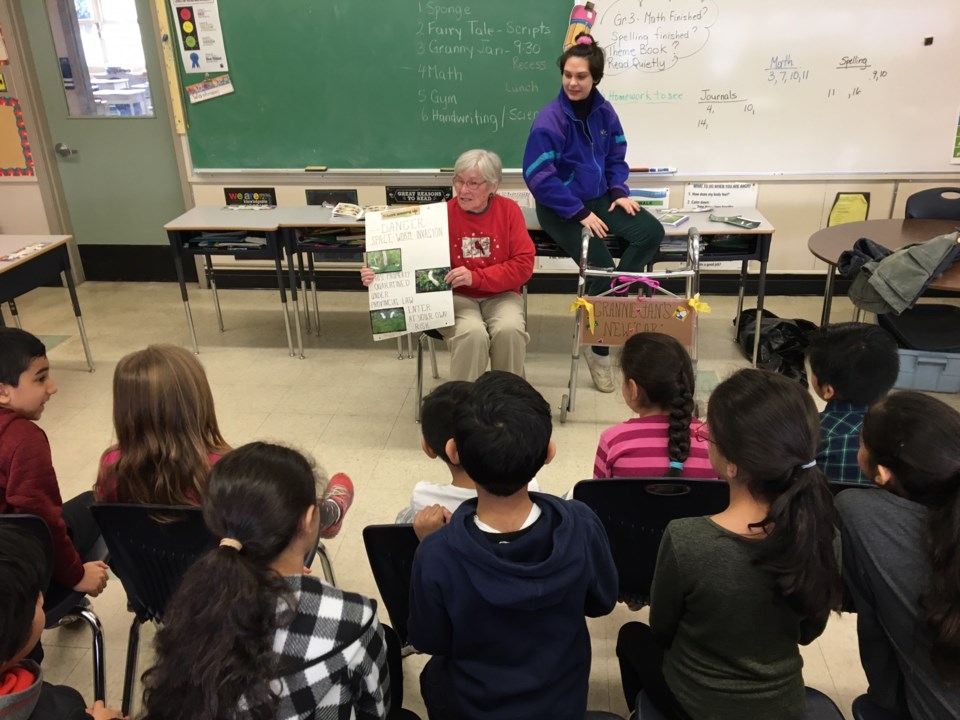 "So I worked 10-4 and got my children off to school." 
The family moved to the Lower Mainland in 1972 after a short stop in Calgary. 
She spent a decade lamenting the loss of her son and moved to Richmond with her daughter to start the egg farm with son-in-law Steve Easterbrook. 
As Flamand aged and became an actual grandmother to her granddaughter Holly Easterbrook, now 23, she sought an outlet to boost her spirits.
"I found myself crying. Just crying. I thought I've got to do something. I've got all these memories of my son. I thought I'd knit toques," said Flamand.
After numerous donations of toques to other schools across Canada, she reached out to Mitchell.
Principal Christine Marin says Flamand brings an authentic, real life experience to the classroom. Some stories involve death, although Flamand said this is not rooted in the earlier loss of her son.
"No, not really," she said, when asked.
"It's just about what happens to me. I talked to Madamme Marin and said many of my stories talk about bad things happening and she said, 'that's good, children should know that bad things happen.'"
One of her more recent short stories is The Short and Eventful Life of Mr. Rooster, who meets his demise at the hands of a coyote.
"I just write about true stories on the farm," she said.