Gathered outside of Richmond Provincial Court, you'd struggle to believe six years and two weeks had passed since these 12 people had lost a much-loved sister and close friend in a horrific accident.
So raw were the emotions etched on the faces of Christy Mahy's sister and friends you could be forgiven for thinking the tragedy happened the day before.
They held themselves together, for the most part, as they decided (due to pandemic restrictions) which five of the dozen would get into the court to finally witness the driver accused of causing 36-year-old Mahy's death facing justice.
"I'm not sure how I'll react when I see him in court. I was kind of contemplating whether I want to be here or not because of the emotions," Mahy's sister, Joni Mahy, told the Richmond News outside the courthouse, while fighting back the tears.
"Maybe it's a bit better he's not physically going to be there."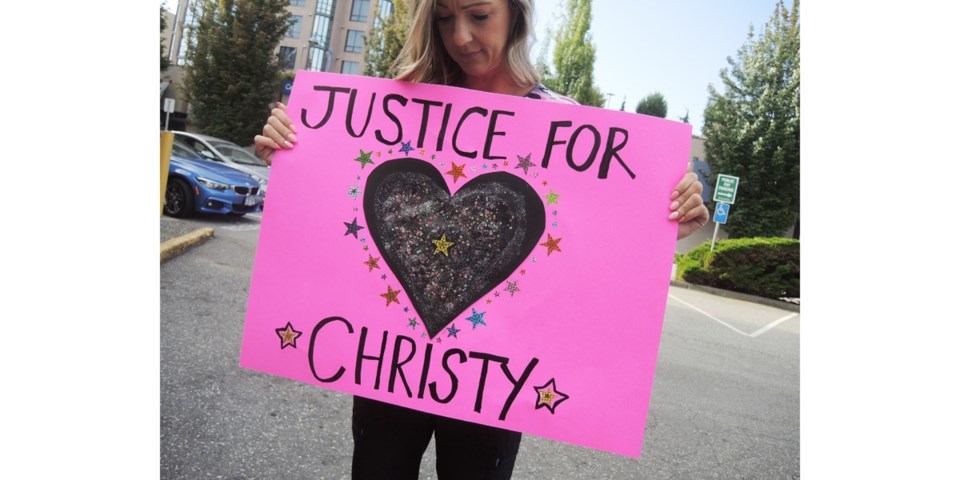 Joni's last remark was in reference to the accused, Erjon Kashari, only appearing in court on Thursday via video link for a bail hearing, two days after he was extradited from his native Albania.
Kashari was in Canada on a work permit at the time his Pontiac SUV plowed into Mahy as she stood at the intersection of Russ Baker Way and the Dinsmore Bridge.
Despite there being witnesses to the accident and Kashari remaining at the scene, he was able to leave the country and was only charged, in his absence, five years later with criminal negligence causing the death of Mahy.
"My dad called me (on Tuesday) to say 'he's here.' That was quite shocking; it was a lot faster than we had expected, given the length of time we've had to wait for this," said Joni of hearing Kashari had been brought back to Canada.
"We're all quite emotional and are kind of unsure how to feel. It's not like a happy feeling. Emotions are still quite raw. It's been hard."
Of the fact Kashari was able to leave Canada in the aftermath of the accident, Joni, along with her family and Christy's friends, still have questions.
"He stayed at the scene, there were witnesses, he was here on a work permit. It doesn't make sense," she added.
One of Christie's friends, Brandie Mol, said she felt some "relief" Kashari was brought back to face the charge.
"(This) could be the beginning of some closure for everyone," said Mol.
Kashari was arrested last year in Albania and was reportedly being held in custody there until COVID-related travel restrictions were lifted.
His bail hearing on Thursday was continued to next week as he has still to attain the services of a lawyer.
Christy's father, Ron, has fought long and hard to get answers from the authorities and ultimately bring the driver accused of causing his daughter's death back to Canada to face the charges.
He told the News last month that "in six years I haven't given it up. I couldn't."
Determined to not let his daughter's story be forgotten, Ron, a Harley Davidson rider, has organized a motorcycle ride from Richmond in Christy's name every year since 2015.