Richmond's City Centre will soon see some of the first double-decker buses deployed by TransLink, in an effort to move more passengers along some of the most crowded, long-distance bus routes in the Lower Mainland.
On Thursday, TransLink CEO Kevin Desmond announced a double-decker pilot project for five regional routes, including one that stops/starts at Brighouse Station — the 301 Newton Exchange —and another three that stop/start at Bridgeport Station — the 311 Scottsdale Exchange, the 351/354 White Rock/South Surrey and the 601/620 South Delta/Tsawwassen Ferry.
"We're preparing for 1.2 million more people in our region over the next 30 years, said Desmond.
"With growing suburban demand in communities south of the Fraser River, we are looking at new ways to ensure that transit is an attractive option for commuters. Double-decker buses have worked well in other cities including nearby Victoria, and I have personal experience with buses like these in Seattle where they worked very well. I'm confident they'll work well here too."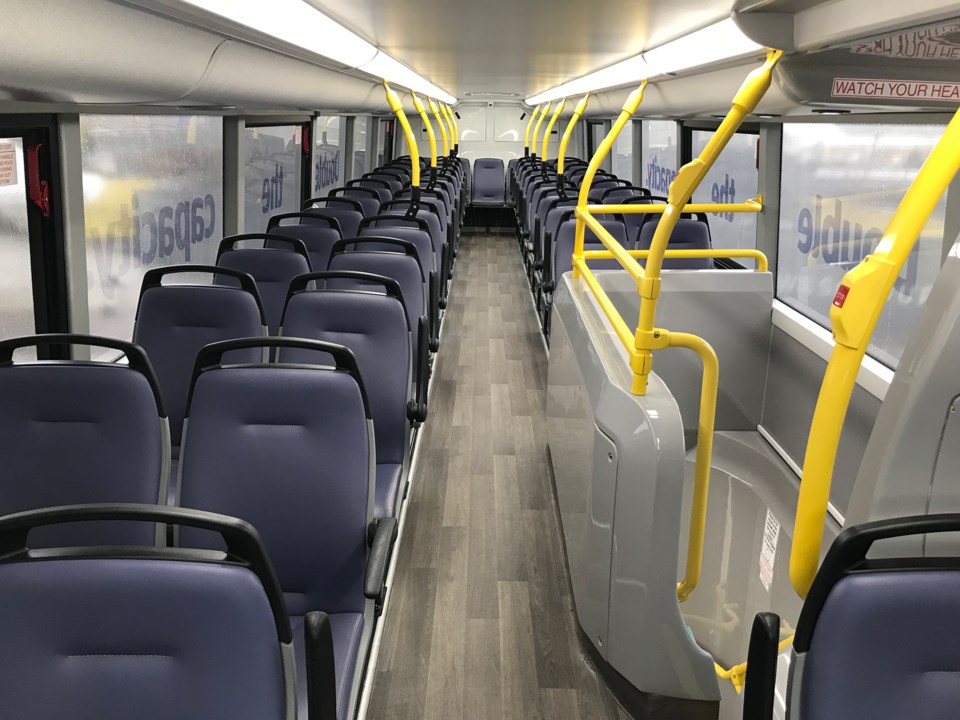 The pilot project will only see two such buses deployed initially. The buses will be supplied at no charge by British bus manufacturer Alexander Dennis. However, TransLink plans to purchase 32 double-decker buses by 2019.
According to TransLink, the double-deckers can seat 80-86 passengers, which is 83 per cent more than the older highway coach buses. Including standing room, the capacity  is double that of a standard coach. 
TransLink said the new buses should feature a wide, well-lit staircase and a screen on the bottom deck showing the upper deck, which allows riders to see vacant seats before going upstairs. The buses will be fully accessible for riders with disabilities.
"This pilot program will allow us to see how double-decker buses fare in the lower mainland, both from a customer experience and operational standpoint, and to evaluate bus depot requirements," noted a TransLink news release.