A five-and-half-hour long council meeting was not enough to rule on the controversial modular housing project for homeless people in Richmond.
Hundreds of people showed up at the special council meeting on Thursday night. So many came to voice their opinions that Mayor Malcolm Brodie announced just before 1 a.m. the meeting had to be continued on Friday at 7 p.m., when a decision is expected to finally be made.
People who haven't registered or registered but left early on Thursday will not be able to speak during Friday's meeting, according to Brodie.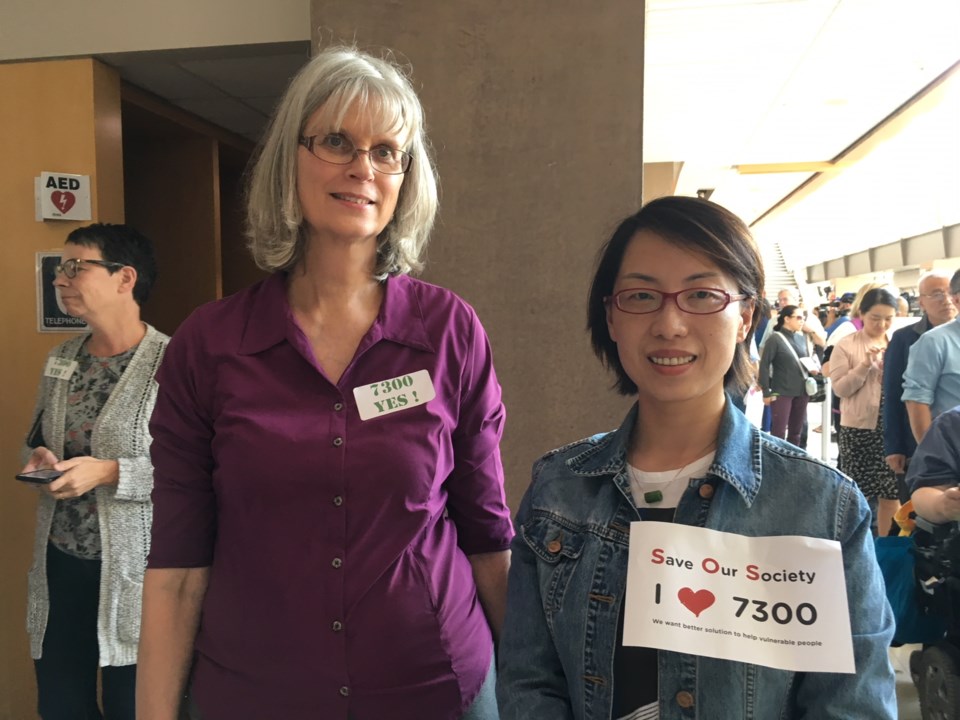 Both supporters and opponents came armed with signs, banners and stickers on their clothes to emphasize their stances. Some supporters sang songs in the hall that called for compassion, before the meeting started.
Police officers were on-site but they were not called upon as the meeting went smoothly.
Ninety residents registered to speak and around 50 spoke on the night, including some who presented to council through translators. Among them, some shared their personal stories and others presented their research on the project.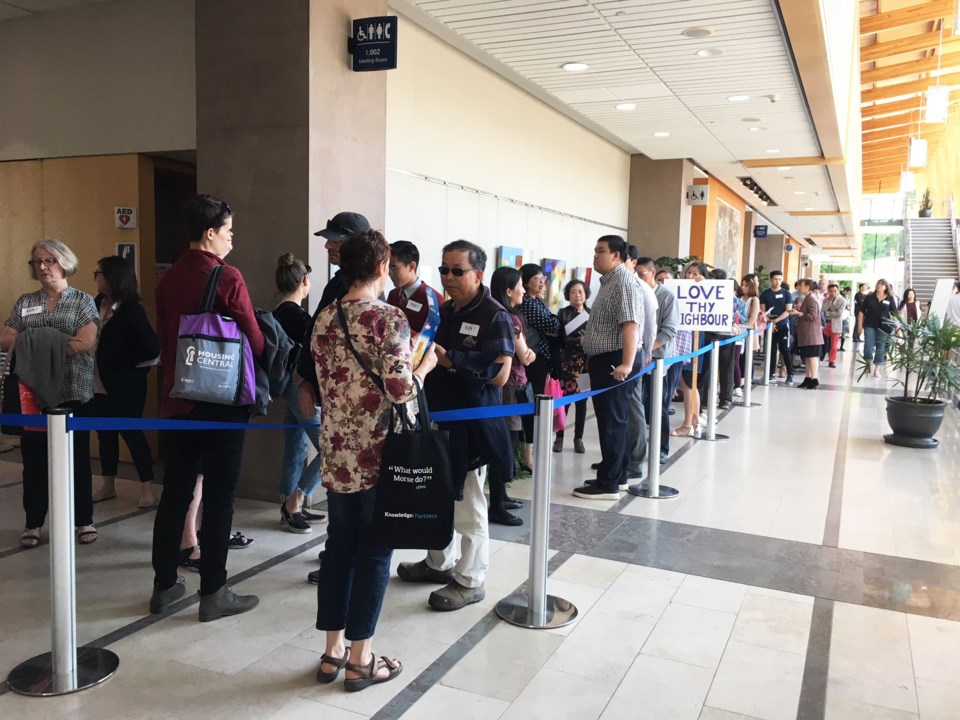 Presentations focused on the efficiency of the project, and whether the housing can help solve Richmond's homeless problem or whether the homes will fall short of the mark and pose safety risks to the neighbourhood.
Many residents believe that the housing is a good opportunity to put a roof over those weary and less fortunate and help them get back on track, while also showing compassion from within the community.
"I've been a proud citizen in Canada and Richmond…What I've learned since my childhood is that it's a society which drives to support the weak, and in that way it strengthens everyone," said one of the speakers.
"Housing is not just about bed and water – it's security, a place where we feel included in society. From there, people can participate in education, work and other activities...Let us be one of the societies with all groups sharing the benefits and none being left behind."
A worker at South Arm United Church shared the story of a once healthy and successful man, who suffered from mental health problems and ended up on the street after his son was murdered. The father reintegrated into society after staying in supportive housing.
"In his third year in our housing he became a student of Douglas College. Now he works as an addiction counselor," said the speaker.
"Homelessness is not by choice, and homeless people are not criminals...supportive housing helps people and it is the most effective way."
TMH supporters rally outside of city hall pic.twitter.com/zfb4jetIxL

— Daisy Xiong (@xiong_daisy) May 18, 2018
However, many residents living in the neighbourhood voiced their anxiety about "drug addicts" and "people with mental health problems," who they believe could move into the building and pose safety risks to residents.
"I hope you all understand my fears and worries as an ordinary grandma, who dreamt of bringing up my grandchildren in a safe environment," said a resident.
"Is it planned thoughtfully? Can you really benefit those in need or just cause chaos in the community? It makes me so depressed and disappointed. Please have empathy on people living nearby. We are your citizens too."
Others displayed their pictures of needles, garbage and tents found near the site of similar modular housing projects in other cities.
One speaker referenced the history of the Opium Wars in China, recalling the devastation wrought by a then widespread opioid crisis.
"That's why many people with a Chinese background are horrified with the modular housing, when no background checks are required for people moving in. We believe drug addicts must go to treatment centres first," she said.
The City of Richmond announced plans to contribute the city-owned land at 7300 Elmbridge Way for a B.C. Housing-proposed temporary modular housing project in February.
The location was selected because of its proximity to the transit and social services, but the project has received strong opposition from many residents in the neighbourhood since its announcement.