"I walked in their footsteps and stood on their shoulders."
George Ing, an 85-year-old retired RCAF Lt. Col. with 32 years of service, was bursting with pride after the Battle of Britain Ceremony in Stanley Park on Sunday.
After all, it was the first time Richmondite Ing and his fellow Chinese-Canadian vets had been invited to the event, which this year marked the 77th anniversary of what many historians consider the turning point of the Second World War.
Until Sunday, Ing and his Chinese-Canadian comrades had marked the occasion on their own at the Chinese-Canadian Military Museum Society in Vancouver's Chinatown.
And it wasn't just the fact that his special group – which boasted among their number on Sunday six Second World War vets aged 94 to 100 – were asked to take part in the ceremony for the first time.
A memorial plaque was also installed and dedicated during the event to mark the contributions made to the war effort in Europe by Chinese-Canadians.
"It filled me with immense pride; it makes it all worthwhile," said Ing, who's also vice-president of the museum society and was the highest ranking officer of his group on Sunday.
"I owe my service to these men. I was able to join up and show what I could do with my ability, not because of what I looked like."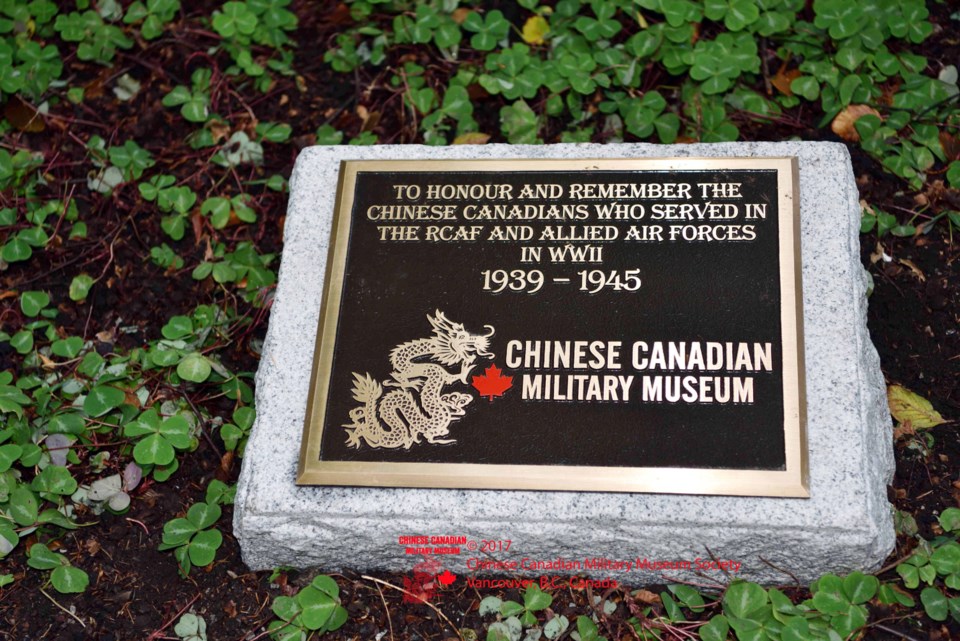 Ing was joined Sunday by 99-year-old fellow Richmondite Tommy Wong, who will turn 100 in November, and who was the first Chinese-Canadian enlisted into the RCAF, after it decided on Oct. 1, 1942, to finally allow Chinese-Canadians to sign up.
Both ex-servicemen are indebted to the thousands of Canadians who lost their lives in the Second World War, not least the many of Chinese ethnicity who never made it back to home soil.
One of them, recalled Ing, was bombardier Quan Louie, who flew 29 missions over Occupied Europe.
Generally, said Ing, "after 30 missions, they sent you home.
"On his 29th mission, on board a Wellington Bomber I think, his plane got hit by flak and went down over Berlin. He is buried near there.
"He was going to UBC when the war broke out. He was a sports star. But he immediately signed up when he could. Chinese pilots also flew missions for the RCAF."
Ing said the Battle of Britain ceremony organizers reached out to his group last year, asking them to erect a plaque.
"The year before that, they reached out to the Polish community to have them involved in the same way. The Polish also fought alongside the RAF," said Ing.
"I think they are becoming more and more aware of the contributions to the war effort from elsewhere and those contributions become more apparent.
"Our contributions are known inside our own community but not so much outside. But we fought side by side; we were there, even though we weren't considered Canadians at the time.
"But if they weren't Canadians, what were they? They wore the Canadian uniform.
"Many of them are buried in Europe, so when we dedicated the plaque, it felt like we were bringing them home."