A black man was denied accommodation from a Richmond Airbnb host, who has since been removed from the company's website following a complaint.
Toronto-based journalism student Corne Van Hoepen, 24, planned to return to the Lower Mainland, where he grew up, to visit alongside his friend, who is black.
Hoping to save some money on their limited incomes, Van Hoepen booked the "High-end apartment at Heart of Richmond Center" for mid-August and informed the host he had a guest. The online reply Van Hoepen got from the host "shocked" him.
"Is he black?" wrote the host, who appears to be of Asian ethnicity, in an online message captured by Van Hoepen.
"I haven't had many experiences with racism," said Van Hoepen, who is Caucasian.
"At that moment, I reached out to my friend to ask what I should do. He said 'I'm proud to be black and I own it, so just say that I'm a black person.' So I did that," explained Van Hoepen.
The host, with the online name Grace, and Van Hoepen then spoke on the phone, when, according to Van Hoepen, Grace told him that black people are not allowed in her building.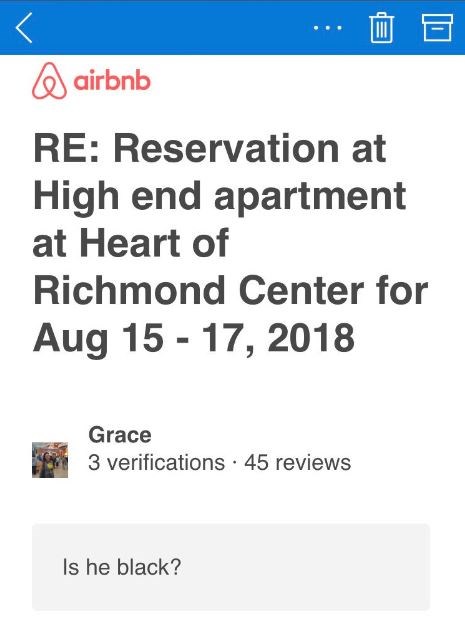 "She said, 'there's no blacks allowed in the building, please cancel your reservation,'" said Van Hoepen.
He alleges Grace then backtracked on her statement and in a subsequent online message to Van Hoepen, she tried to explain that a black man in the building would tip neighbours off to her apparently illegal Airbnb listing: "I will definitely get fine, as there is no black people in this building. I am so sorry, could you please cancel the booking and look for another place."
However, Van Hoepen said he then called Grace's building manager, who told him that short-term rentals are allowed in the building. The manager also reiterated that black people are allowed in the building.
"They said this is 2018 and there are no such rules," said Van Hoepen.
Van Hoepen said this was his first time using Airbnb. He said he contacted Airbnb, which is now investigating.
Airbnb spokesperson Nick Papas told the Richmond News: "We removed this [host] from our community and will ensure the guests have our full support and assistance in finding a place to stay."
Van Hoepen said on Friday that he is still waiting for a refund.
Papas noted Airbnb's Community Commitment, which must be obeyed by all hosts: "I agree to treat everyone in the Airbnb community — regardless of their race, religion, national origin, ethnicity, disability, sex, gender identity, sexual orientation, or age — with respect, and without judgment or bias."
Such discrimination is not new to Airbnb, which is why, according to Papas, the company has created a full-time Anti-discrimination Product Team.