Vancouver Coastal Health has filed a civil claim worth over one million dollars (and counting) against a foreign national who skipped the bill at Richmond Hospital after giving birth in 2012.
Yan Xia has been served a notice of civil claim after not paying her $312,595 bill from October 2012, after Richmond Hospital staff helped her with maternity care and her newborn child with neonatal care following complications in the spring of 2012.
The claim filed in April at B.C. Supreme Court notes the bill accrues monthly interest of two per cent, if left unpaid. After 67 months the defendant Xia would now owe about $1.2 million.
"In breach of the Agreement (with the hospital's rate schedule), the defendant has not paid the Amount Owing nor any portion thereof," notes the claim, filed on behalf of Vancouver Coastal Health by lawyer David Georgetti of Vertlieb and Co.
It is unclear where Xia is at the moment.
Richmond Hospital is home to a booming birth tourism industry that while technically legal, operates in a grey zone and is seen by many as an affront to the immigration system and exploitative of Canada's healthcare system.
The city is also home to a number of birth houses.
Mostly Chinese nationals are coming to the region, and more specifically Richmond, to give birth. Because Canada has jus soli (citizenship on soil) rights, the newborn babies get Canadian citizenship automatically, and with it all the benefits of Canada's social safety net should they choose to live here.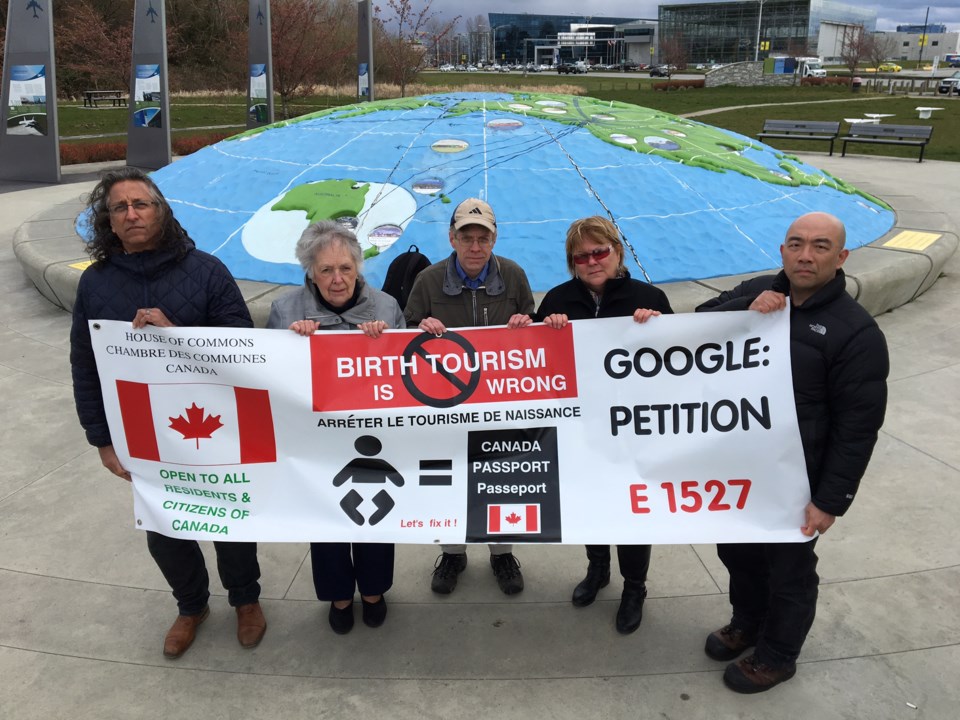 Vancouver Coastal Health has stated in the past that payment rates from foreign nationals have been high. In cases where payment is not made, health officials make clear that they cannot deny healthcare services to those in need.
As of 2016, the hospital asks non-residents to pay a $7,500 deposit for a regular birth and $13,000 for a C-section birth. There appears to be no security obtained for the rare instance a baby/mother is admitted for expensive neonatal/post-maternity care.
According to the B.C. Ministry of Health, although Xia's baby is automatically a citizen, it is not yet a resident of B.C. and as such does not qualify for public health insurance, the Medical Services Plan (MSP). Notably, new (and returning) permanent residents are required to complete a wait period of three months to become a beneficiary of public insurance.
However, MSP does cover the care of a beneficiary's newborn baby, as the baby is "able to immediately establish residency and their own coverage, because their parent(s) are already established residents."
Without MSP, Xia would have had to obtain private insurance for her unborn child to have neonatal care covered. The News understands from sources at the hospital that many transactions with foreigners are cash. It is unclear if the hospital checked if Xia had insurance.
Notably, in Vancouver, B.C. Women's Hospital officials bar foreigners from registering to give birth at their hospital. Meanwhile Richmond has a registration process open to foreigners.
According to Vancouver Coastal Health, in the 2016-2017 fiscal year, there were 379 births to foreign nationals at Richmond Hospital. That's close to one in five moms (17.4 per cent) entering the maternity ward that are not Canadian residents.
However in the first half of 2017-2018 (to September 2017) foreign nationals accounted for 19.9 per cent of all births in Richmond. The News has asked VCH for the final 2017-2018 figures.
In 2015-2016 there were 299 births and in 2014-2015 there were 335. From 2004 to 2010 the hospital helped birth, on average, 18 new Canadians per year from non-resident mothers. Nationality isn't routinely tracked but a tabulation by hospital officials in 2016 showed Chinese nationals accounting for 98 per cent of such births. 
A petition (E-1527) in Ottawa is asking for the federal government to condemn, investigate and prevent the activity from occurring in a more widespread manner.
Read more about birth tourism in Richmond by clicking on this Richmond News feature from October 2017.