When assistant professor Naomi Zimmerman drove her newly purchased sprinter van down the coast to California for its retrofitting, it wasn't to join the movement of young people converting their vans into mobile homes.
Instead, it was to create a mobile lab on wheels that will track Vancouver's odourous ways.
The Portable Laboratory for Understanding Human-Made Emissions — PLUME for short — is one of the first fully functioning mobile labs to grace Canada's West Coast.
From the outside, the van appears to be a fairly normal looking vehicle with a couple of odd additions. Protruding from the roof at the front of the van is a long rod, attached horizontally and pointing towards the road ahead. This is where the air samples enter the laboratory.
On the other side of the roof, also attached just above the front windshield, is a device that almost resembles a weather monitor — and that's not far off. This flat, cylindrical device detects which way the wind is blowing at any given time.
Together, these devices collect the data that is fed into the multiple larger machines habituated inside the van. A battery inside the van powers the lab's technology which then feeds into a computer hovering above the lap of the passenger seat.
This computer display contains a plethora of graphs drawing endless lines filled with spiky peaks and rounded dips, even when the van itself is parked. These graphs show the amounts of pollutants such as ozone, carbon monoxide, carbon dioxide and ultra fine particles that are in the air.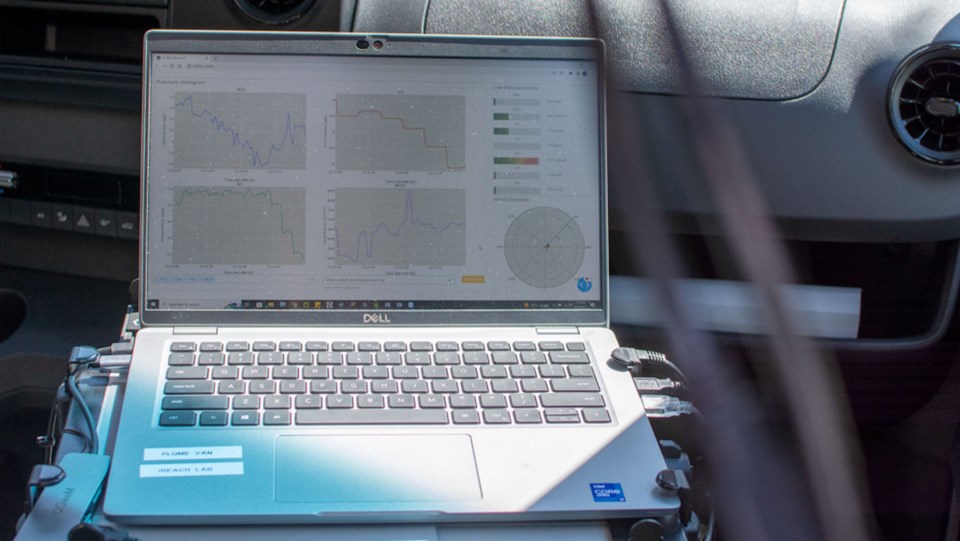 Constantly emitting a low humming noise to indicate machines at work, the van is an exciting achievement, says principal investigator Zimmerman and PhD student Davi de Ferreyro Monticelli.
"The most exciting thing has been being able to take all these different instruments and measuring the air quality in locations where we don't have instruments measuring right now," de Ferreyro Monticelli said.
A typical week for de Ferreyro Monticelli begins on Monday when he arrives at the lab to check the van for any maintenance or repairs that need to be made. Then from Tuesday to Friday, he's out on the streets of Metro Vancouver collecting a constant stream of air quality samples as he navigates the city.
Citizen reports guiding the research process
When de Ferreyro Monticelli gets into the van on Tuesday morning for a long day of data collecting, he often relies on another UBC project, Smell Vancouver, to tell him where to go.
Smell Vancouver is a web application that allows residents to report odours they experience while out and about. Since launching in 2020, reports have been made all the way from Penticton to Campbell River to even Portland.
Using this data, Zimmerman and her team hope to start proving some previously unestablished connections.
"We want to link odour reports of the smells people are smelling with the air quality," de Ferreyro Monticelli explained. "And check to see if where people are complaining is the same place where you have bad air quality."
From nuisance to policy framework
This link, Zimmerman says, is something that's relatively untouched by other researchers. Her hope is that by proving the connection, odour can become a helpful tool and not just a source of complaints.
"We're trying to better understand that link between air quality and odour to… move the concept of odour out of this category of nuisance into something a little bit more actionable," Zimmerman said.
When somebody logs a report in Smell Vancouver, they're also given space to describe any symptoms that may have been caused by the odour such as a headache or dizziness. Actions that they took to stop these symptoms, such as closing a window or door, are also recorded.
These records can have important implications for people's health, Zimmerman said. Especially if someone is closing a window in a non-air conditioned unit on a hot day to avoid a smell.
"All of those things are real experiences of people having real health effects," Zimmerman said.
"So what we're trying to do is collect all this data on people's experience of odour… and then go out and measure the air pollutants that are regulated that we know have certain health effects, to see if there is any relationship."
Odour mapping environmental injustice
These health effects can have increasingly serious implications for communities disproportionately impacted by bad air quality or lack of proper cooling resources, say the researchers.
"We are noticing how the air quality is worse where people are already in a disadvantaged situation, either economically or socially," de Ferreyro Monticelli said. "So you can create like a double or triple situation of disproportionate impact."
During last year's heat dome, 98 per cent of the estimated 619 deaths occurred indoors according to the BC Coroners Service. Additionally, Glacier Media reported that more people lost their lives in socially and materially deprived neighbourhoods than in other parts of the city.
Heat also happens to be a large aggravator of air quality. When temperatures rise in B.C., air masses become stagnant, pollutants are often not diluted properly and reports of odours increase.
"It's sort of this amazing example of how much overlap there can be in these related issues of climate change, air quality and people's experience of their environment," Zimmerman said.
But when all of these issues overlap, the situation can become extremely dangerous for some. This is where de Ferreyro Monticelli hopes PLUME can make a difference.
"The van is capable of actually targeting [environmental injustices]," de Ferreyro Monticelli said.
"Taking the disadvantaged communities that are being affected by air pollution and comparing them with regions where you don't have such bad air quality, those two things together can address environmental injustices."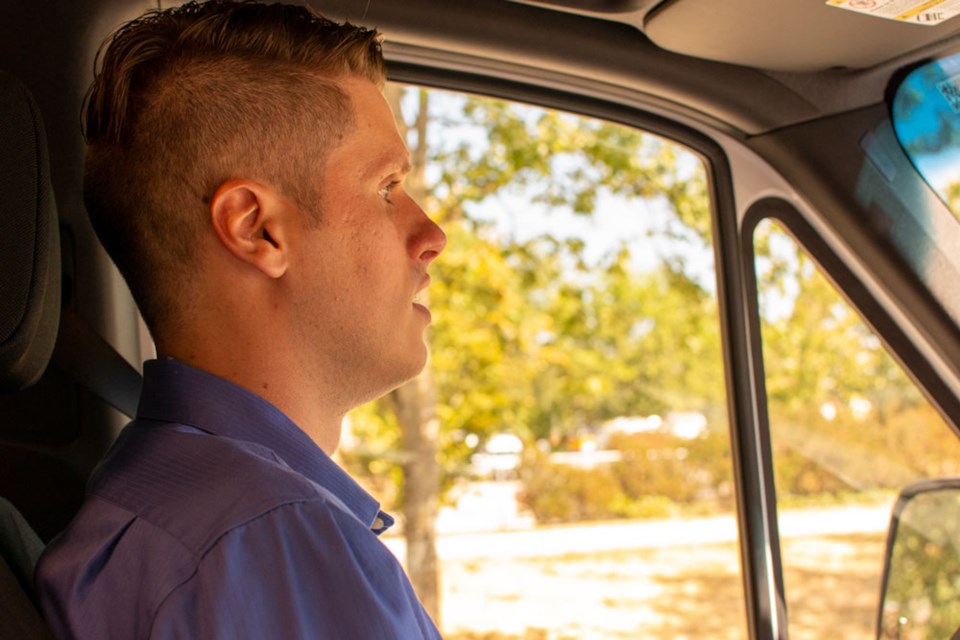 Where to next?
Next week, de Ferreyro Monticelli plans to travel to Burnaby for another long week of eight-hour days spent sampling in the field. This, he says, will continue just until the weather begins to cool down.
In September, Zimmerman said her team will take a pause to analyze the data they collected over the summer and determine the best way to share it with the public.
"This initial data will also help us inform subsequent sampling that we'll try to do next summer," she said. "I envision the PLUME van will be out every summer collecting data."
As the summers pass by, Zimmerman also envisions PLUME travelling to more regions of B.C. beyond Metro Vancouver, as well as other provinces.
Long-term, Zimmerman envisions a world where odour is regulated almost the same way as air quality.
"If we were able to draw those links between something that's more quantifiable, like air pollution concentrations, and something that's a little bit more experiential like odour, I think that can be really powerful," Zimmerman said.
Even more powerful, Zimmerman says, is the sense of community she hopes to build with PLUME.
"[The van] is really a community tool," she said.
"We use it for research and to answer important research questions but we really want those research questions to be driven by community needs."
For now, de Ferreyro Monticelli said he's happy that his six months of assembling the systems in the van are finally paying off.
"Once everything is running, you can go out and explore," de Ferreyro Monticelli said. "That's the fun part. And it beats sitting in the lab all day."