Two award-winning local bakery chefs have just released a new designer cake for the upcoming Chinese New Year, inspired by the Chinese custom of sending a "red envelope" to friends and family.
Dominique and Cindy Duby, owners of Wild Sweets in south Richmond, are the medal recipients of the IKA World Culinary Olympics in Germany and Culinary World Cup in Luxembourg. They also led Pastry Team Canada in the World Pastry Cup in France.
To celebrate the upcoming Chinese New Year which falls on Feb. 5 this year, the couple has, for the first time, designed a Chinese New Year-themed cake called "red envelope".
The older generation often puts money in red envelopes to give to the younger generation, with a symbol of conveying good luck and prosperity on the recipient.
"We wanted to find something, an idea, within Chinese tradition and the red envelop is a big part of the New Year celebration in Chinese culture...We tried to make (the cake) look like there is money falling out of the red envelope," Dominique told the Richmond News.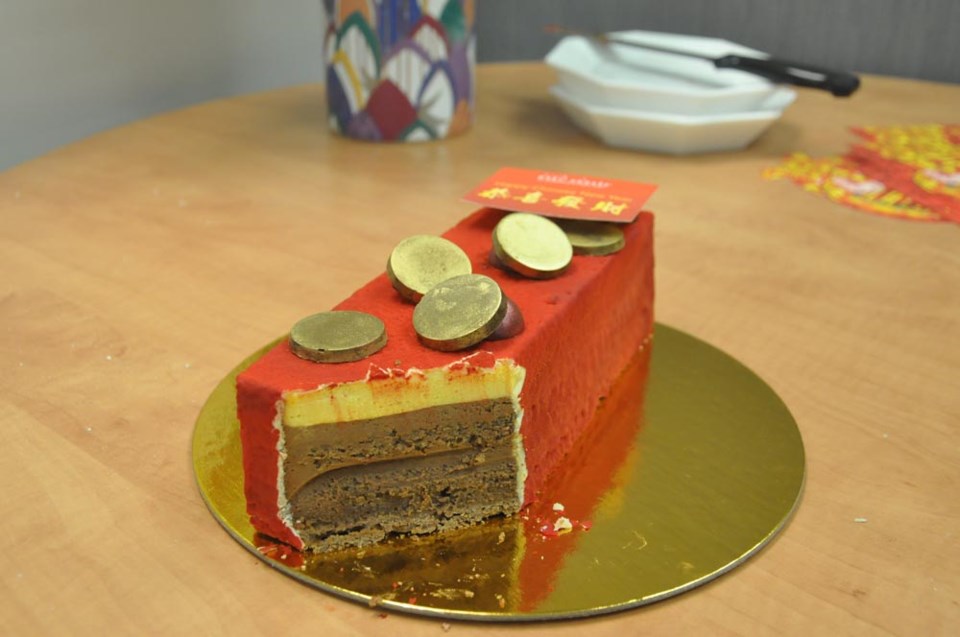 Apart from the festival-themed appearance, the pair also uses ingredients that are popular in Chinese cuisine during the Chinese New Year, such as chestnuts and oranges, to add an "Asian flavour" to the cake.
"We want to have an 'East meets West' cake," said Dominique.
"The technique and style are more for a French cake, but the flavour is much influenced by Chinese ingredients... we wanted to get something that's associated with what you will serve on Chinese New Year."
The cake has a layer of cream made of caramel brulee and chestnuts, and more cream on top made of "golden fruits" – a mixture of apricot, kumquat, mandarin and orange.
The cake is coated with white chocolate with a crispy peanut-base at the bottom, and the golden coins are made of their home-made chocolates – all the chocolates are made in their local studio from cocoa beans.
"A lot of people who are of Chinese descent are not necessarily Chinese born. They are used to more western culture and they are used to eating a western type cake," said Dominique.
"Meanwhile, they understand Chinese culture and tradition. That's something they do at home with family. Now we can offer something more thoughtful of Chinese tradition, and something everyone can enjoy."
For more information, check Dcduby.com.