Faced with a choice of pinpointing the flow of each gram of marijuana through their inventory or risking steep fines and licence suspensions, cannabis stores are reaching for help from a spinoff niche: point-of-sale technology.
An array of new point-of-sale systems has sprung up while longtime makers of retail point-of-sale systems are tailoring their offerings to the sector.
This is one of many accessory niches where businesses, like the proverbial pick and shovel makers who made money selling to miners during the Klondike Gold Rush, are aiming to profit by serving cannabis sellers.
B.C. government rules require cannabis retailers to track transactions and keep records for six years while their licence is valid, and for six months after a licence expires or is cancelled.
Retailers must document quantities sold, prices charged and the method of payment. They must show all transactions in which they buy or sell products, and note when any products are rejected as damaged or accepted as returned products from customers.
Retailers who lack a clear idea of what point-of-sale system they will use to make compliance reports could also find themselves unable to get a licence to begin with.
"Disorganized businesses that don't have proper records are going to be facing issues when they get spot-audited and all the records are not in place," Dentons partner Shea Coulson told Business in Vancouver.
He warned of $7,000 fines, saying a business with sloppy bookkeeping not only could face penalties for keeping incomplete records, but also could be hit with fines for selling illicit cannabis if it is unable to prove that its product was legally produced and purchased.
"That ups the penalty to $50,000 and the potential for a 90-day licence suspension just because your records are a mess," he said.
All private cannabis retailers who spoke with BIV said they were confident their record-keeping systems are sufficient.
There is a wide range of options.
Evergreen Cannabis Society co-owner Mike Babins, for example, is sticking with a vendor that he used before he ran a legal operation.
"I work with people who have come through for me, so we aren't jumping ship on them," said Babins, whose store opened under a provincial licence for the first time on January 5.
When Babins launched his store contrary to federal law, in September 2015, he used what he called "freeware" software to run his point-of-sale system, but he found the technology to be "clunky."
That is why he went to Vancouver-based Talex Software principal Wayne Miller, who had decades of experience and created point-of-sale software for the Marble Slab Creamery chain. Babins had Miller modify that product for use by his cannabis dispensary.
Despite Babins' confidence in Talex's product, he is requiring employees in the short term to use spreadsheets to track sales in case something goes wrong.
Miller, however, told BIV that he is on call to fix any glitches.
Competing with Talex are Vancouver-based companies such as Greenline POS and the iQmetrix--owned Cova – both of which charge around $500 per month as an ongoing royalty fee. Talex charges $79 per month, Miller said.
All of the systems require the retailer to either have hardware such as a computer, cash drawer, tablet and receipt printer or buy the necessary hardware from the software company. The cost for necessary hardware could be in the $3,000 range.
Cova then charges a $1,800 setup fee, while Talex charges $500 for setup. Greenline has no setup fee, according to those companies' representatives.
Cova director of marketing Faai Steuer said her company's product is more expensive than some competitors because it has a track record of successfully serving hundreds of cannabis stores in the U.S.
Vancouver's first legal pot retailer, City Cannabis Co., is using another point-of-sale system, made by Vancouver-based Buddi, at its cannabis stores on Fraser Street and on Robson Street, according to owner Krystian Wetulani.
"They have the best integration of product, so when we order products from the LDB [British Columbia Liquor Distribution Branch], we can just load them into our system and not have to manually input [new product codes]," he said.
Kimberley-based Earth's Own Naturals Ltd. owner Laurie Weitzel chose Greenline "because their product is easy to use and they are integrating the system with QuickBooks, which will save a number of hours for our bookkeeper," she said.
Weitzel also liked that Greenline did not charge a setup fee.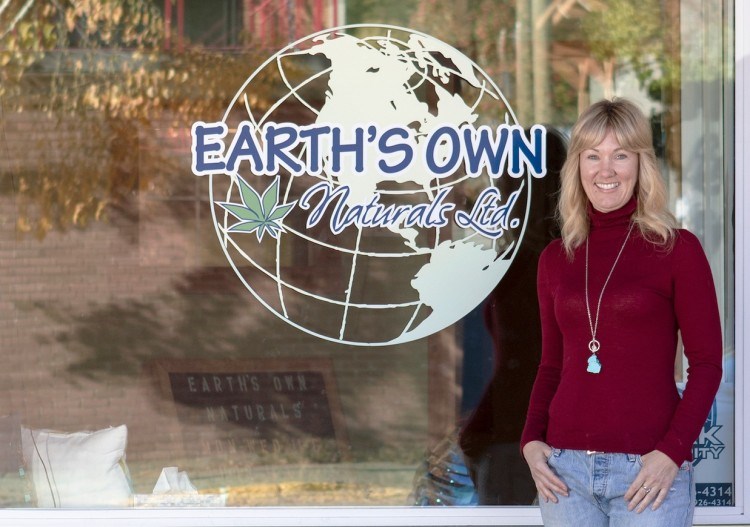 "Products must be managed almost like it is a jewelry store," said Greenline's general manager, Alejandro Arce. "We understand the depth of control that is needed for the product and the way it is handled."
Still, there are some longtime players in the retail cannabis sector, such as Weeds Glass and Gifts owner Don Briere, who are not planning to upgrade their point-of-sale system when they become legal retailers, and are unfazed about future responsibilities to produce accurate compliance reports.
"It doesn't matter if it is shoes, alcohol, cars or whatever – if you have a system that tracks bar codes, that's all you need," he said. "There are no missing records whatsoever. I've been audited three times: personally, the company and by the GST (goods and services tax) people."