A Lower Mainland developer is icing some star power and a unique business proposition at his northeast Richmond project to help address what he believes is a pent up demand for a pricey, private athletic club.
In an interview with the News, Dennis Drummond said his research into the local marketplace showed a lengthy wait list for area competitors.
At his Drummond Club, which is being developed on property he owns in the 1700-block of Savage Road, plans are to sell 2,600 memberships that come with with a twist, and a "pirouette."
To help offset the monthly dues and a one-time membership fee — which starts at $39,000 for an individual, $59,900 for a family of up to five people, $69,900 for a family of of up to seven, and $99,000 for a corporate membership — you get a 99-year lease on a concrete storage vault which can be rented out. That's the twist.
The pirouette comes in the form of three-time world champion and Olympic figure skating silver medalist Patrick Chan who is lending his celebrity to the facility's Patrick Chan Elite Figure Skating School.
"We were looking at bringing someone into the business model who would attract attention, and to also have a role after the Olympics," said Drummond.
With that idea roughed out, Drummond said he worked his business connections that were common to Chan's in order to find out if the skating star was interested in an arrangement — along with Skate Canada BC — at the new club.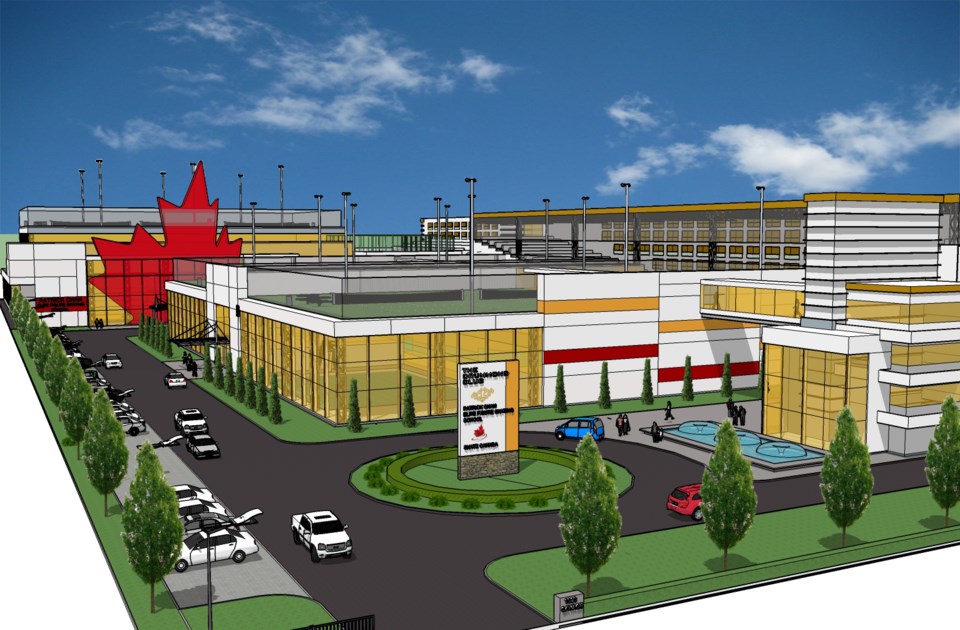 He was, and Chan is now part of the $150 million development that will house an Olympic-sized skating rink for figure skating, a six-lane, 25 metre swimming pool, a gym, three restaurants (a bistro, grille and fine dining), a 500-seat conference/convention centre, banquet facilities, and other smaller rooms for arts and exercise classes.
Drummond said he was thrilled to have Chan on board.
"It's sensational. He's looking so forward to this because it will be a legacy for him. Also, after the Olympics he will be able to go back to teach and train."
In the lead up to the next Olympic Winter Games in Pyeongchang, South Korea just three years from now, Drummond said Chan will spend a portion of his schedule at the club, then following the 2018 games will be here on a more regular basis.
"That's the anticipation. We're taking it a step at a time right now. He will be out here frequently assisting with seminars and training."
The combination of a star athlete, a business proposition, and a private athletic club is unique, Drummond said.
"Nobody has done this. This is a novel business model," he said. "We've got a leisure aspect married to a commercial one.
"We looked at the best use of the property a couple of years back and possible stratification and then came up with the concept to develop a full club because the demand is so large."
Drummond said he's owned the property for several years and plans are to convert one of the tilt up construction units to accommodate the lockers and a full leisure facility.
Four warehouses currently on the site will be renovated and have additional floors built into them, increasing the floor space from 50,000 to 180,000-square-feet.
But will it be a mere playground for the deep-pocketed?
"No," Drummond was quick to say. "Number one, we have financing arranged through CIBC on site there that will finance up to 100 per cent to assist people who may not have the cash for a membership," Drummond said.
And for those who cannot afford the steep membership fee, but show potential as an elite athlete there is a promise of some form of bursary. 
"We're certainly looking at that from a compassionate perspective," he said. "We want this to be an affordable and usable facility," Drummond said. "This is not all about money."
As for how up-and-coming talent would be identified, Drummond said: "They'd have to go through a due process to look at their potential and upside. I'm not a professional in that realm, but certainly if there's an individual who doesn't have the financial capability, but has the athletic capability and is endorsed by the various coaches, then, absolutely, we will look at their accommodation."
Phase one of the two phase project — the western portion with the club's amenities and commercial lockers — is expected to be completed and open for business by the end of next year.
However, once the entire project is finished, how might it impact local, taxpayer funded facilities?
"Private operators generally don't compete for this business beyond providing additional capacity in areas where demand exceeds what we can supply and where the consumer is willing to pay more to get such services," said city spokeswoman Kim Decker, in an email.
Decker added that much like when the Richmond Olympic Oval was opened in 2008, the impact on community centres was uncertain.
"However, the reality has been that both City of Richmond Community Centres and Oval programs have experienced strong growth in program registrations and visitation every year since the Oval's opening. The Oval and other facilities will continue to provide a broad range of services at rates that will ensure core community sport, health and wellness needs are met moving forward."