The Christmas decorations may have all been packed away a few weeks ago, but Robert Thurlow was still in a celebratory mood to start 2016.
And why not, the mall he manages on Sea Island — McArthurGlen Designer Outlet Vancouver Airport — benefitted from a near-perfect storm of economic events since opening last July to soar past its projected figures for customer visits and sales.
According Thurlow, the 77-store, 240,000-square-foot destination attracted more than two million shoppers and was on track to rack up sales of more than $10 million — both about double what was projected.
Throw in an award which named the mall the best outlet centre on the globe, and it was a pretty decent first six months for McArthurGlen's first operation in North America, Thurlow said.
"We've had an outstanding opening and are very pleased," Thurlow said. "We're feeling really good about the results and ready to put phase two forward."
What Thurlow was referring to was the planned expansion of the mall that will add another 150,000-square-foot of retail space and 55 new shops.
Going along with that will be the creation of another 400 to 500 jobs. As it stands now, the mall employs upwards of 800, about 25 per cent more than expected, given the strength in sales volumes.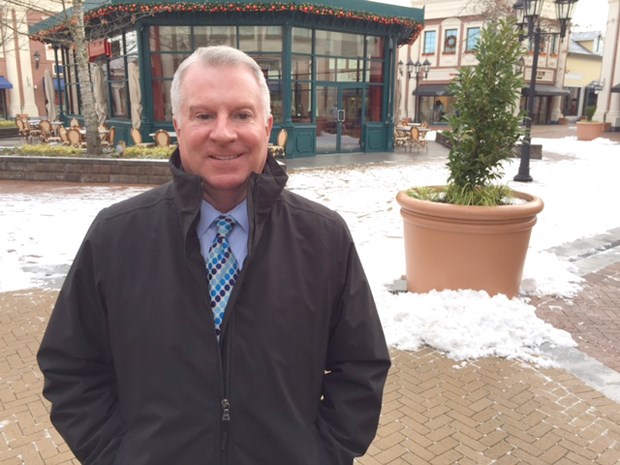 Construction is expected to begin next month and completion is scheduled for late 2017.
That is contingent on it getting the green light from the mall's business partner, the Vancouver International Airport Authority.
As for the performance in the abbreviated 2015 operating year — European-based McArthurGlen operates on a calendar year — what helped fuel customer visits and sales was the downward spiral in the Canadian dollar around the time the mall opened on July 9.
On that day, the value of the Canadian dollar compared to the U.S. greenback was 78 cents. On Jan. 14 it had dipped to 69 cents.
The benefit was two-fold as the collapsing Canuck buck helped keep local cross-border shoppers at home, and it encouraged some Americans to employ their new-found spending power north of the border.
"I don't think I've seen as many Americans coming across the border as I would have thought. We're probably still very new to them and many are still yet to find us," Thurlow said, adding that from casual observations of cars in the mall parking lot bearing U.S. licence plates indicated that about 15 to 20 per cent of visitors were from south of the line. "Where we're getting most of our shoppers is local customers, and that's a really positive thing."
The mall is also able to tap into a unique source of customer traffic — international airline passengers — thanks to its close proximity to YVR's terminal buildings.
Thurlow said those passengers who are on long enough layovers between flights allow them to venture from the airport and shop at the outlet mall which is a short Canada Line trip or car ride away.
Thurlow said some passengers passing through YVR have upwards of seven hours to wait for their connecting flight — enough time to spend some of it shopping at the mall.
"As a result, our busiest, or peak time is between 2  and 5 p.m.," he said.
All of this has helped the YVR mall achieve the highest sale per retail square foot in McArthurGlen's chain of malls.
Another contribution to the mall's appeal has been the recent addition of more food outlets.
Thurlow said that was one thing the mall sorely lacked when it opened.
"In retrospect, we lagged behind a bit in getting that organized. But we have some super locations now," Thurlow said.
Open for business is Bibo Pizzeria and Neptune Noodle House, both of which are building on their existing locations in Vancouver and Richmond respectively. Coming soon is Downtown Vancouver's Japadog which will be expanding on its food cart service at the mall.
Thurlow said opting for those types of tenants that have local roots is preferable to bringing in tried and true fast food chains to give the mall a more unique air.
A similar philosophy was used when attracting clients to the upscale blend of shops that feature some European brands not previously offered in the marketplace.
"Our method of filling shopping centres is a little bit of a different strategy than the typical North American mall in the sense that we don't just fill it with anybody. I'd rather some of the retail spaces remain empty, holding the space for clients that may not be ready to move in, than get the wrong type of retail mix," Thurlow said.
"The leasing world is kind of like the dating world," Thurlow said. "There are people who want to date you, and you don't necessarily want to date them."
It's all about getting an assembly of like-minded brands and merchandise, he added.