So, you have a great business idea. It's a surefire hit that's either racked up decent sales already or has a good chance of doing so. But you feel the need for that little extra push to put you over the top to be a success.
Are you willing to bear your business and marketing soul on national TV to achieve your dreams?
And can you take the grilling from some of the country's top business celebrities?
A number of Richmond-based entrepreneurs have checked the "yes" box on that and entered CBC's Dragons' Den over the past few years after going through the show's audition process that touches down at Kwantlen Polytechnic University on Feb. 17.
It's part of a 35-city, cross-country tour for the show's producers who are out to gather those hopeful of striking a deal for fame, and perhaps fortune, with one or more of the dragons.
Longtime Richmond resident and fitness trainer Darren Shane, president and CEO of The Human Trainer/Astone Fitness Ltd., said anyone contemplating trying out for the show needs to remember that, at the end of the day, it's about entertainment. And that means being well prepared for the audition in order to get noticed.
"Think of the audition as your actual pitch to the dragons," Shane said. "Rehearse what you are going to say and be ready with all the material you need to promote your business.
"And have some flair. After all, this is reality TV."
For Shane and business partner Joel Grenz that meant pulling out pretty much all the stops at their audition to impress the show's producers with plenty of props that included toned models demonstrating their resistance band exercise equipment.
And it did the trick, earning them a chance in 2013 to tape their pitch in CBC's Toronto studio where Dragons' Den is shot.
For Richmond inventor Marco Longley, his decision to try his luck to get on the show stemmed from having several of his ideas copied shortly after coming up with them.
"Other than knowing how to invent some pretty cool stuff, I had no idea about patents, manufacturing and distribution and the myriad of other aspects it takes to be a successful inventor," Longley said via email. "By successful I mean financially, not just creatively."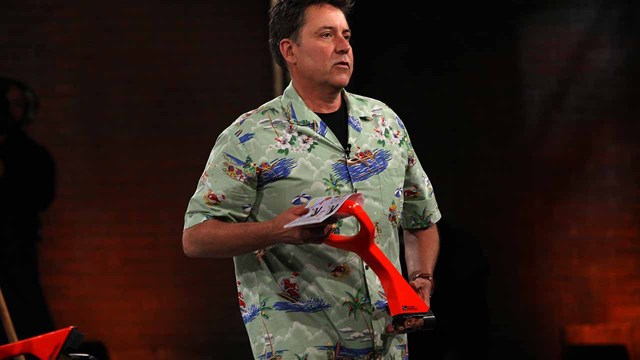 Longley, who suffered a severe back injury in 1990, pitched his invention called The Heft, a secondary shovel handle that makes scooping and lifting easier.
His appearance on Dragons' Den, where he asked for $25,000 for a 10 per cent stake in his business idea, drew plenty of attention and a deal from venture capitalist Arlene Dickinson. But things did not pan out and Longley managed to strike a deal after the show aired with another dragon, David Chilton, author of The Wealthy Barber, who helped get The Heft to market in Home Hardware stores across the country.
The experience of having his invention finally on the shelves was an emotional one for Longley.
"I knew we had finally made it," he said.
Validating your business or idea is a big offshoot of appearing on Dragons' Den even if you don't get a deal done, added Shane, who was originally looking for $500,000 for 20 per cent of the fitness equipment business, which had already achieved an established e-commerce presence and distributorship in North America and Europe.
Shane's validation came from the fact three dragons were interested in making a deal at the time, but their overtures for a bigger portion of ownership in the enterprise were ultimately turned down.
"We wanted the offer to be the right one," Shane said.
Still, the appearance on the program helped boost the fortunes of the company — they still do today, nearly three years after the original air date.
"Our episode has been on about seven or eight times and results in a spike in sales each time," Shane said.
Not bad for a product pitch that Shane had no assurance would actually make it to air.
"Not many people know that when you are selected for taping the show there's no guarantee you will be seen," he said.
Plus, prospective businesses have to pay their way to Toronto for filming.
"You have to pay for all of that. In our case we had to hire fitness models and ship our exercise rack used for demonstrating the equipment. In all, it cost us about $30,000 with no certainty we'd even been seen on TV.
For Brandon Segal and his family, their appearance on the show in April 2015 with a line of stylish and colourful compression socks (Dr. Segal's Compression Socks) that promoted increased blood circulation came with another set of misgivings — namely the glare of the spotlight.
"To be honest, it was one of the most exhilarating — I don't want to want say scary — things we've done ," Segal said, whose father, vein specialist Dr. Jean Segal, developed the product. 
"Walking up the stairs and onto the set was amazing. You're there with the whole panel (dragons) staring at you and you give them your pitch.
"Just make sure you're prepared and practise over and over so that it's exactly the way you want it," he said. "There's nerves, adrenalin and you're in front of the lights and cameras."
But would he suggest it to others?
"I would definitely tell people to go on the show," he said.
Dragon Chilton was again the one to strike a deal on the show, offering the Segal's a no interest loan of $300,000 for a seven and a half per cent stake in the company.
While that sounded good and handshakes were exchanged on camera, the deal did not come to fruition.
"It didn't work for either of us, but it was a great experience," Segal said. "We sat down with him (Chilton) afterwards and he helped us with ideas for distribution and the next growth steps."
For inventor Longley, the next step was a second appearance on Dragons' Den that aired about two weeks ago. This time it was for a product called the TwoCane, a walking stick that quickly splits into two canes to provide better stability.
Dragon Manjit Manhas struck a deal for $50,000 in exchange for 25 per cent of the company and a three per cent royalty. Since the episode was shot in April discussions have continued in hopes of cementing a deal, said Longley's business partner David Bernhardt, adding the most recent success has spurred thoughts of trying for a third appearance which has never been accomplished before.
Just what product would be pitched if Longley makes the cut at a future audition is not known.
"Marco has a book full of ideas," Bernhardt said.
Information about the Dragons' Den audition process can be found on the show's website online at cbc.ca/dragonsden.