"Beer. Now there's a temporary solution."
So said Homer Simpson.
However, what isn't temporary is Richmond's first production brewery, Fuggles and Warlock Craftworks, south of Ironwood Plaza on Horseshoe Way.
President Tom Orange and his partners, most of whom are from Richmond, recently moved their brewing operations from a brewing facility in Langley to become a fully independent suds manufacturer.
"We wanted to be here to provide a much needed brewery destination for Richmond," said Orange.
Orange and his team have armed themselves to the teeth with some of the best, modern brewing equipment available in order to boost production and expand the company's reach out of the province, including a plan to tap into Asian markets.
"So, we will have to work hard to produce enough great product to keep up with the sales," said Orange.
Presently Fuggles and Warlock beer is available at more than 200 private liquor stores and pubs in the Lower Mainland and Vancouver Island.
It has won a number of awards at local tasting competitions.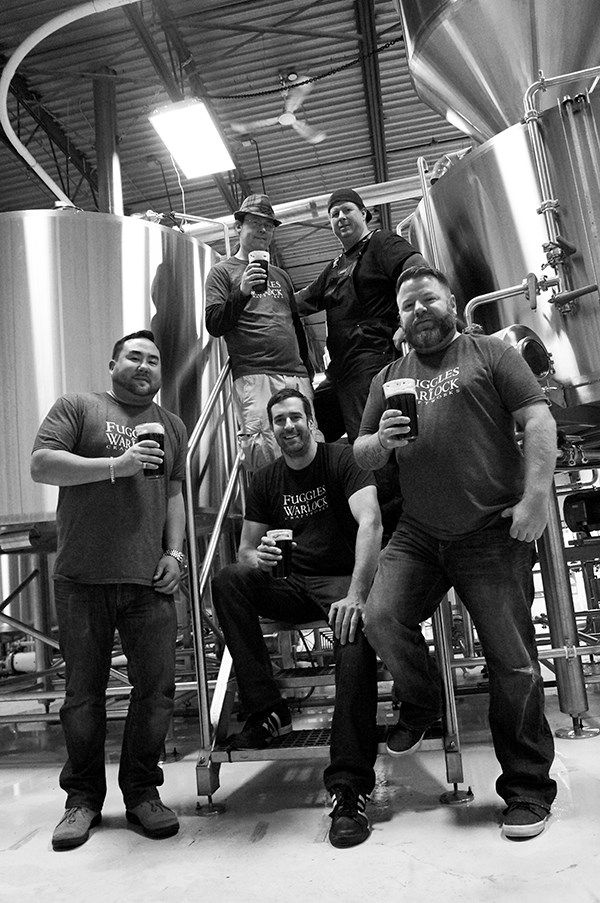 Earlier this year, the company gutted an 11,000-square-foot industrial warehouse and secured building permits and a business licence to start moving in custom-designed, stainless steel brewing equipment from Newlands Systems in Abbotsford.
Orange brings in malted grains from a local supplier and from there they enter into a mini conveyer system and into the mill.
The grain flows freely into the three-vessel brewhouse system (lauter tun, masher and whirlpool) and once they've come to the end of their journey, a local farmer picks up the waste to use as animal feed.
"It's a win-win for everyone," said Orange.
From there, batches of beer are sent to the six, 4,000-litre fermenters to make the beverage a little more fun.
Then it's on to the two big carbonation tanks to make the product sudsy.
When a batch is complete, the brewmaster will can or bottle the beer with a new packaging system (a six-head bottle filler, that produces 40 bottles per minute, and a cask canning system). The company also provides pubs with kegs.
Orange won't say how much capital the company has invested to start the brewery, but it is "significant."
There appeared to be no corners cut on a recent tour prior to the official opening; the brewery has a hop-injector to improve the efficiency of the dry-hopping process; it also has an estimated 20,000-cubic-foot cooler, outfitted with a new refrigeration system, to store the outgoing product.
Furthermore, the facility also features a new testing lab for beer sommellier Dan 'Fuggles' Colyer, who is currently working on a new sour beer recipe.
"Most of the time we can nail it with one try, but sometimes it takes about two or three iterations to get it dialed in," said Colyer.
Fuggles and Warlock has six beers available, at the moment, and Colyer is usually found creating seasonal variations.
Much like finding a synergy with the local farmer, the company worked in collaboration with Salt Spring Coffee to produce 'Bean Me Up' espresso milk stout.
If you've seen Fuggles and Warlock beer before, you'll have noticed its distinct packaging themes.
As noted on its website, the beer's branding has a particular focus on "geek culture," with references to video gaming and pop culture. The company motto is "keeping beer weird."
Colyer was instrumental in creating a Star Wars-themed YouTube video to introduce online visitors to the company. It's probably no coincidence Star Wars VII opened within a week of the first bottles and kegs being shipped out of Horseshoe Way.
Having put the lids on the first few batches of beer, the last thing Fuggles and Warlock plans to do is create a tasting lounge and patio at the front of the facility.
"It will be a casual room featuring a fireplace lounge, sports on TVs, and a video game section," said Orange.
The company will also sell branded merchandise, such as glasses and t-shirts.
Patrons will be able to pop in and fill their growlers for a competitive price, considering the beer literally just came out of the tap.
Colyer expects to present the core lineup of beers as well as his seasonal creations and even test batches, for tasting.
The tasting room, which will have seating looking out into the brewery's production warehouse, is expected to open in the New Year, following a public hearing process.
Fuggles and Warlock core beer lineup:
Red Rye IPA – A dry-hopped classic - 7.3% alc/vol
Personas West Coast Common – A fruity and smooth malt base lager – 5.1% alc/vol
Destiny IPA – A lighter IPA with fruit and hop aromas - 6% alc/vol
Shiva White IPA – A citrusy wheat IPA with aggressive bittering - 5% alc/vol
Bean Me Up – A coffee-infused milk stout - 5.7% alc/vol
Hopper Texas Brown – A brown ale with citric West Coast hops – 6.5% alc/vol