Turo, a car-sharing system that allows local car owners to rent their own cars to others, says it's expecting Richmond to be one of its first bases of operations in B.C.
The company still has a number of legislative and insurance hurdles to overcome before realizing it's car version of Airbnb, but in the meantime, three Richmond car rental companies are using Turo to rent cars in the more conventional way.
Getting it's name out through car rental companies is a stepping stone for the U.S.-based company to bring its system to the province, and eventually achieve peer-to-peer car sharing, where individuals can rent cars from individual car owners.
Richmond-based West Coast Car Rental has listed 42 cars on the new platform.
"We are opening extra doors and getting more renters through the platform," said Nawas Rismi, managing director of West Coast Car Rental.
"This is our first step to expanding into B.C. – working with those car rental companies, who already have commercial rental insurance and getting our name out," Cedric Mathieu, Turo Canada director, told the Richmond News.
In the meantime, the company is working on partnership with ICBC to create a new type of insurance for individual car sharers, as well as persuade the government on a legislative level.
"Many cars are sitting there without being used. Our platform can allow individual car owners to offset the cost of their car by renting their's out," he said.
"B.C. has a big tourism industry, and we have already seen the demand for, and potential of, this car-sharing service."
Since its launch in last April, thousands of people have used the platform to lease a car or rent one from strangers in Ontario, Quebec and Alberta.
Like house-sharing platform Airbnb, users select the date and city they'd like to rent a car, see the features, picture and rate before booking it online and picking it up.
"Many individual car users rent out their cars at a lower price, which makes the rate very competitive. That's after the money being saved from not having the staff or paying the rent for a store," said Mathieu.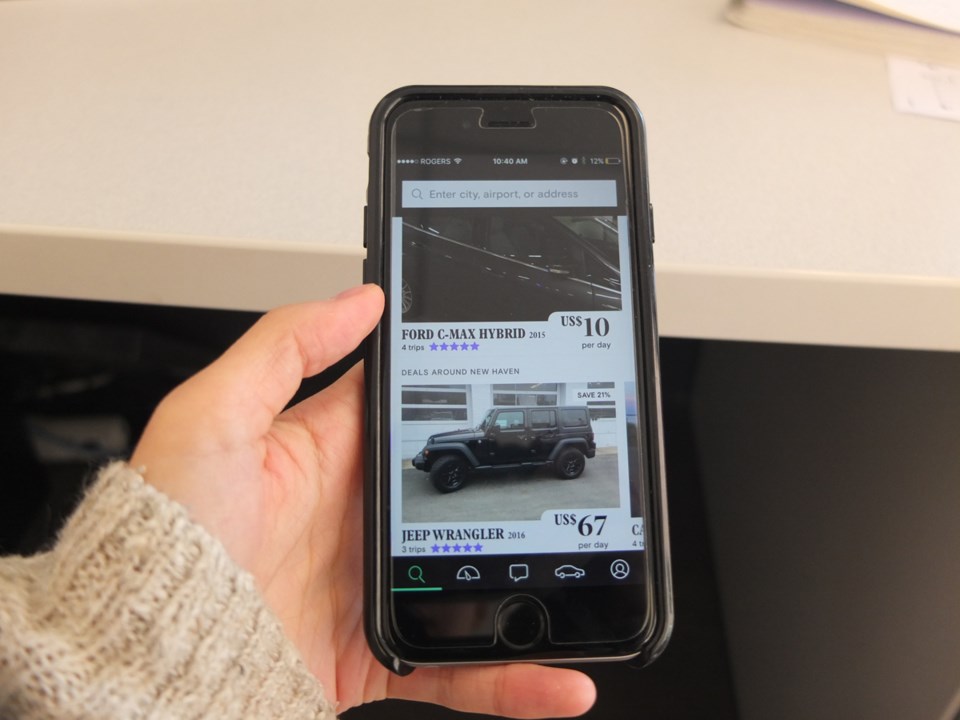 The platform also has a rating system that renters and owners can score each other on using references.
Now Turo offers services in more than 4,000 cities and has more than four million customers across the world, with 220,000 members in Canada.
However, the company has encountered two "speedbumps" while expanding to B.C.  ­—insurance and legislation.
In the other three provinces in Canada, Turo has worked with an insurance company to create special coverage for cars that don't have commercial rental insurance.
In that way, both the car owner and renter are covered by the insurance policy and receive protection from Turo.
But that type of insurance doesn't apply to insurance policies in British Columbia.
"B.C. has unique insurance regulations which do not allow us to apply the same insurance we use in other provinces here at the moment," said Mathieu.
As a compromise, the company now only allows car rental companies, which have commercial rental insurance, to list their cars on the platform in B.C. 
"The currently available commercial rental insurance in the province is too expensive for individuals to purchase," said Mathieu.
Legalizing the peer-to-peer car sharing service in B.C. is also a challenge.
Although the company is confident with the timeline, given the slow process of legalizing other sharing services such as Uber and Airbnb in B.C., expert said the company still has a long way to go.
"The interest parties whose businesses will be affected will be opposed to it, such as local rental companies and platforms like 'car2go,'" said David Hardisty, an assistant professor at the UBC Sauder School.
Rismi admits that, despite the benefit Turo provides, if the platform is open to every car owner in B.C. in the future, it may have an impact on his business.
"Then all car rental companies in the market will have to reduce their prices," said Rismi.
"I can see a 10 to 20 per cent drop of my business if people can rent a car from everybody…But it hasn't happened yet. Let's see how far this will go."
Hardisty also pointed out the risks of renting cars to or from strangers.
"There are risks with having someone living in your house, but I think having someone driving your car has much higher risks," said Hardisty.
"Will he damage your car in ways you don't notice? Or will they just drive your car away?
"And for car renters, how to ensure the car is in good condition and all the functions are up to date? Those are the questions people need to ask."