With late morning sunlight streaming through the big windows into the farmhouse chic interior, weekend brunch gets all kinds of beautiful at Vancouver's Honey Salt.
Situated inside the new Parq Vancouver hotel, casino, and event space complex, Honey Salt not only offers daily breakfast service, but also a thoughtful weekend brunch that features playful dishes and midday fare.
Served Saturdays and Sundays, Honey Salt's Weekend Brunch menu is balanced between a "break the fast" breakfast-y section and more lunch-y eats. For those who prefer the latter, you can tuck into the restaurant's signature towering homage to fresh local raw veg in the form of their Market dish, which literally puts produce from Klipper's Organics on a pedestal–and pairs them with dips and spreads and housemade chips.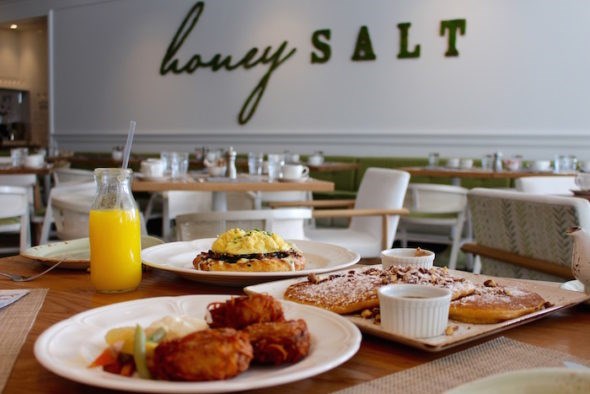 Also on the non-breakfast side are things like their soulful Turkey Meatballs, the indulgent Biloxi Buttermilk Fried Chicken Sandwich, a few salads, and Vancouver staples like poké and avocado toast.
For those who prefer to stick to the more traditional morning foods like eggs and pancakes, there's much to choose from. Thick potato pancakes (latkes) are made with long noodle-like potato strands, and are served with the traditional sour cream and applesauce (and some tangy pickled veg).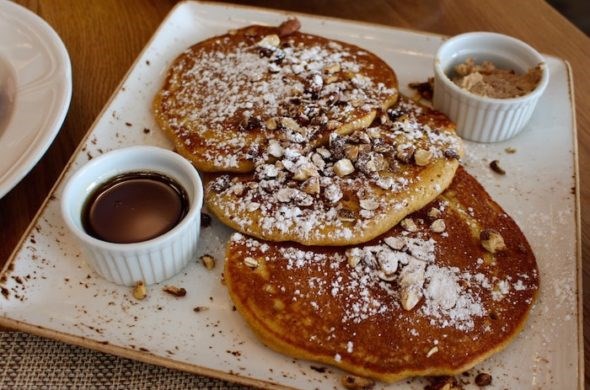 You'll find several sweet options, too, like waffles and pancakes, including a gluten-free pancake option, like Sweet Potato Pancakes decked out with toasty nuts and powdered sugar, served with almond butter and syrup. Those who say bring on the gluten may want to tuck into their Monkey Bread or coffee cake, too.
Egg dishes abound, from the practically mandatory Eggs Benedict, to hearty Steak & Eggs to a full English Breakfast. Honey Salt's creative minds are also turning out Bacon and Egg Sliders, and a beautiful Breakfast Galette. The Galette is small but oh-so-filling; the circle of flaky pastry is topped with gooey Gruyere, spinach, slices of ham, and creamy scrambled eggs.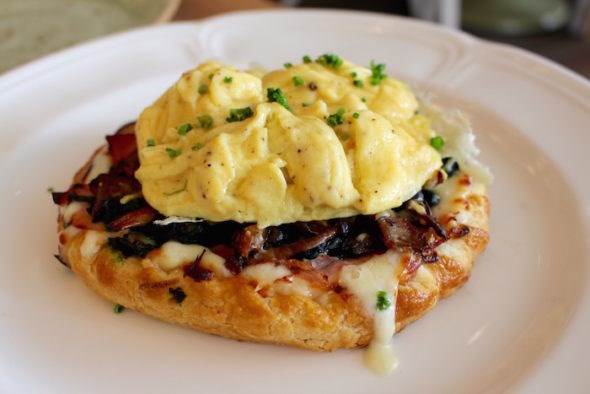 Pair your weekend daytime feast at Honey Salt with any of their fresh juices or smoothies, or coffee or TWG Tea–or ask for the cocktail menu. It is brunch, after all.
As a side note, Honey Salt is one of two restaurants at Parq that allow minors, so this is an ideal choice for a nice brunch with little ones; there is plenty for them to eat off the regular menu as well as the kids' menu, and the friendly staff have lots of colouring sheets and crayons to keep little hands busy.
Brunch at Honey Salt is served weekends from 10:30 am to 3 pm. Honey Salt is located at 39 Smithe Street.