Known for his quirky bowtie and long lab coat, Bill Nye is among the most beloved science figures in modern history—and certainly one of the most well known. He first became famous in the mid-90s when he hosted the ultra-popular kids' science show "Bill Nye the Science Guy."
The television program, which aired on PBS, was aimed at making science entertaining. Nye was prone to wacky stunts such as grocery shopping in scuba gear or cutting bread with a chainsaw. The goofy show, which was watched by children and adults alike, made complicated subjects fun and accessible.
But Nye is more than just a geeky entertainer—he's a bonafide scientist himself, with a degree in mechanical engineering from Cornell University.
Long before his "Science Guy" days, in fact, Nye had already made significant contributions to aviation when he was working for Boeing, where he invented a hydraulic pressure resonance suppressor tube—a piece of a 747 airplane that dampens pulsations.
And just this year, he announced the success of a spacecraft prototype that sails on sunbeams (known as LightSail 2) which he worked on with the Planetary Society. In the time in between, he never stopped working on scientific achievements, even as he appeared on television programs and comedy shows.
In addition to being an inventor and the owner of three patents, Nye is also a prolific author and, more recently, an intrepid climate activist.
He's published two best-selling books ("Undeniable: Evolution and the Science of Creation" and "Unstoppable: Harnessing Science to Change the World") and has appeared on dozens of talks shows to debate climate change deniers and educate people about the climate crisis. He and his neighbour Ed Begley, Jr., an actor and fellow climate activist, have a friendly competition to see who can be more eco-friendly, which was showcased on an episode of NOVA's "The Big Energy Gamble" on PBS.
To honour the eccentric scientist, we've put together a timeline of his life, beginning with his childhood in Washington D.C. and ending with his most recent Netflix show, "Bill Nye Saves the World." Take a look at the gallery ahead to learn more about this fascinating person.
Will Folsom // Wikimedia Commons
1955: Born in Washington D.C.
Bill Nye was born in 1955 in Washington D.C. His mother, the mathematically brilliant Jacqueline Jenkins-Nye, was a World War II codebreaker who worked with machines that intercepted German messages. His father, Edwin "Ned" Darby Nye, was a contractor who was captured when the Japanese bombed Wake Island and held for four years as a prisoner-of-war. There, with no electricity, he learned to tell time with a makeshift sundial (the shadow of a shovel handle). Nye, who would later go on to design sundials for NASA, has credited his father for giving him "SOD" ("sundial obsessive disorder). "I think he'd be proud to know I helped put the first sundials on Mars," Nye wrote for Popular Mechanics.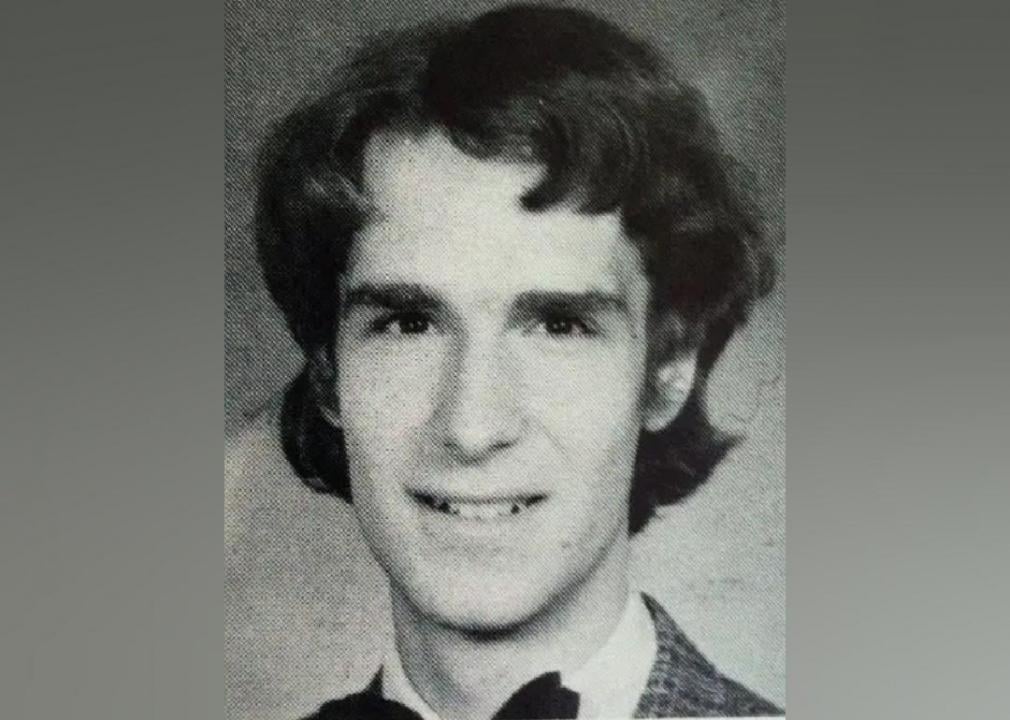 Sidwell Friends 1973 Yearbook // Wikimedia Commons
1977: Graduates from Cornell University
From 1973 to 1977, Nye attended Cornell University, where he earned a bachelor of science degree in mechanical engineering. During his time there, he took an astronomy class with Carl Sagan that reportedly influenced the science show he would later create. "His classes were just fantastic," he told PBS's "The Secret Life of Scientists and Engineers." "If you saw the series 'Cosmos'—the original 'Cosmos'—his lectures were like those television shows."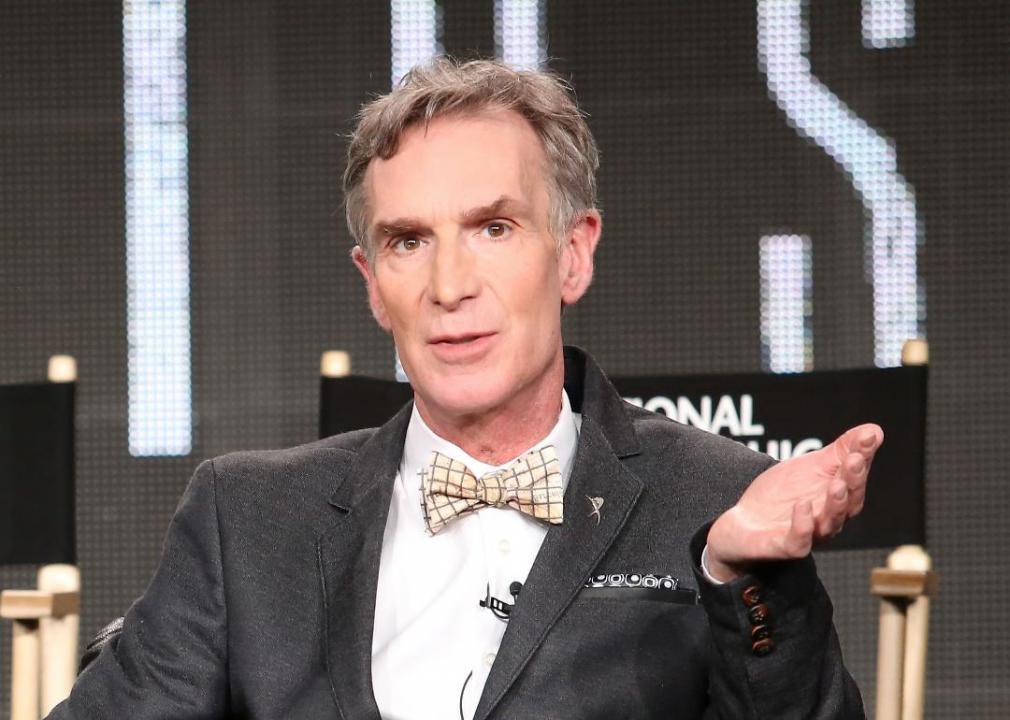 Frederick M. Brown // Getty Images
1977: Begins job at Boeing
The same year that Nye graduated from Cornell, he got hired at the Boeing Corporation and moved to the Seattle area. He stayed at Boeing for nine years, through 1986, during which time he invented an airplane part called a hydraulic pressure resonance suppressor tube. The tube— sometimes called a ripple dampener—is a part of 747 jet airliner that dampens noise and pulsations. "Next time you get to fly on one of those big planes, remember that Bill Nye is part of why you're having such a comfortable flight," Nick Mangione wrote for Geek.com.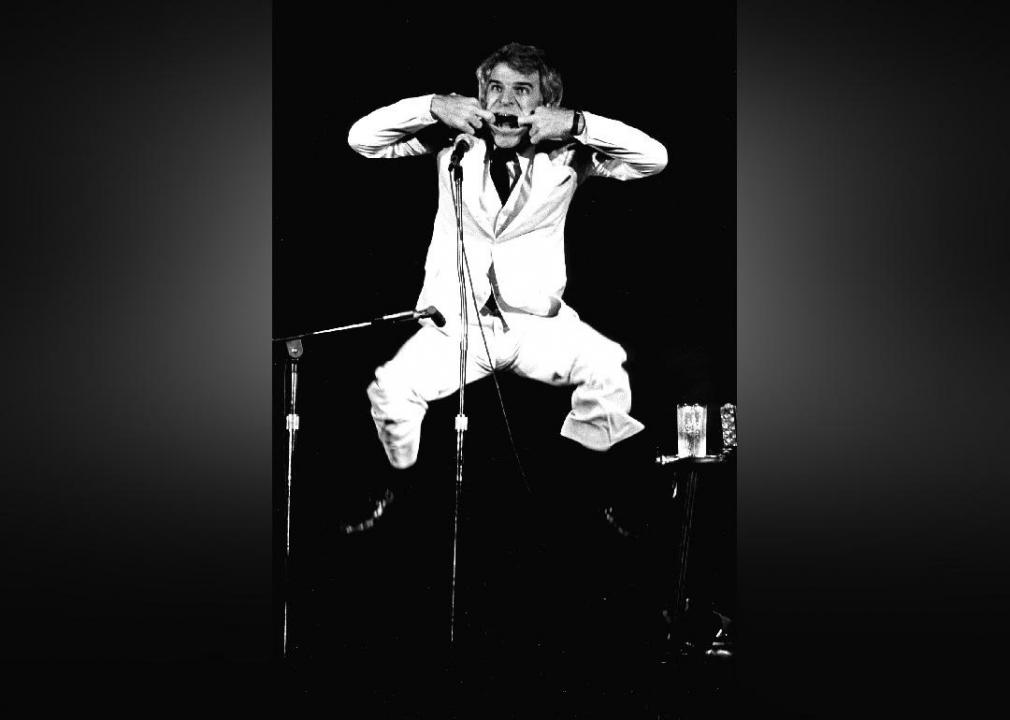 Jim Summaria // Wikimedia Commons
1978: Wins a Steve Martin look-alike contest
In 1978, a year after his college graduation, Nye won the first round of a Steve Martin look-alike contest hosted by Warner Brothers Records. Although he didn't go on to win the national competition, the success emboldened him to start impersonating the actor at parties and to eventually begin doing stand-up comedy. Nye spent the next eight years working as a Boeing engineer by day and an aspiring comedian by night.

[Pictured: Steve Martin, 1977]
Rossshafer52 // Wikimedia Commons
1986: Quits job at Boeing to focus on comedy full-time
By 1986, Nye was finally ready to make the leap and quit his job at Boeing to take a stab at a full-time comedy career. He began freelancing for a sketch comedy show called "Almost Live!" where he earned his nickname after correcting a fellow host who mispronounced the word "gigawatt." The host, John Keister, snapped back amused, saying something along the lines of: "Who do you think you are—Bill Nye the Science Guy?" After that, "Bill Nye The Science Guy" became a regular sketch and thus his stage name was born.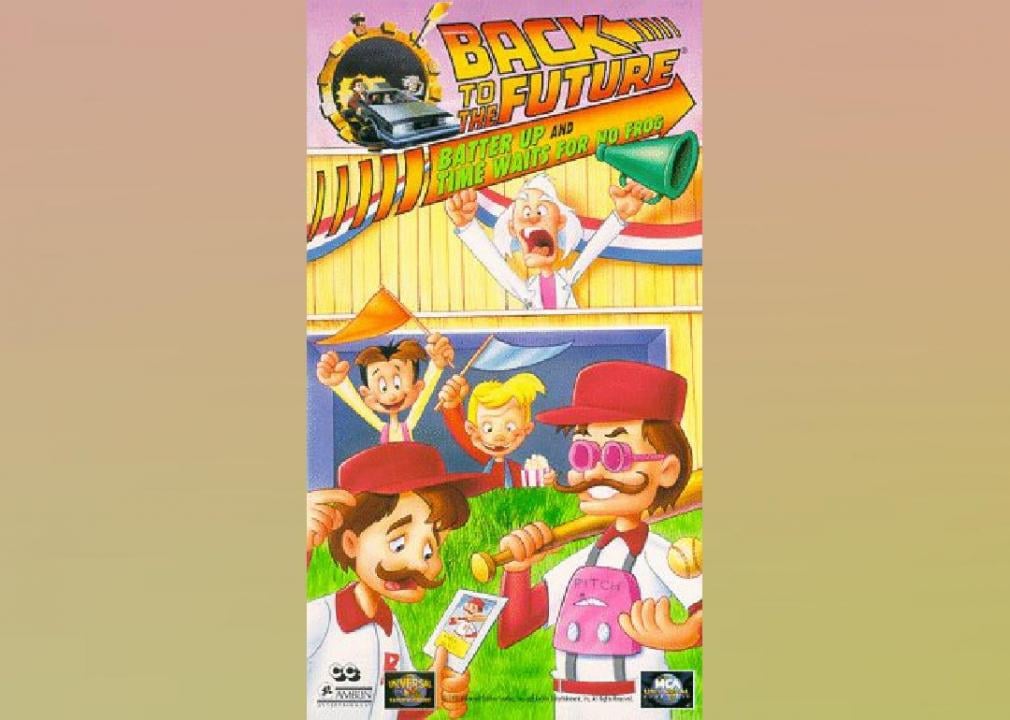 Universal Cartoon Studios
1991–93: Appears in segments of "Back to the Future"
After wrapping up his time on "Almost Live!" Nye made appearances and dabbled in other TV shows including "Back to the Future: The Animated Series." From 1991 to 1993, he appeared in segments of the show as the assistant to Dr. Emmett Brown, played in the films by Christopher Lloyd. It was his popularity on "Back to the Future" that landed him his own show.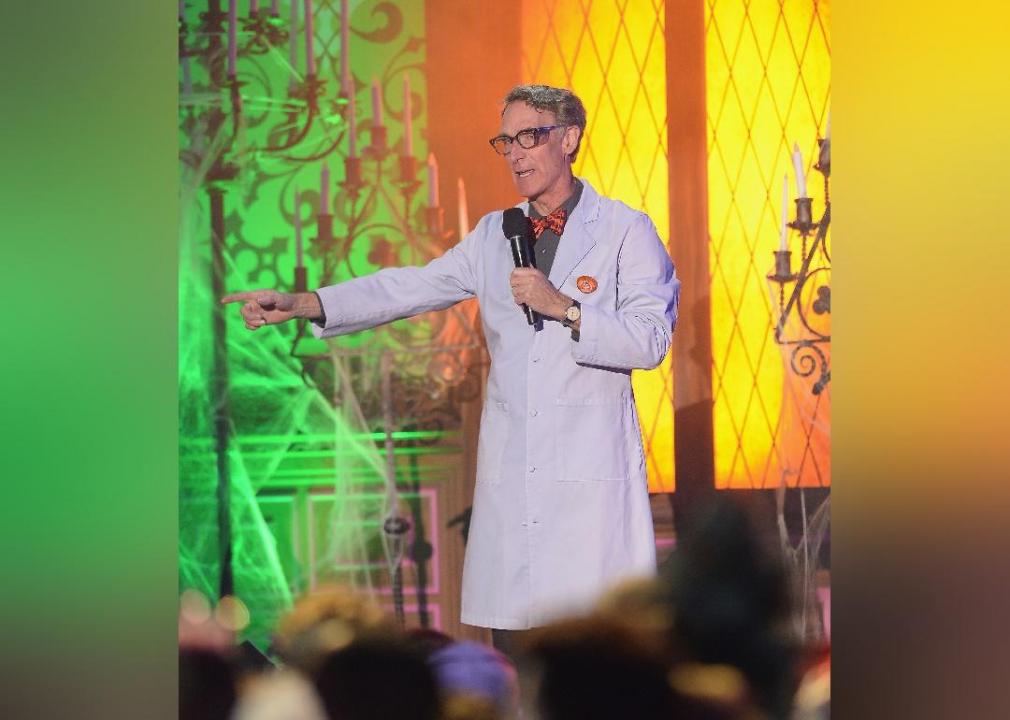 Michael Buckner // Getty Images
1993–98: Stars in "Bill Nye the Science Guy"
After gaining popularity as "the Science Guy" on "Almost Live!" and "Back to the Future," Nye convinced executives at Seattle's PBS KCTS-TV to give him a show of his own in 1993.
Dubbed "Bill Nye the Science Guy," the program targeted children with the goal of making science education fun. Among other stunts and escapades, Nye did things like drive a grass-covered car while discussing the Earth's ecosystem, dive into a funhouse ball pit to demonstrate population, and make an '80s metal hair wig (aka the "Rocking Wig of Science") to explain static electricity. The show was nominated for 23 Emmy Awards, 19 of which it won. To date, it's what Nye is best known for.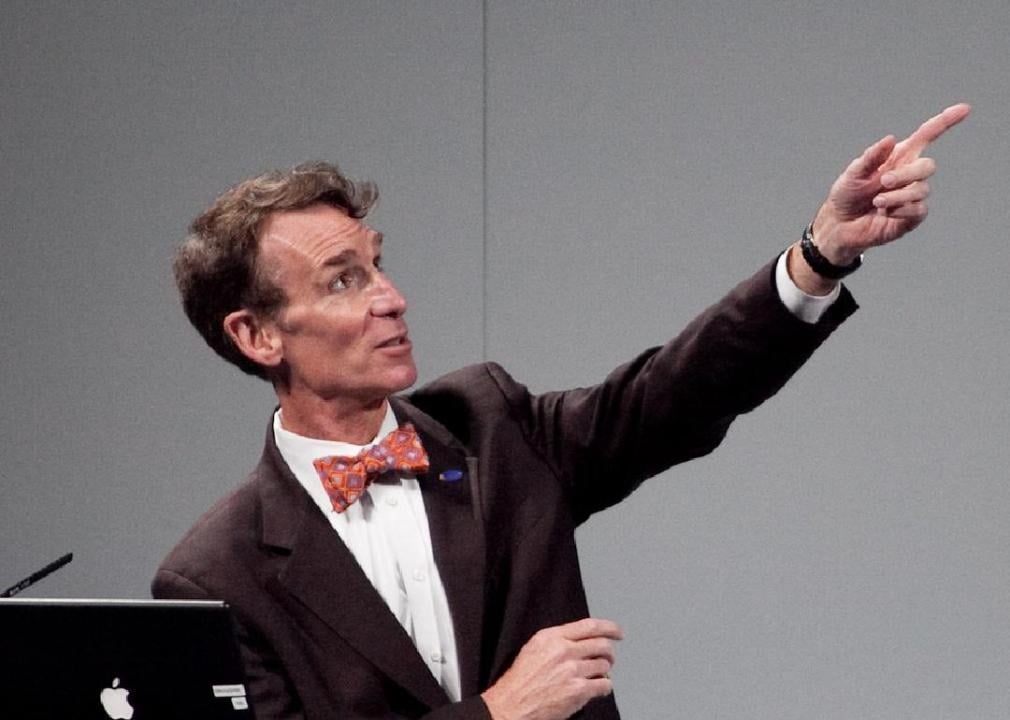 Ed Schipul // Flickr
1996: Registers first patent for the educational lens
In the middle of his five-year run with "Bill Nye the Science Guy," the quirky scientist filed for his first patent in 1996. The "educational lens" he created was a collapsible lens made from a polyethylene pouch that is meant to be used as an educational device. It can be filled with water to form a convex lens. Following this invention, he went on to earn two more patents: one for a digital abacus in 1998 and another for a special ballet shoe in 2007.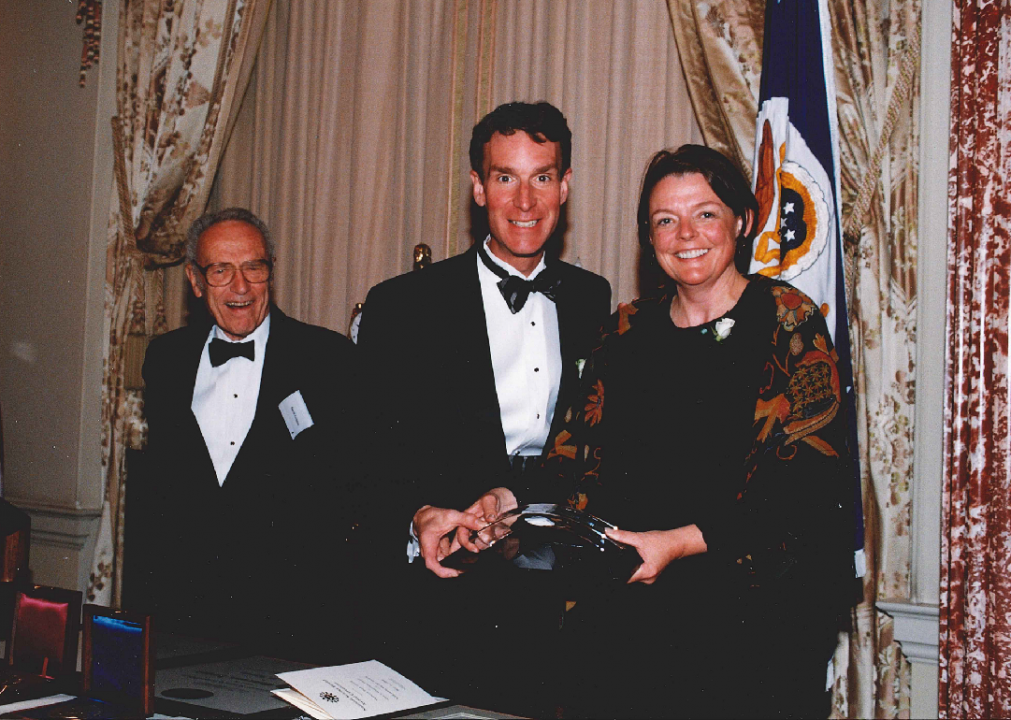 National Science Foundation // Wikimedia Commons
1999: Earns honorary doctor of science degree
In 1999, the Rensselaer Polytechnic Institute awarded Nye an honorary doctor of science degree when he gave a commencement speech at the school. That wasn't to be his only honorary degree, however. In the coming years, Johns Hopkins University awarded the scientist an honorary doctorate in 2008, Willamette University gave him an honorary doctor of science in 2011, and Rutgers University did the same in 2015. He also has honorary degrees from Lehigh University and Simon Fraser University.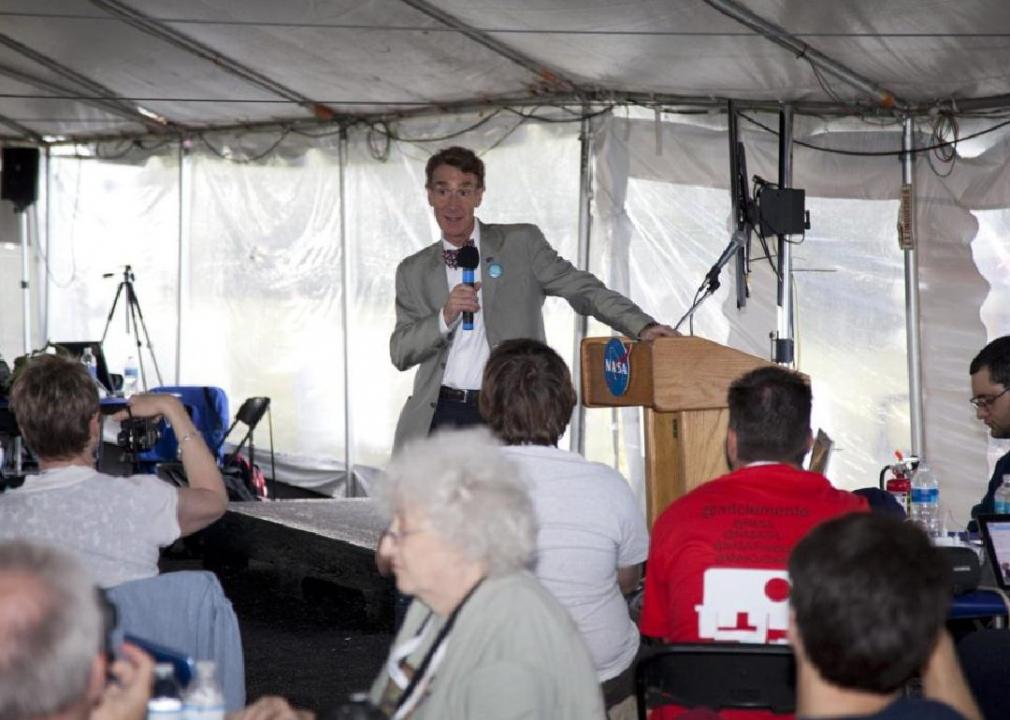 NASA // Picryl
Early 2000s: Helps develop sundials for Mars rovers
In the early 2000s, NASA recruited Nye to help with its Mars Exploration Rover and after one meeting, he determined a sundial should be used for its photometric calibration. Nye worked on the project with other scientists and in 2004, the first interplanetary sundial (the "MarsDial") landed on the red planet. According to Nick Mangione of Geek.com, it was inscribed with the phrase "Two worlds, one sun" and the word "Mars" written in 22 languages.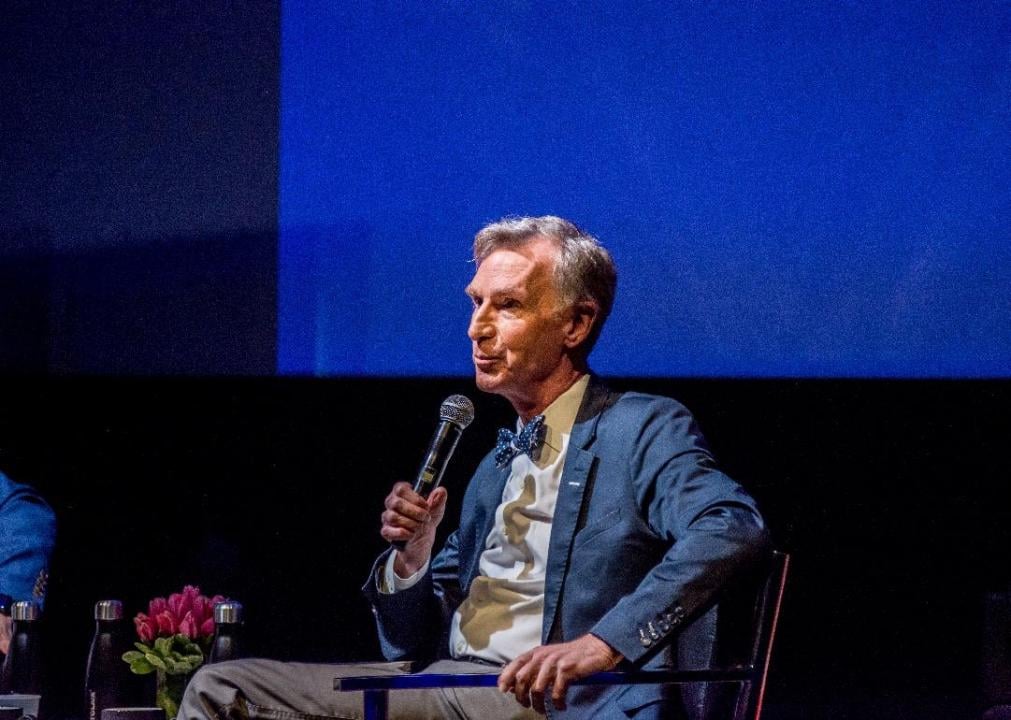 Montclair Film // Wikimedia Commons
2007: Invents special ballet toe shoe
During an episode of his TV show, Nye visited a ballet school and observed young dancers struggling with foot pain, scars, and other foot issues. He thought about the problem and in 2007, patented a special ballet shoe with a toe box that provides extra support along the sole. "These women, they're 22 years old, and they have three or four surgeries already," Nye recalled to Fast Company. "They're covering up their scars with makeup ... The toe shoe has not changed in centuries. So I just got to thinking about it." According to Nick Mangione of Geek.com, the invention made it "safer and more sustainable for ballet dancers to perform en pointe."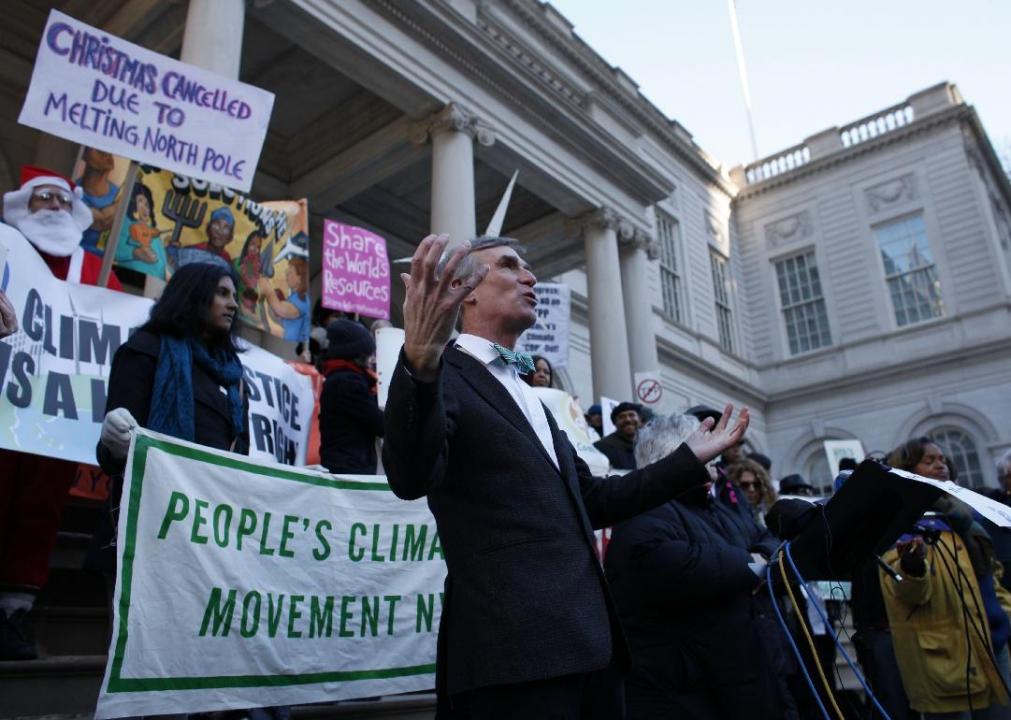 Kena Betancur // Getty Images
2012: Makes a viral YouTube video about climate change
On Aug. 23, 2012, Nye uploaded a video to YouTube titled "Creationism Is Not Appropriate For Children" that went viral. He argued that when a significant portion of the U.S. population doesn't believe in science and evolution, it "holds everybody back." This, combined with his climate activism, helped introduce him to a new audience and revamp his pop culture career. Nye began accruing a bit of a cult following as he'd later appear on talk shows including "Last Week Tonight with John Oliver" and "Larry King Now" to speak about climate change and creationism.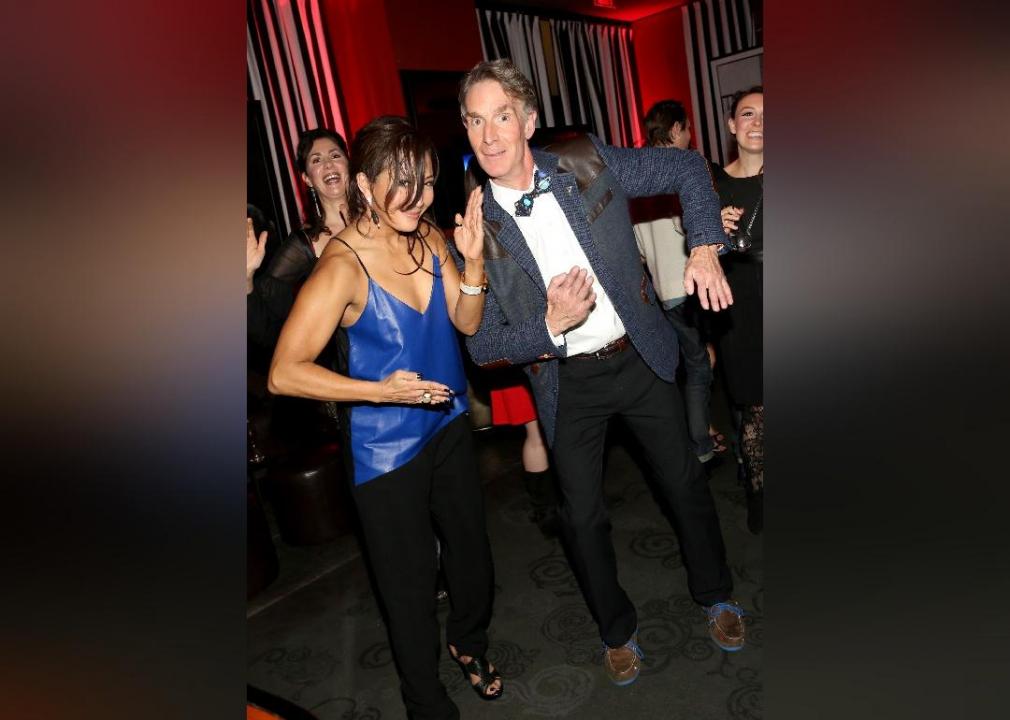 Rachel Murray // Getty Images for BBC Worldwide Productions
2013: Joins "Dancing With The Stars"
In 2013, with his popularity again rising, Nye joined ABC's dance competition "Dancing with the Stars." During the inventor's short run on the show, he was paired with professional dancer Tyne Stecklein with whom he showed off his "nerdy charm and questionable dance skills," according to CNET's Amanda Kooser. "He IS the science guy that we all love even when the camera's not rolling!" Stecklein told Reddit.
Rob Kim // Getty Images
2014: Publishes first best-selling book
The year after his stint on "Dancing With The Stars," Nye published his first best-selling book, "Undeniable: Evolution and the Science of Creation." Prior to that, he'd written children's books, but this was his first time on the best-seller list. He followed up that success the next year with "Unstoppable: Harnessing Science to Change the World," which also landed on the best-seller list. In 2017, he wrote "Everything All at Once."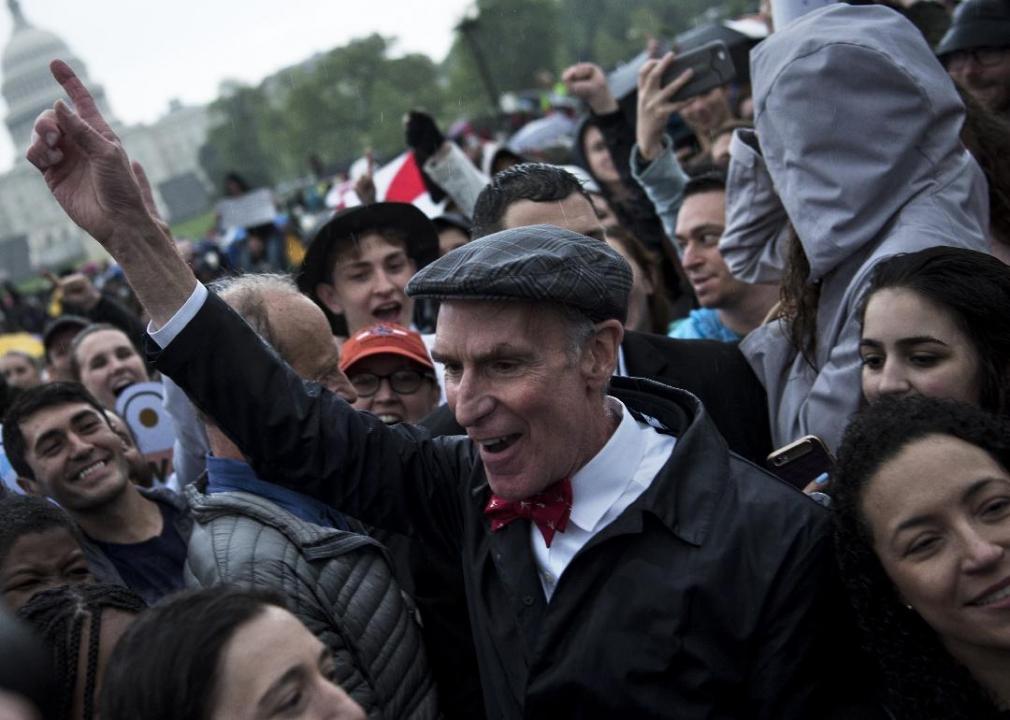 BRENDAN SMIALOWSKI/AFP // Getty Images
2017: Launches Netflix show "Bill Nye Saves the World"
In 2017, Nye launched a new show which aired on Netflix titled "Bill Nye Saves the World." This time, the show explores scientific topics for adults, often taking deep dives into scientific controversies such as vaccinations, alternative medicine, GMOs, creationism, and, of course, climate change. The program frequently features celebrity appearances and cameos. IndieWire called the show an "admirable mission" and a "fist-bumpy ride."