At the 41st annual Vancouver International Wine Festival, the Tasting Room is where the wine world gathers. All 160 wineries have their winemakers, owners or winery principals in attendance pouring selections from their cellars.
Genevieve Janssons, chief winemaker at Robert Mondavi brought her skill of making wine at her family's winery in Corsica and France to the Napa Valley. She will be in the Tasting Room and the Robert Mondavi Winery Dinner at Ancora Waterfront Dining on February 26th, and the RMW Seminar February 28th.
Another vine star from California is Joel Peterson, Founder of Ravenswood Winery in Sonoma. From two single vineyard Zinfandels in 1976, Peterson has grown Ravenswood from a one-man operation to a well-respected producer of a million cases of red wine, most of it Zinfandel. You can meet Peterson at the Ravensood's Godfather of Zin Seminar on March 2nd.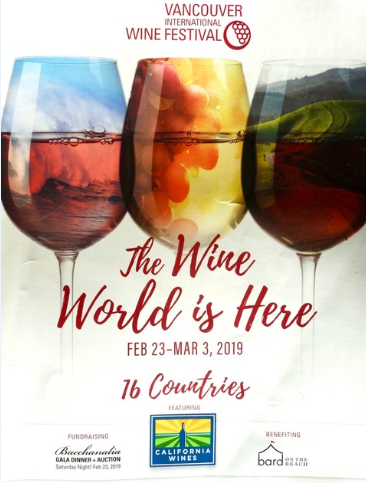 While you can taste classics from France, Italy, Spain, Germany, and Portugal, Australia and New Zealand you can discover new wines from revitalized regions such as Croatia and Romania.
But the spotlight this year is on California. Enjoy wines from 53 wineries from all the major regions of the Golden State: Napa, Sonoma, Mendocino, Livermore, Paso Robles, Santa Barbara and Lodi! Savour wines from Beringer, Kendall-Jackson, La Crema, Meiomi, Ravenswood, Robert Mondavi, and Rodney Strong to mention a few.
In addition to visiting the winery tables, stop by the regional tasting stations where you can explore the unique wines of a specific area. California has two stations: Wine & Food Experience: California Style where you can taste delicious foods paired with different varietals. There is also Napa Valley: Then vs Now which explores how Cabernet Sauvignons evolve as they age.
To further explore the wine world, take advantage of the other half dozen Regional Tasting Stations, including Australia, New Zealand, Nova Scotia, South Africa, Spain and Washington State.
The Tasting Room opens its doors on Thursday, Feb. 28th. This is the best night to attend because attendance is guaranteed to be 30 per cent lower than the other two evenings, and the price is slightly lower. The Saturday matinee has a 20 per cent lower capacity and offers a less expensive shorter tasting experience.
Not only can you sample the wines and ask the experts about what you're tasting, you can purchase the wines at the Festival Wine Shop and they can be shipped free of charge to your local BC Liquor Store.
After the tasting visit the BC Liquor Stores Get Home Safe booth and pick up a complimentary transit ticket.
Ticket sales have been on sale for the past 8 days so check the website vanwinefest.ca for the events that are still available.