I've been singularly fortunate. My father, an avid photographer, wanted to share our life in Canada with the family back in Germany, and during our first years here he'd document even the most ordinary occasions. As it happened, these photographs are also invaluable memories of vanished places.
In October 1956, we were newly-arrived immigrants, renting a house in Burkeville. For shopping, it was then easier to get to Marpole than to Brighouse, especially since we didn't have a car. In Germany, we usually went on foot or on bicycle, so walking into Marpole seemed the natural thing to do.
Airport Road, near Burkeville's eastern perimeter, led straight to Marpole bridge, a wooden swing bridge for cars and pedestrians, built in the early 1900s. The bridge brought us to Hudson Street, once a main thoroughfare. After a short distance, we crossed the railway tracks (still extant) and approached the intersection with SW Marine Drive. A large building on the west side housed Clugston Hardware (9047 Hudson) and Cunningham Drugs (9007 Hudson). Aerial views from the early 1950s show the short north side of the building cut off at an angle by the course of SW Marine. The site still exists, but without the building, beneath a ramp of the Arthur Laing bridge.
The stretch of SW Marine before it curves into Granville used to be lined with small shops and businesses. Everything along the north side was demolished to widen the street when the Arthur Laing bridge was built in the 1970s.
Our first photo expedition into Marpole took place in November 1956, shortly after we arrived. In one photo my mother and I are seen window-shopping at Marpole Jewelers (1361 SW Marine). Behind us are signs for Primeau Optometrist, Marguerite Ladies' Wear, Tad's Sporting Goods and Baird's Drugs.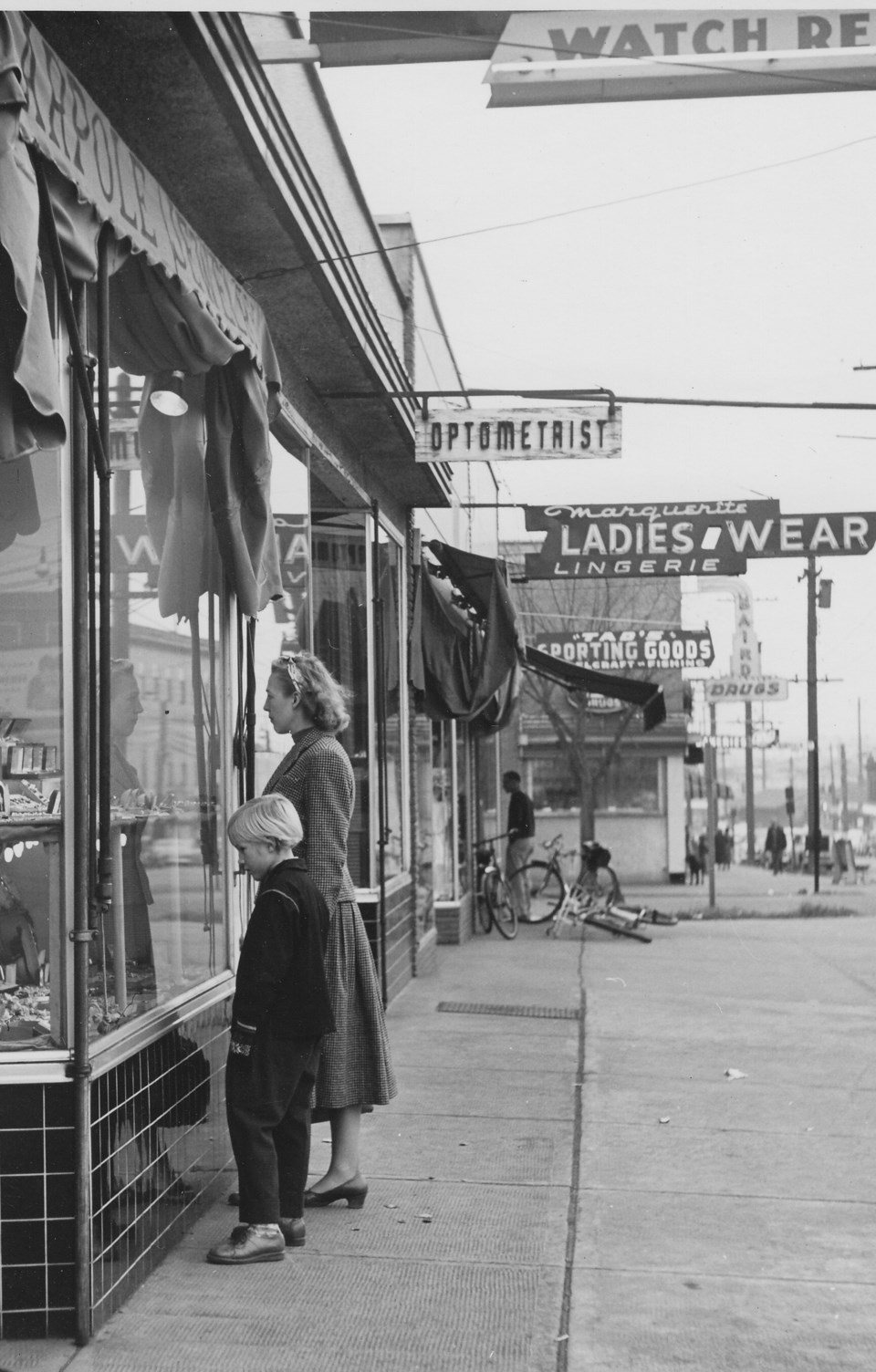 My father photographed us again on our way home, crossing SW Marine to proceed down Hudson towards the Marpole bridge. Visible in the background are various businesses along the west side of Hudson, with The Royal Bank of Canada at the corner. Today that location is occupied by a large, four-storey, green apartment block.  
In the summer of 1957, when the Oak Street bridge opened, Marpole bridge was dismantled and we couldn't walk across the Fraser River anymore. Perhaps it was no coincidence that in 1957 we got our first car, a VW Beetle. With a car, we ranged further afield, driving to Fraser and Robson for German delicacies and into Marpole to buy groceries at the newly-opened Super-Valu (the building still exists, currently occupied by a Salvation Army thrift store and the Marpole branch of the Vancouver Public Library).
Nowadays few people go any distance on foot. Travelling by car changes how we perceive our surroundings. Walking (or biking), we can stop any time and observe what exists around us. Driving, we focus more on our destination. I noticed that having a car also influenced how and what my father photographed. I'm glad that for the first year we were pedestrians.
Sabine Eiche is a writer and art historian