"Have you seen my nuts?"
That was a common saying around the shared apartment of Cody Jaumann and Benjamin Kraft. It was an inside joke spawned from an unfortunate wardrobe malfunction of Kraft's pyjama pants that happened just feet from Jaumann's carpeted-off bedroom in their kitchen area.
"Have you seen these nuts," was also a probable response of anyone who may have come across the two broadcasting their own radio show.
Jaumann was the one who started it, figuring out how to run a Shoutcast server that enabled him to stream music to his friends, so they could listen along and even put in requests. When the two met (that in itself is an odd story: Kraft was introduced to Jaumann through a girl he connected with on PlentyOfFish, who he still hasn't met in real life), they wanted to go a step further, which led to the creation of a project they originally called Skunk FM. Along with the playlists, they recorded skits and had reoccurring characters: all the nutty components of the shows you'd hear on your morning commute.
When Kraft eventually moved away and there wasn't enough time to put into the project, Jaumann went to work creating another online radio station: Fuzz FM.
"He wasn't a dumb kid, he was a very smart kid," says Kraft.
"Dumb people don't build websites and teach themselves audio engineering and the shit that we did. That's one of the reasons me and him got along so well; we were both above a lot of people on an intellectual level. We could understand things about math, science, audio and waveform, synergy and fission that the typical dude didn't understand."
The genre of music Fuzz FM focused on was stoner rock and heavy psych. That's not your typical Phish or Jimi Hendrix either; it's a niche fusion that combines elements of heavy metal, psychedelic rock and more, often played out at slower tempos. If that sounds like a nonsensical pitch, imagine being a band that specializes in it.
But at Fuzz FM, stoner rock bands from all over the globe found their oasis with Desert Dan (Jaumann's DJ name). This was by no means his full-time job – the 25-year-old also worked graveyard shifts at a bakery as well – yet by playing the demos of tons of independent, international artists, this little side-project station's following grew into the thousands. 
Obviously, stoner rock is best enjoyed in the state of its name. Jaumann smoked cannabis and his mother, Sylvia Russell, knew it. He would also dabble in other mind-expanding drugs like mushrooms. When she expressed worry about the burgeoning opioid crisis in the province, he assured her that "green was clean."
"I don't think if you smoke weed that makes you a drug addict," says Russell. "I wouldn't call him a drug addict. I would call him a recreational user."
He was smart. He wasn't an addict.
And yet he was one of the 25 people in Kamloops to die of an overdose this year.
On Feb. 17, Russell texted her son about when she could pick him up for their weekly trip to the grocery store. When he didn't respond, she trudged through the snow (her car kept getting stuck) over to his house and banged on the doors and windows. No answer. Though they had a very close relationship and he was usually quick to respond, she decided he must be out with friends or something. 
It was on the next day when she went to his work and no one had heard from him, that she called the police. Russell went along with them to Jaumann's two-bedroom apartment but wasn't allowed inside. Eventually, the officers brought out his I.D. and confirmed every mother's worst nightmare.
Without any more info from police while they investigated, she initially assumed Jaumann's life was claimed by the same heart issues that took his father when Cody was only three. 
"I kind of always feared he would die young. I worried about his heart because of his father, so that was my initial thought. Never did I think it was drugs."
Only later did she receive a toxicology report from the coroner that showed a mixture of MDMA, cocaine and fentanyl in his system. (Jaumann's autopsy report still hasn't been released.)
It was bad enough that her son was gone, but that it was now classified as an overdose made it worse.
"It was shameful because people look at it like a dirty thing. You see all these reports of all these overdoses and people think it's all these junkies and that's what infuriates me the most."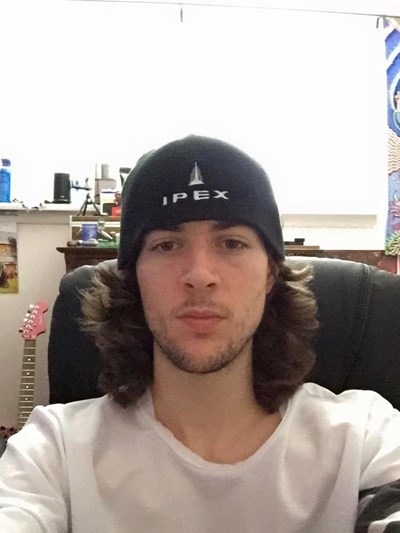 Overdose statistics from the B.C. Coroners Service don't have a separate category for MDMA. When MDMA is detected, it's thrown into the "other drugs" category, which includes benzodiazepines and Z-drugs, antidepressants and antiepileptics. But since 2016, "other drugs" have been detected in 18.9 per cent of fatal overdoses in B.C. 
"That's what the coroner told me," says Russell. "He said people don't realize they're putting fentanyl in everything except weed. People think they're safe, they think they can go out and party have some Molly and that's why people are dying."
Kraft notes Jaumann was a laid-back guy, and using a stimulant like Molly wasn't in line with the guy he knew. But he had been sort of a loner after Kraft and his other childhood friends moved away from Kamloops, mostly connecting with people over social media. Eventually, he started hanging out with some people from his work, which is how they think he got involved with using MDMA. 
"That's the biggest thing people need to realize," he says. "These days, just knowing where something comes from isn't enough. Even the stuff that comes from people you know, you can't trust it. He was a smart kid and in his mind he thought he was being smart about the drugs and the drugs outsmarted him."
True to his chill nature, Kraft doesn't think Jaumann is frustrated about this mistake. Years prior, he wrote a song called Wearing Thin, that included the lyrics, "What do you think is going to happen when you die? Do you think you'll be laughing with tears in your eyes?"
It's likely he was able to find some laughter in what happened.
"I know in my heart that he's not angry," says Kraft. "He's like, 'Holy f**k, I can't believe I did that.'"
As for the radio station, Fuzz FM still continues, but not through the original domain since it was a self-hosted website run off Jaumann's computer.
Once the domain name expires, a lot of his work will be lost forever. However, some of his music can still be found in other areas of the internet, so his gift for music will continue on.
"The instruments that guy could play, oh my god, " says Russell. "I got him his first guitar when he was nine years old. I knew he was interested in playing because he used to play on badminton racquets. His (guitar) teacher said, 'There are some kids that you want to teach and some you don't, and you want to teach this kid because he wants to learn.' Everything he tried could play it like nothing. It was incredible."
Those who knew him best say that it wasn't Jaumann's nature to want the story centred on him. So on International Overdose Awareness Day (Aug. 31), if you take one thing away from Jaumann's story, don't let it be that he was a talented musician, a likeable if not withdrawn guy, a pot smoker or any number of other things. Let it be that he was just a regular person. And that's who this opioid crisis affects.
"I'd like more people to be aware," says Russell. "That's all we can do at this point. Nothing is going to bring him back. Even charging these drug dealers isn't going to bring him back. All we can do is wake people up and get them aware that this is what happens to normal people."