A Kelowna man's annual fishing trip turned into a once-in-a-lifetime fishing tale, thanks to a "wild" encounter over the long weekend.
"It was definitely a life experience," Derril McKenzie said after an eagle landed on his fishing boat last Friday (Aug. 31).
"I've seen a lot of things in my life, but that experience is something I will never ever forget." 
The annual trip started off like normal.
McKenzie packed up his boat and headed out to Gardom Lake just outside of Salmon Arm, the same as he had over the Labour Day long weekend for the last six years.
The trip has become a tradition for his family, who attend the Armstrong Fair before spending the rest of the weekend camping and fishing at the nearby lake. This year, however, McKenzie said almost everything about his fishing trip was different, right down to the fishing partner who decided to join shortly after launching his boat.
Not long after McKenzie and his brother-in-law Dean Wirachousaky hit the lake, McKenzie was preparing to cast his line when he could hear feathers flapping close by.
"The bird just sort of came out of nowhere. I could see it in my peripheral vision and I thought it was a crow or raven, and then it spread its wings and I was like, 'Holy cow!'"
The young eagle perched itself at the front of the boat and eyed the two men up. McKenzie said the eagle did not seem to be afraid of them at all, and instead, appeared to be looking for food.
"It was like, 'What's going on? How is it this bird is here?'" McKenzie said. "It was just a shock. Neither one of us has ever heard of anything like this. They usually perch in the trees and watch the fish, but to land in the boat, it was like nothing we ever experienced."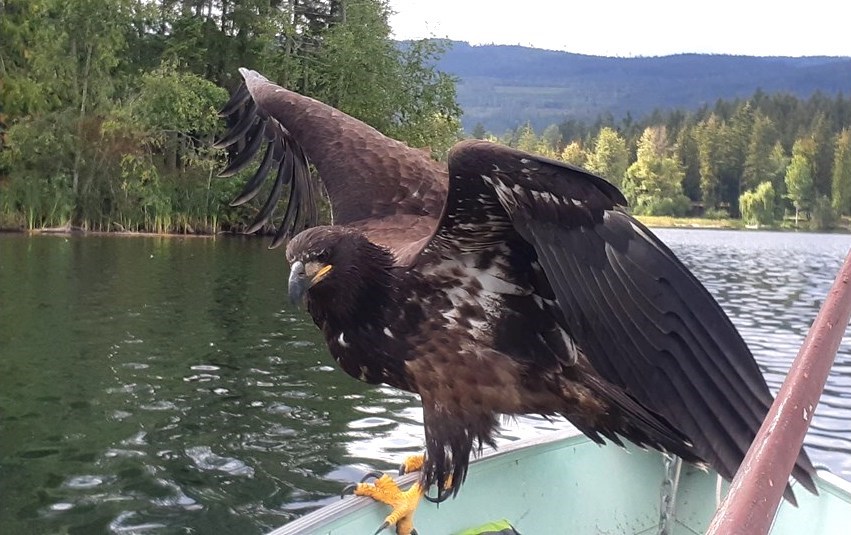 McKenzie has never seen eagles in the area come even remotely as close during past fishing trips and is unsure what brought their friend on the weekend.
"I have yet to catch a fish from that lake," McKenzie said with a laugh, noting it couldn't possibly be what attracted their feathered pal.
The eagle did not quickly take its leave either; instead, it made its way toward the centre of the boat, where it began to eye up McKenzie's toes, which were sticking through his sandals.
"I think it was looking for fish at first and then just whatever it could get its beak on. We were shocked in the beginning, and then it turned into sort of an acceptance that it was there," the fisherman told KamloopsMatters. "It was still freaky but it was pretty cool as well."
The two men tried to think of ways to safely get the bird off their boat without causing injury to themselves or it.
"We thought speeding up the boat would scare him off, but instead it jumped on me," McKenzie said, noting he has the scratches on his head and a torn shirt to prove it.
"My first thoughts were of those National Geographic shows where the raptor-type birds rip a rabbit to shreds, and I couldn't help but think what it could do to me," he said, adding that even as a young eagle, its talons and beak were quite large and strong. However, McKenzie said he wasn't exactly fearful of the bird.
In fact, he was more in awe than anything and describes trying to pass his brother-in-law his camera to get a photo.
McKenzie said the bird was not aggressive at any point, beyond giving him a small nip when he tried to raise his hands up in his direction. Even this, however, wasn't done very hard. McKenzie believes it was meant more as a warning than with an intent to hurt him.
"I could feel the wind from its wings against my head, and the weight of his body, but he was pretty gentle overall."
The fishermen were only about 10 to 15 feet from shore, so they don't believe the eagle landed on their boat out of exhaustion, and they did not see a band on its leg.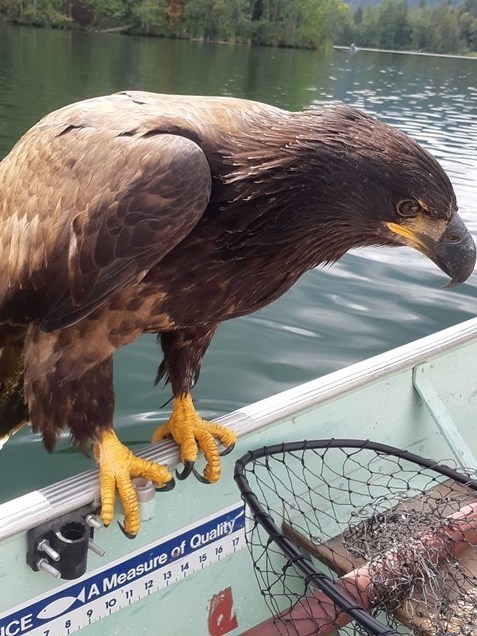 The only explanation they can think of is that someone had fed it before, or that it somehow grew up near humans.
Eventually, the men decided to try and gently push the giant bird off McKenzie with a boat oar, to avoid the possibility of it deciding to cause some harm. After the slight push, the bird jumped into the water and swam onto shore.
"We were sort of worried about it because we have never seen a bird like that in the water in that way," he said. "It sort of used its wings like crutches to swim."
The men watched the eagle from their boat as it made its way to the shore and perched itself on some low branches for a short period before flying high into the treetops. This satisfied them, knowing that the bird was not injured. McKenzie isn't sure how long the bird was on the boat with him.
"Time kind of lost all sense of reality, but we think it was about five minutes, or at least between a minute and an hour," he said with a laugh. "It was an adrenaline rush for sure."
— Cavelle Layes is a freelance reporter for KamloopsMatters