Consumers' spending shift to travel has helped B.C.'s tourism and hospitality sector thrive and add jobs.
For the second consecutive month, the sector has more employees than it did in those same months in 2019, before the COVID-19 pandemic caused an industry-wide sudden deep slowdown.
New Statistics Canada data show 362,000 tourism employees in B.C. in July, up 6,500 from the 355,500 employees in June, and the most jobs in the sector since August 2018, when there were 368,000 employees, according to Statistics Canada's Labour Force Survey.
The 2023 numbers compare with 359,250 tourism employees in the province in July 2019, and 351,750 tourism employees in B.C. in June 2019.
Job numbers in the sector were below 2019 levels every month in 2020 and 2021 and every month except for August and September in 2022. This year, tourism employment lagged 2019 each month until June, according to the data.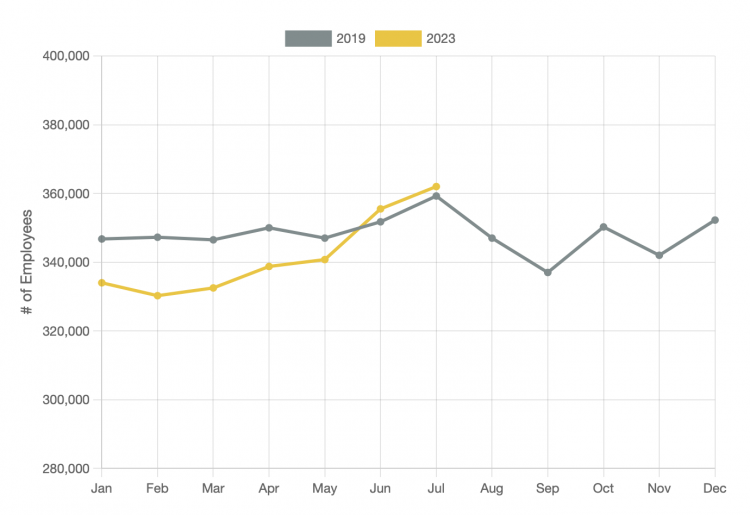 Accommodation and recreation subsectors increased employment in July, whereas food and beverage, transportation and travel subsectors experienced declines.
Food and beverage employment was marginally above the 2019 level in July, with 153,250 jobs, compared with 153,000 jobs. It passed the 2019 monthly job total for the first time post-pandemic in March, and has stayed above 2019 levels ever since, according to the data.
The skimpy 250-job cushion above 2019 levels is the smallest amount since the industry passed 2019 levels in March.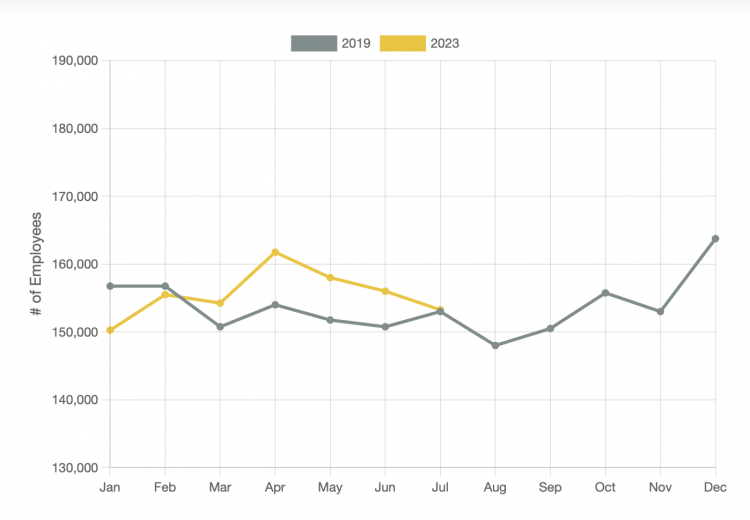 Go2HR has a free interactive chart tool to look at Statistics Canada Labour Force Survey tourism sector employment data.
​