A nationwide report card measuring progress toward conserving territory for nature says B.C. has made "significant progress" since it was handed a mediocre "C" grade two years ago.
Released Wednesday, the report from the Canadian Parks and Wilderness Society (CPAWS) gauged how far provinces, territories and the federal government have come in protecting 30 per cent of land and water by 2030 — a goal Canada agreed to at an international summit in Montreal last year.
"People might not be seeing the dramatic effects of biodiversity loss, but we are in an extinction crisis," said Tori Ball, terrestrial conservation manager with CPAWS BC.
"These goals of protecting more land and of protecting more of the oceans and coasts is a solution to help us make sure we have biodiversity — that we have healthy, clean air, clean water, healthy wildlife populations."
A spokesperson for the B.C. Ministry of Water, Land and Resource Stewardship said the government recognized the province's biodiversity is "globally significant." The spokesperson said the government had committed to the recommendations of the Old Growth Strategic Review, which included treating biodiversity as a health priority, and continues to invest in a number of restoration projects.
"This is ongoing work but we're confident that we're on the right path," said the spokesperson in an email.
Provinces get mixed scorecard in protecting biodiversity
Measures to protect biodiversity appear to have the support of a strong majority of Canadians. A poll released in December 2022 by Environics on behalf of Greenpeace Canada found 84 per cent of Canadians are at least "somewhat worried" about the future of the planet due to the state of wildlife and nature; another 43 per cent said they were "very worried."
The survey found 80 per cent of respondents believe the federal government has the responsibility to set an example at the conference by setting "firm commitments" to biodiversity protection. But many of the actions on the ground need to be carried out by provincial governments, who are largely in control of land management regimes.
CPAWS's latest report cited B.C. for making significant progress in protecting land alongside Quebec, Nova Scotia, Yukon and the federal government's efforts to protect terrestrial ecosystems.
New Brunswick, Northwest Territories, Manitoba, Newfoundland and Labrador and federal measures to protect marine ecosystems made "some progress" since 2021, according to the report.
The report found three jurisdictions — including Saskatchewan, Alberta and Ontario — made "minimal progress" in protecting nature.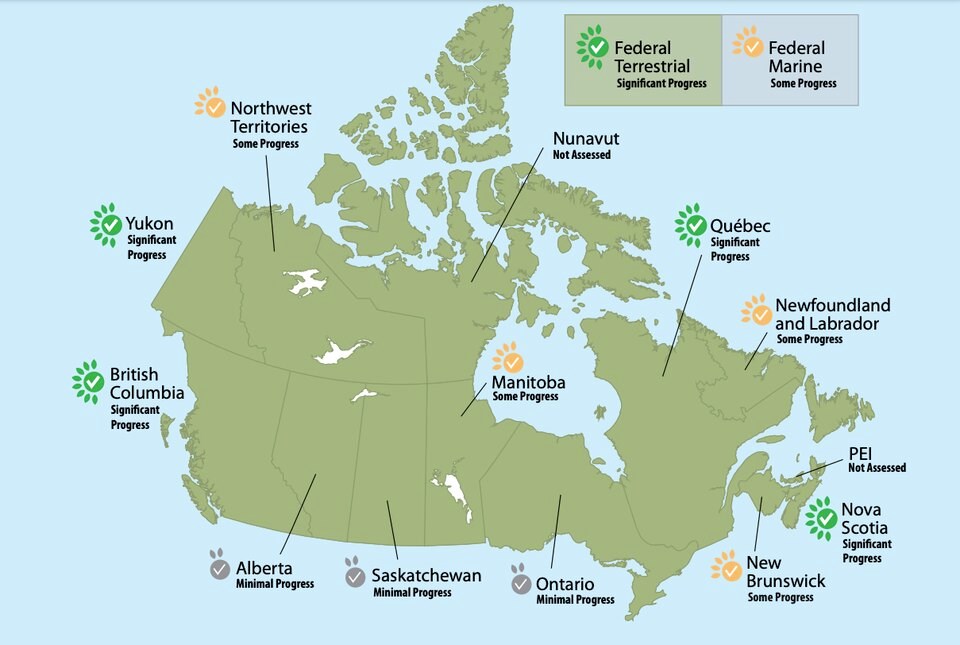 B.C. commits to protecting 30% of nature by 2030
Last fall during the United Nation's 15th Conference of the Parties (COP15) of the Convention on Biological Diversity — held in Montreal — B.C. became the second province after Quebec to commit to protecting 30 per cent of its land base by 2030. The meeting, also known as Nature COP, aimed to stop a global extinction crisis.
Cole Burton, a professor of wildlife biology at the University of British Columbia, said the federal and B.C. targets are a good first step, but what ultimately matters is the quality of habitat that is conserved.
"There have been some positive signals," said Burton. "Are those actions effective in reducing declines in species, or recovering special that have already declined?"
"I think it's far too early to say that we've seen progress on that front."
Burton said he remains wary after the B.C. government's past failures to follow through on promises to pass a provincial Species at Risk Act and federal laws that have at times failed to ensure meaningful outcomes for endangered species. He said large-scale changes in how habitat is being managed to support species like caribou or spotted owl haven't materialized.
Inaction means at least one-fifth of all wild species assessed across Canada are at some risk of extinction, according to the latest Wild Species report, released last year and billed as the most complete snapshot of wildlife ever conducted in the country.
"We really need some shifts in how we use the land and how people interact with biodiversity," Burton said. Can we do forestry different? Can we do agriculture different? Can we do urban development different? We're still waiting to see."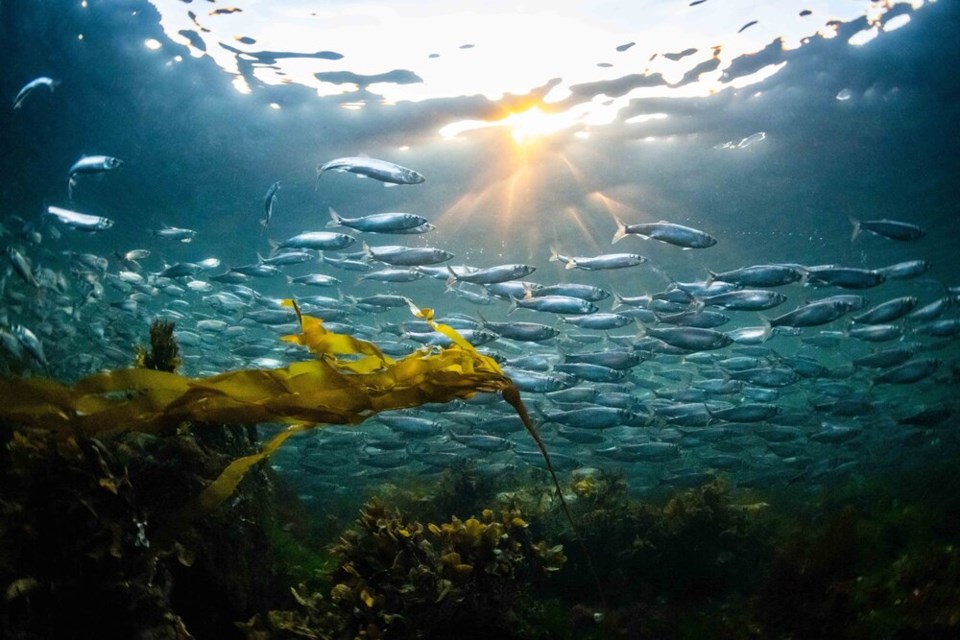 ​One place where CPAWS and Burton agree is the key role Indigenous communities can play in leading conservation.
At the COP15 summit, Ottawa pledged $800 million toward Indigenous-led conservation projects spanning Nunavut, the Northwest Territories, Ontario and the Great Bear Sea in B.C.
In B.C.'s north, Ball said there are a number of opportunities to protect land, chief among them the Dene K'éh Kusān, a 40,000-square-kilometre Indigenous protected area considered the largest tract of intact wilderness in B.C. If a proposed conservation plan is adopted, it would account for more than 4.3 per cent of the province's total land mass.
"That's something that really needs to be a stronghold for caribou populations," Ball said. "It has woodland caribou herds. Migratory birds, it's just what you picture when you think about nature in British Columbia. It has so many landscapes within it and really can be a climate refuge for wildlife."
Proposals to conserve land have also been made closer to Canada's population centres.
Ball said Vancouver Island's proposed Rodd Hill-Fisgard Lighthouse park is an excellent example of one of several proposed national urban parks currently under consideration. Plans for similar parks span Edmonton, Saskatoon, Winnipeg, Windsor and Halifax.
B.C. still falsely claiming protected areas, says group
CPAWS classifies protected areas into two broad categories: provincial and national parks, on the one hand, and more murky designations broadly defined as "other conservation areas," on the other.
"They weren't put there to protect biodiversity like a park," said Ball of the latter group of protected areas.
The CPAWS report found B.C. claims to protect 19.6 per cent of the province, an uptick of 0.1 per cent from 2021. Of that, "other conserved areas" — which accounts for 4.1 per of that total — have often flouted Canadian or international standards, says the group.
Some of those "other conserved areas" include Old-Growth Management Areas. While designed to prevent or limit forestry development, Ball said her organization has identified "many cases" where forestry companies have been given permission to log them.
"They are not long-term, they can be easily moved and incurred on by industry. And they are not actively managed," Ball said.
A spokesperson for the B.C. Ministry of Water, Land and Resource Stewardship said achieving its 2030 target would include counting parks, protected areas, and "other effective conservation measures" (OECMs), another term for "other conservation areas."
When asked to respond to CPAWS's claims the province was over-counting its protected areas, the spokesperson said OECMs "may not have been established specifically for conservation purposes but do result in effective conservation outcomes."