A Vancouver city councillor found himself Thursday defending his pro-democracy values and pushing back against suggestions he is a pro-Beijing supporter propped up by China's former consul general in Vancouver to run for office last year.
Lenny Zhou was reacting to a Globe and Mail story posted March 16 that said Tong Xiaoling, who was China's consul general in Vancouver until last summer, sought to elect pro-Beijing politicians to city council in the Oct. 15, 2022 election.
The story was based on a Canadian Security and Intelligence Service (CSIS) report reviewed by the Globe. The CSIS report didn't name Zhou or connect him directly to Tong, but he was quoted in the story in response to a comment from Louis Huang, an outspoken critic of China.
Huang, a retired pediatrician from Shanghai who lives in Vancouver, told the Globe that he recalled Zhou attended a meeting roughly half a decade ago of the anti-Chinese government group, the Alliance of the Guard of Canadian Values.
Huang said Zhou was "absolutely in support of the Chinese government" at the time.
In an interview Thursday, Zhou — the only Chinese-born member of the current council — denied the suggestion that he supported the Chinese government and told Glacier Media that he didn't know Huang or attend the event.
He also said he had never met Tong, who, according to the Globe's report, said she discussed in November 2021 about "orchestrating the Chinese diaspora to help elect a new mayor and a favoured city councillor."
"That story [by Huang] is absolutely nonsense," Zhou said.
"I've been advocating for free speech and democracy for years, even way before my short political career. I wish I could show you my posts on WeChat. I've always been talking about free speech — it's very important — and I've always been criticizing the Chinese Communist Party."
Zhou, 40, is now a Canadian citizen after moving from China to Vancouver in 2005 as an international student. The former manager of operations engineering at B.C. Children's Hospital was elected with Ken Sim and the ABC Vancouver party in last October's civic election.
Glacier Media contacted Huang Thursday, who repeated the story he told the Globe, saying the event was held about five or six years ago in Richmond or Vancouver. But Huang said he wasn't "100 per cent sure" that the man he spoke to was Zhou and admitted it could have been someone else.
"Unfortunately, there were no other witnesses," said Huang, who added that the man he spoke to expressed an interest in becoming a politician.
A few hours after Glacier Media's interview with Huang, he apologized via Twitter to Zhou, saying, "no one in our group remembers Lenny Zhou has ever attended our seminars or meetings. I feel very sorry for the confusion and misunderstanding to Lenny Zhou."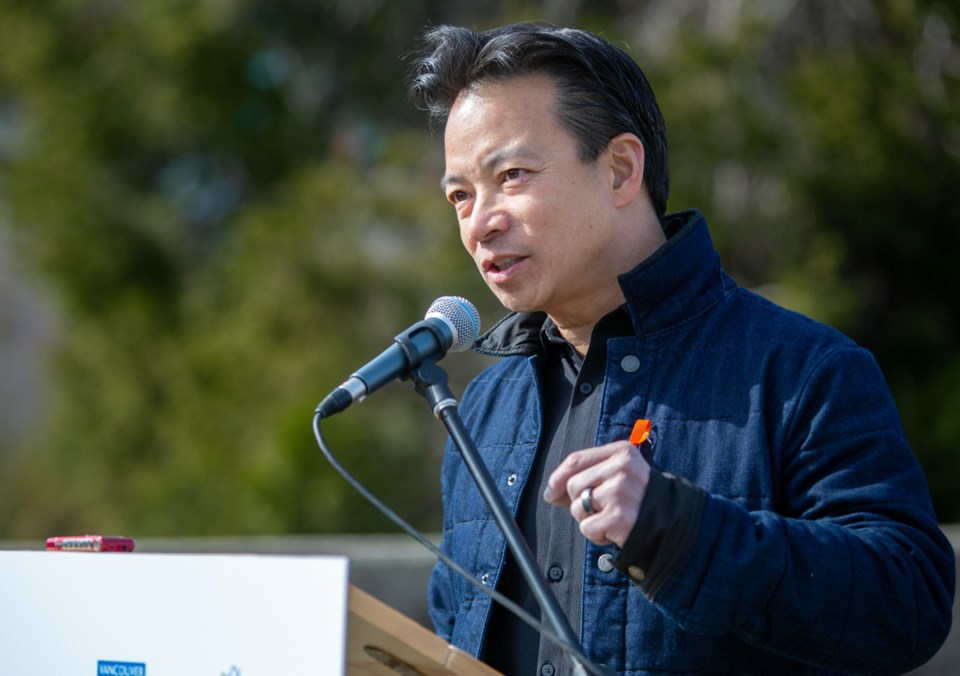 'I'd be as mad as hell as everyone else'
Huang's apology came after Mayor Ken Sim told reporters Thursday afternoon at an unrelated news conference that if there was proof of foreign interference in last fall's civic election, he wants to know about it — "because I'm a Canadian."
"I was born here," said Sim, who was visibly angered by what he described as insinuations that the Chinese government somehow influenced his victory.
"I was raised here. I went to school here. I started two businesses here. I raised my family here. I chose to be here. I love Canada."
Sim continued: "I'd like to see proof of this. Because I tell you one thing, if there is proof of this, I'd be as mad as hell as everyone else. But right now, there are a bunch of insinuations, and it's actually quite hurtful."
Sim, whose parents were from Hong Kong, began his comments by noting he was the city's first mayor of Chinese descent.
"If I was a Caucasian male, we're not having this conversation," he said from the Helena Gutteridge Plaza on the city hall campus, where a large media contingent gathered to question the mayor about the Globe report.
Sim said he and his party won all the seats they campaigned for at city hall, school board and park board because "we absolutely worked our butts off," knocking on more than 74,000 doors and making a quarter of a million phone calls.
"All of our candidates — not just myself, not Lenny Zhou — all of our candidates ran the table," he said of ABC Vancouver's landslide victory.
"In fact, the next person who was not an ABC Vancouver person had to get 50 per cent more of their own votes to catch up to our last-place finisher. So to say that any one person or group swung an election, I think it's kind of crazy."
Sim beat Kennedy Stewart by more than 36,000 votes, and Zhou placed seventh in the council race with 62,393 votes.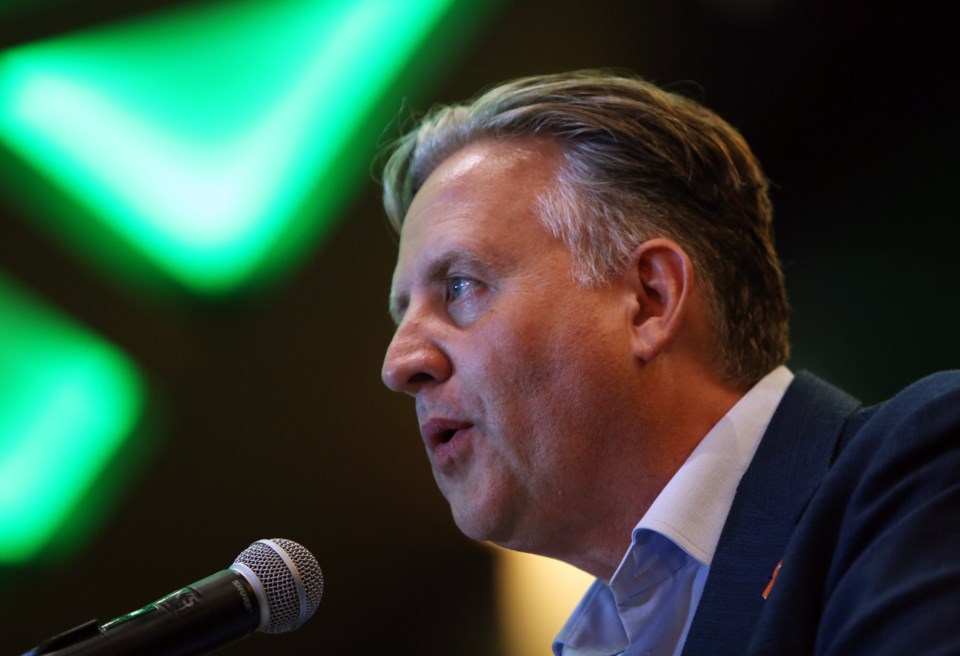 Kennedy Stewart suspended meetings with Chinese officials
Stewart, a former NDP MP who won the 2018 election as an independent candidate, told Glacier Media in April 2021 that he suspended all meeting requests and contact with Chinese government officials, including an invitation to meet with China's ambassador to Canada.
Stewart's move was in response to China announcing sanctions on individuals in the United States and Canada, including friend and Conservative MP Michael Chong. He took the position to also denounce human rights violations in China and the-then continued detention of Canadians Michael Spavor and Michael Kovrig.
Asked about his relationship with the Chinese consulate in Vancouver, Sim replied, "there's no relationship" and that he didn't know the consul-general's name; it's Yang Shu, who was appointed in September 2022. Sim and Stewart met with CSIS officials last year before the election, although Sim wouldn't share details with Glacier Media about the meeting.
Stewart's meeting with CSIS was noted in his public calendar, which could be viewed on the city's website. At the time, Stewart said he was being transparent by disclosing the meeting. The entry didn't indicate the names of the CSIS officials or the meeting topic.
It was only when reporters asked for details about the meeting that he revealed the topic of foreign interference and the presence of a CSIS official with expertise on China. Stewart was joined by one of his chiefs of staff, Neil Monckton, in an almost two-hour meeting.
"They wanted to brief me on foreign interference and the variety of forms that it could take in terms of foreign interference in both policy making and elections," said Stewart at the time, describing the meeting as "a highly unusual thing."
'Most significant threat to the security of Canada'
In an emailed statement to Glacier Media Thursday, CSIS spokesperson Eric Balsam said the country's spy agency "can neither confirm nor deny the authenticity of the information" in the Globe article.
But Balsam said CSIS has identified foreign interference in Canada and targeting of Canadians by the People's Republic of China and the Chinese Communist Party (CCP) "as the most significant strategic threat to the security of Canada."
"To be clear, the threat does not come from the Chinese people, but rather the CCP that is pursuing a strategy for geopolitical advantage on all fronts — economic, technological, political, and military — and using all elements of state power to carry out activities that are a direct threat to our national security and sovereignty," Balsam said.
He said CSIS has previously advised Canadians that they should be aware of covert and deceptive activities conducted by foreign states, including the People's Republic of China and its ruling Chinese Communist Party, "with the intent to influence the results of democratic elections at all levels of government (federal, provincial/territorial, municipal, and Indigenous) in Canada."
"Canada's electoral system is strong; however, foreign interference can erode trust and threaten the integrity of our democratic institutions, political system, fundamental rights and freedoms, and ultimately, our sovereignty," Balsam said.
'Important limits to what I can publicly discuss'
As indicated in CSIS's public report on foreign interference threats to Canada's democratic process, the agency continues to observe steady and, in some cases, increasing foreign interference activity by state actors, he said.
"There are important limits to what I can publicly discuss given the need to protect sensitive activities, techniques, methods, and sources of intelligence," he said.
"Disclosure could allow our adversaries to interrupt or harm our operations, techniques, methods and sources of intelligence. These limitations are therefore essential to ensure the safety, security, and prosperity of Canada."
The Globe report was posted the day after Prime Minister Justin Trudeau announced the federal government intends to appoint former governor general of Canada David Johnston as "independent special rapporteur."
The government said in a news release that Johnston's role is part of a suite of measures to help combat foreign interference and strengthen confidence in the country's federal electoral process and democratic institutions.
George Chow, Kerry Jang
Chinese-Canadian municipal politicians in Vancouver, angered by media reports or public comments from CSIS officials of being influenced by China, is not without precedent.
In 2010, then-CSIS director Richard Fadden hinted in an interview with CBC that China was one of the countries wielding influence on B.C. municipal politicians. He also suggested foreign governments were influencing two unnamed cabinet ministers from two provinces.
Fadden later appeared before a parliamentary subcommittee but refused to name names or elaborate on his claims, inciting the local Chinese community and then-Vancouver councillors George Chow and Dr. Kerry Jang.
Chow and Jang wrote letters to Fadden expressing their concerns about casting aspersions on municipal politicians of Chinese descent. Gregor Robertson, who was mayor at the time, also wrote to Fadden.
According to Jang, none of the politicians received a response, who later confronted Fadden in Ottawa to challenge him on his claims but said he was rebuffed.
In an emailed statement Thursday, the City of Vancouver said that staff had not met with CSIS officials regarding last year's civic election.
The Chinese Consulate in Vancouver issued a statement on its website saying that China "has always adhered to the principle of non-interference in the internal affairs of other countries and has never interfered in any Canadian elections and has not interested in to do so."
The statement concluded: "Once again, we urge the relevant media and politicians to abandon ideological prejudice and abide by professional ethics, immediately stop stigmatizing the normal performance of duties and functions and stop smearing and attacking the Chinese Consulate General and the consular officers."