All residents eligible for vaccination against COVID-19 who reside at a Vancouver long-term care home ravaged by 41 deaths in less than seven weeks have been immunized, along with most staff, according to Vancouver Coastal Health.
The health agency wouldn't provide a breakdown Wednesday of how many residents and staff were inoculated until family members are notified, but said 13 active cases remain among residents and 12 staff of the 114-room facility.
"Our immediate focus is to protect seniors and the staff that care for them," the health agency said in an emailed response to questions from Glacier Media. "Individuals who previously had COVID-19 and have recovered have a level of immunity that offers some protection from the virus. As we continue the vaccine rollout, these individuals will be immunized as well."
Little Mountain Place is believed to be the care home hardest hit by the virus in B.C.
Since Nov. 22, when an outbreak was declared at the three-storey building on East 36th Avenue near Main Street, 99 residents and 70 workers have tested positive for COVID-19. Of those, 41 residents died, but no staff.
The most recent data from the health agency indicates one resident of Little Mountain was in hospital, and that 46 residents and 57 staff have recovered.
What remains unanswered is why and how the virus moved so swiftly through the home since Nov. 22. The facility's executive director, Angela Millar, directed all questions to the health agency.
"VCH has worked closely with Little Mountain to ensure implementation of comprehensive interventions to bring outbreaks under control," the health agency said. "These interventions include screening of staff and residents for symptoms of COVID-19, appropriate testing of residents and staff, prompt isolation of cases, monitoring and execution of proper infection prevention and control practices."
Vancouver Coastal Health said medical health officers, along with administrative staff from Little Mountain, regularly update families about the extent of the outbreak and are available to answer specific questions about their family member in the care home.
One of those updates occurred Tuesday night, according to News 1130 reporter Marcella Bernardo, who reported via Twitter that three more residents had died for a total of 41. Bernardo learned of the deaths from a family member who shared a video of the update provided by a medical health officer.
The health agency confirmed Wednesday the three additional deaths.
At a news conference Monday, Provincial Health Officer Dr. Bonnie Henry described the outbreak at Little Mountain as "incredibly lethal." Henry said health officials "don't always know the reason" why the virus spreads so quickly in some facilities such as Little Mountain and not at others.
"We try very much to make sure the staffing is maintained, the personal protective equipment is there and we did that very early for all of our care homes," she said, noting the strategy includes cleaning processes for each facility. "We have infection control teams that work with the homes and sometimes it's just an incredible challenge, and I wish we knew the answers to how it was being transmitted in some cases."
Little Mountain Place was among the first care homes in Vancouver to record an infection — a staff member in March — and had only recorded one other infection of a staff member between mid-March and Nov. 22, according to the health agency.
Wayne Moriarty, whose father Paul was a resident of Little Mountain until he died in September of complications related to Alzheimer's disease, said he wasn't aware of any other COVID-19 infections at the facility aside from one staff member infected in March.
"They were very transparent in terms of sending emails and updates on the status of the virus vis a vis the facility," Moriarty said. "There really wasn't a step along the way all year where I didn't feel informed."
Moriarty said he only learned about the dozens of deaths and infections after reading recent news articles about the tragedy that has unfolded at a place his father called home for the past five years.
"I'm just so saddened because I know the staff," he said. "I love the staff there. They cared so deeply for my dad and took such beautiful care of him. It was a lovely facility. I could not have imagined him in a more loving, caring place."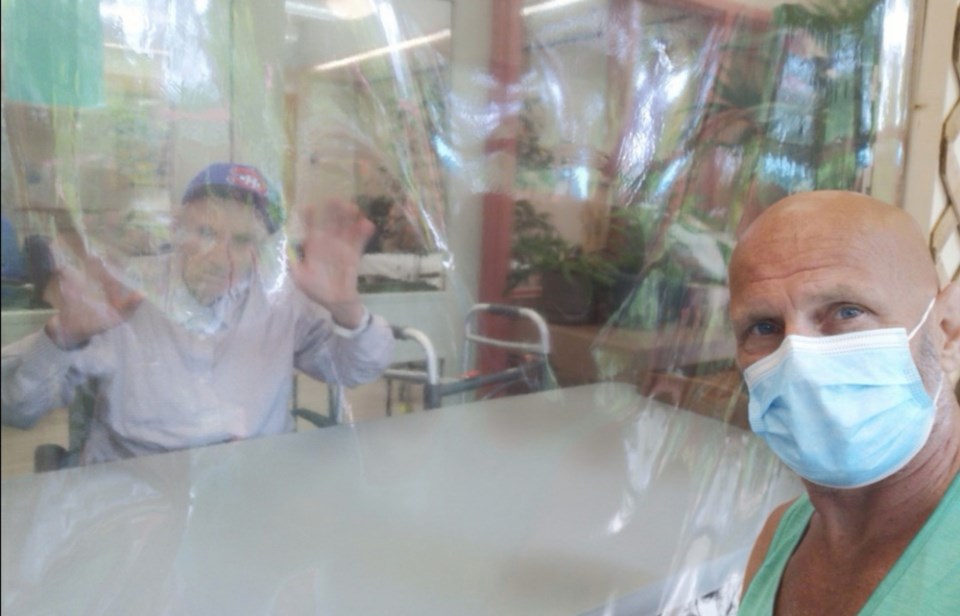 Moriarty said safety protocols were in place at Little Mountain when his father was a resident, noting he couldn't visit him early on during the pandemic. When restrictions were loosened, Moriarty was able to visit his father, with a barrier separating both of them, in a designated area at the facility.
"You got the sense there was no messing around," he said. "They weren't going to let anybody into the facility and compromise the health of all the residents and staff. You always got the deep sense that that was their primary motive."
Even so, after Paul Moriarty died in September, his room had to be cleared out as quickly as possible because there were others on a waiting list to get into the facility, his son was told by staff.
"So I suspect the next day, or next couple of days, his room was occupied," he said, noting he believes the outbreak has since halted the moving in of any new residents. "They probably have so many empty rooms right now."
Glacier Media visited Little Mountain Place Tuesday, where its executive director, Angela Millar, approached a photographer in the street and told him all questions about the outbreak should be directed to Vancouver Coastal Health.
Over the span of two hours, no residents or staff were visible in the many windows of the care home, which still has a Christmas tree visible in its lobby and a string of lights across the entrance way.
The care home is overseen by the Little Mountain Residential Care and Housing Society, whose president is Bob Breen. A phone message left for Breen Tuesday was not returned by the time this story was posted Wednesday.
In April last year, the B.C. government issued orders restricting the movement of staff working at long-term care facilities to a single site in an effort to help prevent the transmission of COVID-19.
Glacier Media couldn't confirm Wednesday when a single-site staffing plan was implemented at Little Mountain but a joint statement last June from Henry and Health Minister Adrian Dix said British Columbians had "flattened the curve, single-site staffing is in place and facilities have been given the additional resources to safely allow for seniors and elders who have been separated from their loved one to connect once again."
At Henry's news conference Monday, Dix pointed out that despite the deaths and infections at care homes in B.C., the magnitude is far less than what other provinces have experienced since the pandemic was declared in March.
"We've done better but that's frankly cold comfort to families in situations like Little Mountain," he said.
Early on in the pandemic, the B.C. government provided a daily COVID-19 case count for care homes, but stopped doing that recently, making it difficult for the public to track infection rates at the facilities.
Henry explained Monday that it wasn't by design.
"As the numbers increased, the actual person power to get that information every day and collate it was taking hours and hours and hours of epidemiology time," she said. "We do not have an IT system that allows us to do that efficiently, so we went to aggregate numbers which we report on every day."
On a periodic basis, she added, more detailed data will be released.
"It's not a policy change, it was merely trying to keep up with the amount of data that we were trying to collect," Henry said.
As of Wednesday, the number of assisted-living homes, long-term care homes, seniors' rental buildings with ongoing COVID-19 outbreaks totaled 53 in B.C., including Little Mountain and 12 other facilities overseen by Vancouver Coastal Health.
Glacier Media requested a breakdown of how many care homes in Vancouver have had outbreaks since the pandemic was declared in March, along with a number of infections and deaths of residents and staff.
The health agency said "this information is not readily available and would take some time to pull together, especially as our Public Health Surveillance Unit is also focused on case and contact follow-up, and managing data for our COVID-19 vaccination program."
mhowell@glaciermedia.ca
@Howellings