B.C. health officials say the current coronavirus-related restrictions could ease by mid-February, despite a record number of hospitalizations from the virus reported this week.
The province had a record 987 COVID-19 patients in hospitals on Jan. 24. A couple of days after, 21 deaths were reported on Jan. 26 — the highest total deaths for a single day in more than a year.
In a press briefing Friday (Jan. 28), provincial health officer Dr. Bonnie Henry gave a presentation about the evolution of the pandemic in B.C. When asked about an increase in COVID-19-related deaths, she told reporters that it has always been a "part of the tragedy" of the pandemic.
"It is something that we've been watching and measuring in a way that we don't for many other illnesses," she explained, adding that 40 per cent of the people who have died this month were related to outbreaks in long-term care facilities.
Outside of long-term and acute care facilities, Henry noted that many people who are dying have an underlying illness or are not fully vaccinated. While younger people have also died, she noted that some individuals were infected with the Delta variant, which causes more severe illness.
But the health officer underscored that Omicron still has the potential to cause severe illness, even in younger individuals. "This week we've had two people in their 40s who have died."
Age remains the single most important risk factor for developing a severe illness from the virus and about 40 per cent of the deaths were people in long-term care, Henry explained.
The province will continue to focus on robust safety measures for residents and staff in long-term care, but health officials have always recognized that COVID-19 could play a role in deaths in these facilities, she said.
While hospitalizations spiked to an all-time high this month in B.C., the rates per capita are significantly lower than other provinces across the country. Deaths have also increased in B.C. but are significantly lower than in other provinces.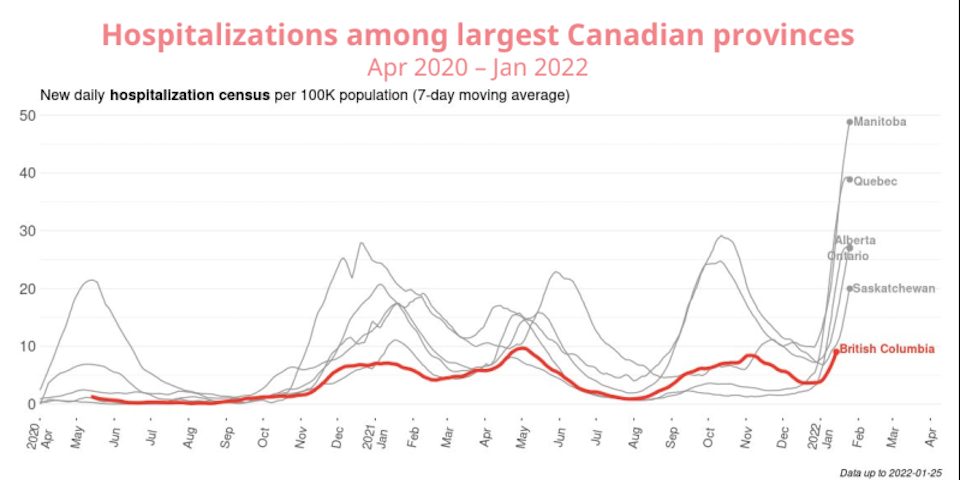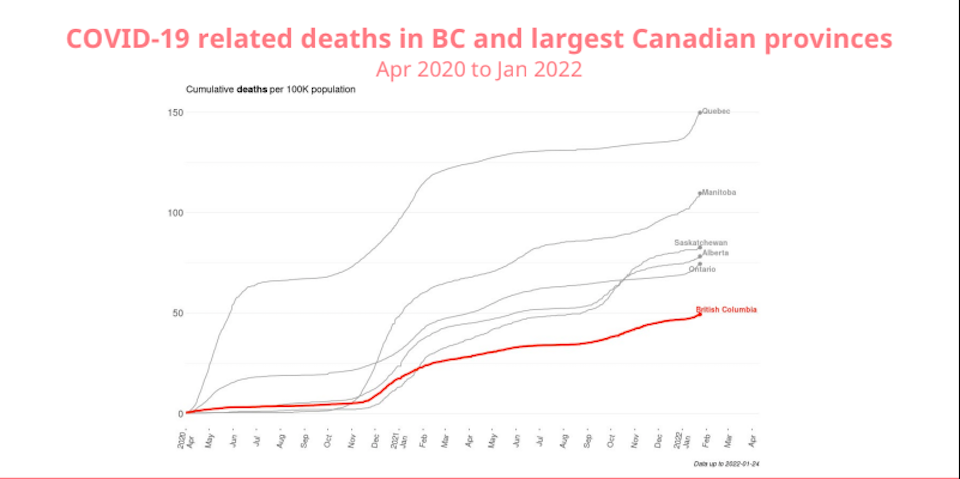 On Jan. 28, 2020, the province first announced that a man in his 40s had returned to B.C. from Wuhan, China and tested positive for COVID-19.
Since then, the province has seen five separate waves of COVID-19 over the past two years, with a total of 318,906 positive tests. The current Omicron-driven wave has caused the highest level of active cases and hospitalizations the province has seen.
With files from Glen Korstrom and Nicholas Johansen.