The Steveston Salmon Festival is returning to in-person festivities this year, just in time to celebrate its 75th anniversary in partnership with the City of Richmond.
On July 1, 2022, visitors are encouraged to explore the re-imagined festival specially designed to appeal to all ages and abilities.
Instead of the traditional parade, the event will consist of several festival zones spread across the village of Steveston, including areas dedicated to live music, art exhibitions, hands-on demonstrations, and more. Stretching from Garry Point Park to Britannia Shipyards National Historic Site, the festival grounds can be explored on foot, bicycle, scooter, or wheelchair.
"To help prevent the crowding we normally see in a parade, and to ensure everyone is safe and feels comfortable, this year's Steveston Salmon Festival will be stretched out across a larger area," artistic director Dolly Hopkins says.
"We want people to be able to take a leisurely walk, roll or ride, to see the whole site and explore what's happening in different locations. It's about moving your body, engaging with your neighbours, eating delicious food, experiencing live music and presentations from a range of local performers, and enjoying the beauty of the parks. This is a festival by and for the community."
The Steveston Salmon Festival's focus on family, fitness, and fun means that it will be inclusive to all audiences, from kindergarteners to pensioners. This year's increased accessibility measures will include two sensory-friendly spaces located at the Steveston Community Centre and the Steveston Hub in the Nikka Building, as well as accessible shuttle services across the village. The majority of the activations this year will be wheelchair accessible.
Performers will include jugglers and storytellers, as well as musicians and dancers.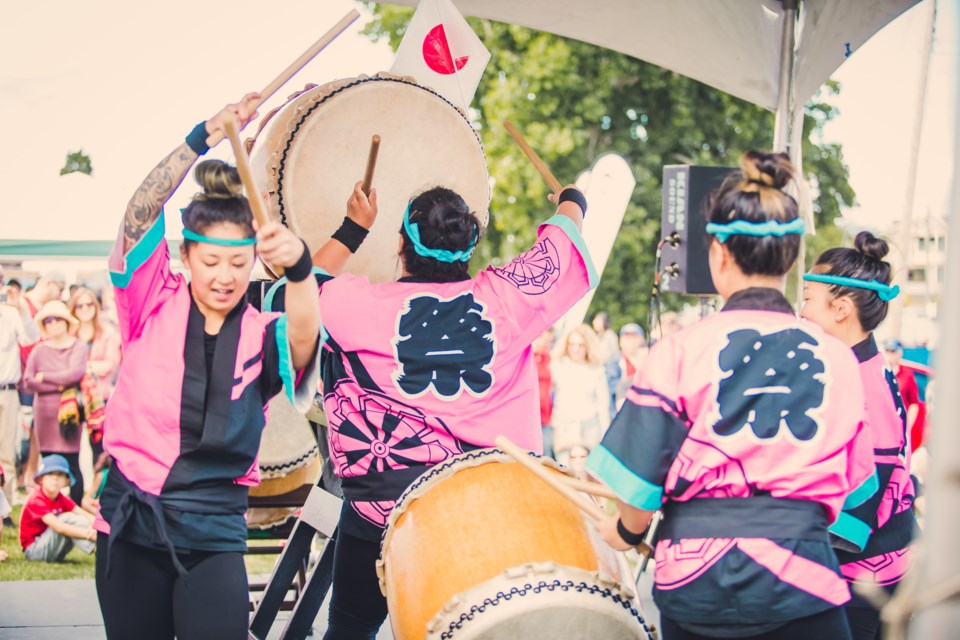 Sammy's Fun Zone — a family favourite for years — will return with a water park for kids. The Japanese Cultural Show will represent and celebrate the Japanese community's contributions to Steveston.
For green-thumbed patrons, the 51st Horticulture Show will take place at the Steveston Community Centre. Nearby, a marketplace will showcase wares from local vendors and artisans.
Festivalgoers looking for inspiration will be able to visit the Art Show, which features original artwork from Richmond residents and students.
And for those eager families who are able to explore all of this year's festival? Visitors can enter to win a prize if they take a selfie at one of the Sammy the Salmon photo stops, located throughout the grounds. Upload the photo to Instagram with the hashtag #MySammySelfie to enter. And for those ambitious explorers, there's a special grand prize if you can find all 10 photo stops.
For those who have been before, there will be no salmon bake or chow mein this year. However, festival visitors can enjoy delicious options from food trucks and local restaurants. A list of festival vendors and restaurants will become available on the festival website before July 1.
Locals are encouraged to plan ahead to enjoy Salmon BBQ at Home, which has been brought back this year by popular demand. The ready-to-grill kit includes wild sockeye salmon, ingredients for delicious side dishes and drinks for the whole family. The deadline to order is 12:00 p.m. on June 23.
In the lead-up to the big day, community members will be encouraged to share their memories of Steveston and festivals past at a special video pop-up booth at Garry Point Park during the Pacific Rim Kite Festival from June 25 to 26. Memories will later be shared on the Steveston Salmon Festival website.
"This milestone edition means a lot to the community and the people who have run this festival for 75 years," Hopkins says. "It started as a sports day fundraiser and has evolved into one of Steveston's most beloved events."
The video memories will commemorate the festival's journey and show how local participation has grown over the years. It will pay homage to the festival's past while also highlighting what makes the event so special for future editions.
At its heart, the Steveston Salmon Festival fosters a shared sense of community pride and belonging.
"This is a chance to come together and celebrate the spirit of Steveston," Hopkins says.
To learn more about this year's Steveston Salmon Festival, visit stevestonsalmonfest.ca.